The Apple iOS 4 update does not work very smoothly on an iPhone 3G from two generations ago. There is an amusing parody of an Apple ad for the iPhone 3G using iOS 4 on YouTube. It is understated but it illustrates the problem well.
Parody of an Apple ad for the iPhone 3G with iOS 4
I upgraded my wife's iPhone 3G to iOS4 and suddenly her phone was much slower. Doing a full restore by letting iTunes wipe the data worked a little better. But it is still not as fast as it was before the update. Of course it is nowhere near as fast as the iPhone 4 is, which is to be expected. That is not that shocking since there is often a problem upgrading devices from two generations ago with current generation operating systems. Putting Vista on a old PCs brought many of them to their knees.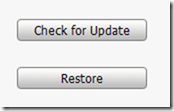 I don't think the upgrade on the 3G is worth the hassle for the reasons our editor Josh Smith listed previously. But you might. If you are still wanting to try to upgrade, make sure that you let iTunes restore the phone rather than do a simple update.
Here is how to do the restore rather than the iOS 4 upgrade that we previously showed you in Carter Sprunger's How To.
When you first plug your iPhone into the computer via USB it opens iTunes and checks for the OS update. If it tells you there is an update, don't let it do the update.
Instead, first backup your iPhone. By default it does this on every sync. If you have turned this off, then back it up using the right click menu. Right click your iPhone in the left hand list of iTunes and choose Back Up. Let it run.
When it is finished, on the Summary tab of the window that is shown when you click on your iPhone there is a pair of buttons. Check for update does the in place update that causes the problems. Restore does the full erase and restore update that works a little bit better with the iPhone 3G.
Advertisement