The 'juice pack' extended battery is Mophie's latest iPhone accessory. The juice pack doubles your iPhone's runtime, providing an extra 8 hours of talk time or 24 hours of music playback.
All of the iPhone's features are obviously useless without enough juice and I often avoid web browsing and watching video in fear of ending up with a dead battery. I just ordered a Mophie 'juice pack' so I won't have to worry about this anymore.
The extra battery life will be especially useful when I go to CES 2008 and MacWorld next month. I'll be on the run for 18+ hours a day and dead batteries are the last thing I want to worry about.
The Mophie 'juice pack' is pretty stylish for an extended battery. The iPhone slides into the juice pack, which doubles as a case.
The back of the juice pack has four LEDs that indicate how much energy is left in it. This is an important feature since the iPhone will behave as if it's plugged into an AC adapter and won't be able to read how much juice is left in the external battery.
The juice pack features a lithium polymer battery with an integrated circuit that protects against electrical shorts and overcharging.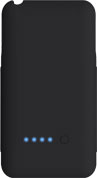 According to Mophie, the juice pack extended battery will provide up to an additional 250 hours of standby time, 24 hours of playback, an additional 8 hours of talk time, seven hours of video playback or six hours of web browsing. These are the exact same specs as the stock iPhone battery, which means you can double those numbers to estimate what you might actually experience.
The Mophie juice pack charges with any standard iPhone/iPod AC or USB adapter.
The juice pack weighs in at three ounces, which is about the same as a Motorola RAZR flip phone. The extra bulk isn't as bad as it sounds, especially if you're already using one of the more rugged iPhone cases.
The juice pack will be is available for pre-order for $99 from Mophie now, or you can pick one up at the Apple Store in the coming weeks.
Advertisement