The display problems that we reported earlier with the new MacBook Air are not a surprise to Apple, even though they are not acknowledging the issue publicly. According to a source who spoke to Boy Genius Report, Apple is looking into the problems. There are a pair of screen shots dated October 26 and 27 showing what the problems are and how support personnel are to handle the situation if a user complains of the problems.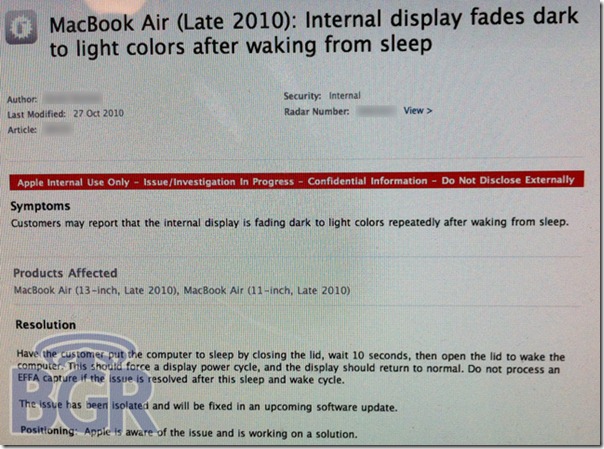 The issue addressed by the screen shot is fading screen after waking from sleep. Other issues are jumbled picture and crashing to a kernel panic.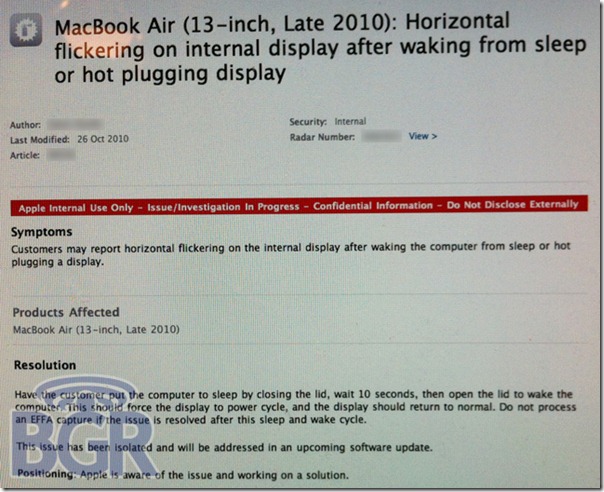 In both cases the the screen shots tell the support person to have the user close the computer lid and wait ten seconds before opening it again. Also they shots say that Apple is aware of the issue and working on a solution. The second one says it is coming via a software update.
If you purchased a new MacBook Air and are having this issue, remember that Apple does have a very generous return policy. Three different members of the Notebooks.com team have MacBook Airs and have not experienced this issue. As with any new product there are bound to be a few isolated manufacturing defects. Until this is reported by a large number of customers, it should not be assumed this is anything other than what the screen shots above say – an isolated incident.
Below is the video we posted showing the problem mentioned the second screen shot above.
Advertisement