The 13.3-inch Apple MacBook Air is an excellent mixture of beautiful design and function. The larger of the two new MacBook Air notebook computers from Apple is thin, light, and capable. It gives new meaning to the term ultra portable. Even though it is small and light, the MacBook Air is also fast and can handle most day-to-day tasks it's owner will throw it's way. With long battery life, people on the go will get a lot of use out of Apple's new wonder.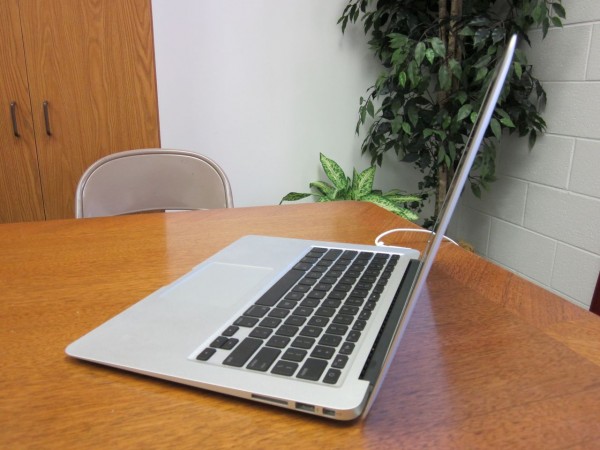 Quick Specs ($1,399 available directly from Apple)
13.3-inch display with 1440×900 resolution
Intel Core 2 Duo processor running at 1.86MHz
128GB SSD storage
4GB of DDR3 SDRAM
802.11 a/b/g/n Wi-fi and Bluetooth 2.1
.11-.68 inches think and 2.9 lbs
Display
The MacBook Air display has a beautiful 13.3-inch LED-backlit glossy widescreen display with a really high resolution of 1440×900. At that level you would think that text would be hard to read. While I recognize that people with sight problems might struggle – with healthy eyes, everything looks crisp and sharp. For others using Mac OS X's tweaking tools text can be enlarged and it will be quite readable on the sharp display.
The viewing angle is insanely wide. I could position myself almost 90 degrees to the right or left and still read the contents of the screen. Video looks rich and while I didn't really play any games on it, because that is not what this is for, I am sure simple games able to run on integrated graphics cards would look good.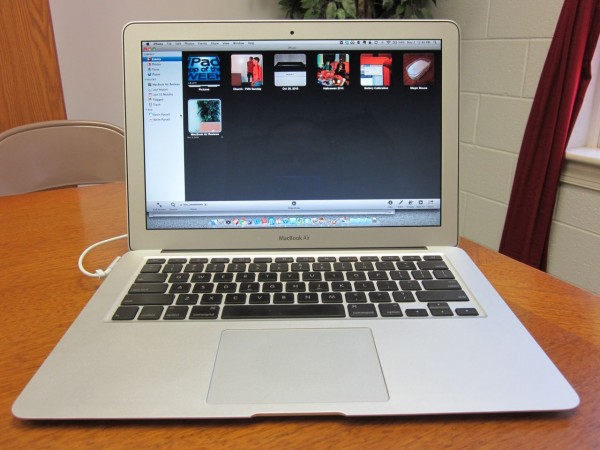 Keyboard, Trackpad and Mouse
The keyboard of the MacBook Air is the typical Apple island keyboard. While I struggled as a Windows user to adjust to the Mac keyboard layout and the lack of my memorized Windows shortcuts, typing on it was not a problem at all. I am really picky about the keyboards that I use and this one is impressive. I had no problems, once I got used to the keystrokes of OS X.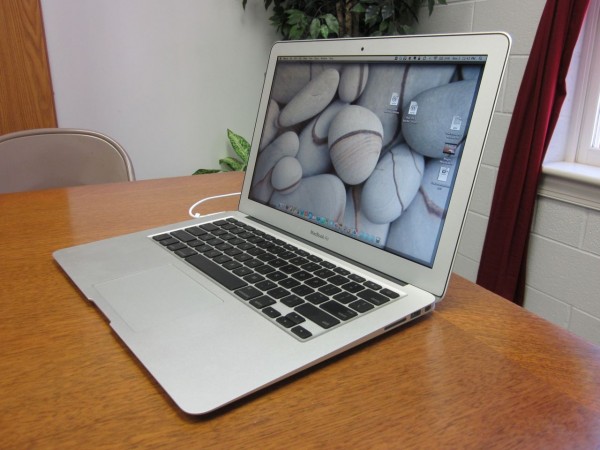 Another really noticeable feature of this notebooks is the track pad. It is huge especially when compared to most PCs out there. Apple gives the user plenty of room to perform the OS X gestures. Even large hands like mine could perform a four-finger swipe to bring up the application switching feature in the OS. It is responsive and easy to use. As someone who doesn't like track pads, I find this one is easily the best I have ever used on any computer. Ever.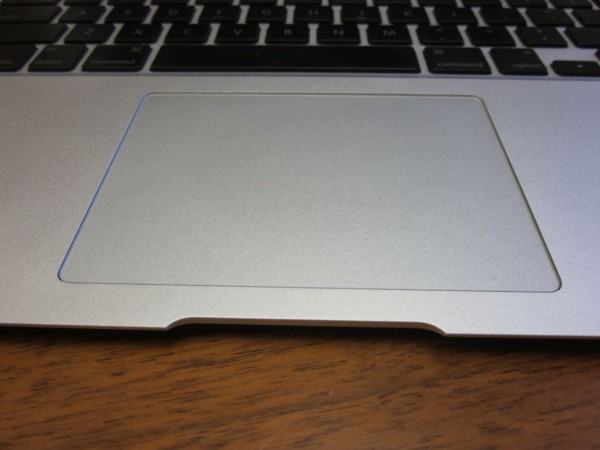 The MacBook Air doesn't come with a mouse, but I did review Apple's Magic Mouse used with this computer. It is a nice companion mouse.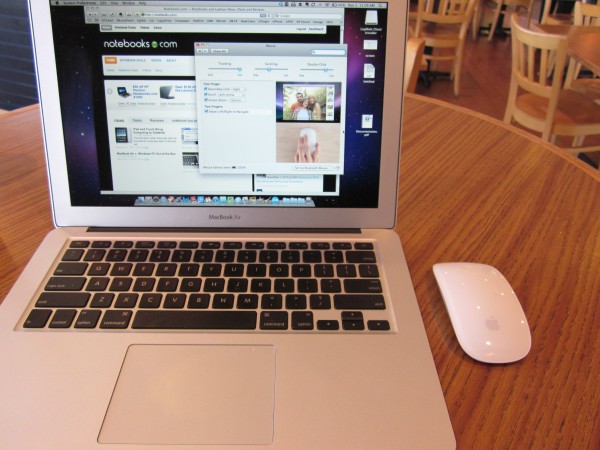 The only thing negative I have to say about the mouse on this computer is that the mousing speed even cranked all the way to the maximum is not fast enough for me. I cannot move the pointer from once side of the screen to the other in one motion. I usually have to pick up the mouse and replace it to finish the motion.
Processor, RAM and Graphics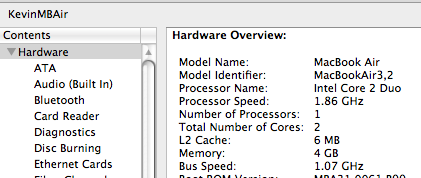 Of the two possible configurations, the MacBook Air we tested has the slower one with a 1.86GHz Intel Core 2 Duo processor. A 2.13GHz Intel Core 2 Duo is also available.
We were a little disappointed to learn that Apple did not put an Intel Core i3 processor in this machine. But there is a good reason for it.
AnandTech is one of those very technical sites that specializes in this kind of thing and they have a great explanation for Apple's choice. While it is complicated, the simple reason is Apple needed a fast chip that could run at lower temperatures and inside the extremely confined space of the MacBook Air. So they Intel came up with a special chip that is both smaller than a typical Intel Core 2 Duo and runs on less power making it cooler and offering better battery life while giving the machine more power than a netbook. As a result the computer feels very responsive, mostly because of the SSD, but the processor is not a bottleneck slowing the system down. The heat it generates is minimal.
The RAM inside this computer is DDR3 SDRAM. It comes with 2GB but we had them add a stick to bring it to 4GB of RAM. Doing simple photo and video editing is not going to be a problem for the MacBook Air. My video included with this review was edited in iMovie on this MacBook Air and most 10 minute videos exporting at higher than VGA resolution but not quite HD (960×540) take about thirty minutes to export from iMovie, which is not bad for this machine.
The graphics chip in the MacBook Air is the NVIDIA GeForce 320M with 255MB of DDR3 SDRAM shared memory. While we wish it had discrete graphics, the battery life would not be as good. So the video chip is a bit of a compromise.
The MacBook Air is not intended to be a high-powered gaming system or a professional video editing computer. For what the vast majority of users will be doing, surfing the Internet, writing documents, and doing light video/photo editing, the graphics are sufficient.
The graphics processor in the MacBook Air is capable of powering up to a 2560×1600 resolution display via the Mini DisplayPort adapters that Apple sells to go with it. There is one for HDMI, Dual-link DVI output, DVI output and VGA and they cost $29 a piece.
One of the few weeknesses of the MacBook Air is the limited storage. The SSD is its biggest strength as far as speed goes. But that speed comes at not only a monetary prince, but also a price in the amount of storage. The largest drive available is only 256GB. This one has 128GB requiring me to get an external hard drive. I won't carry the external drive around all the time, but it does make me have to think about what I will and will not store on the system. I have also chosen to not even bother running a copy of Windows on the computer, something I originally planned to do.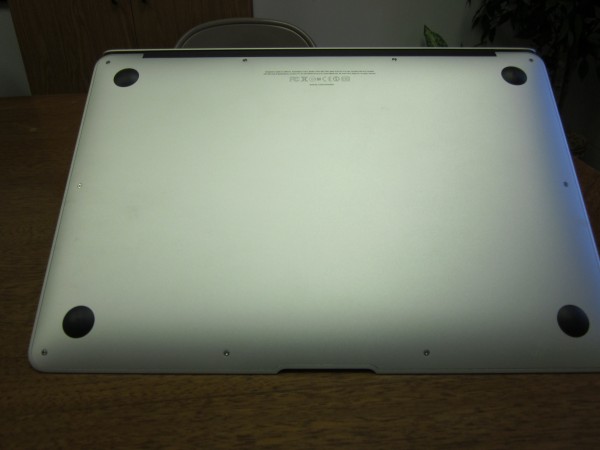 Battery Life
Apple promised that the 13.3-inch MacBook Pro should get up to seven hours of battery life. I was reading reviewers saying that number was either accurate or even low. So when I did my first battery test the night I got the machine, the battery lasted on about three and a half hours. I was really disappointed. I did another test with the screen's brightness way down, Bluetooth off, and Wi-Fi off except for when I needed it to get online. Again I was only getting around four hours. There was a real problem.
After some research, I found that Apple recommends a battery calibration every so often. So I followed their steps which include charging the battery until the indicater light on the MacSafe adapter turns green. Then run the computer plugged in for two hours. After two hours, unplug it and drain the battery. After the computer shuts itself off due to a dead battery, let it sit for five hours before plugging it back in and charging it again.
Since running the calibration procedure, the battery life is much better. i still have not achieved seven hours, but I keep my display turned up to at least 80 percent most of the time.
The battery life is excellent and this means that with my lifestyle I can carry a fully charged computer out of the house in the morning and not have to bring the power adapter. Some might complain because the battery is not user replaceable, but I seldom every changed the battery on my previous PC laptops.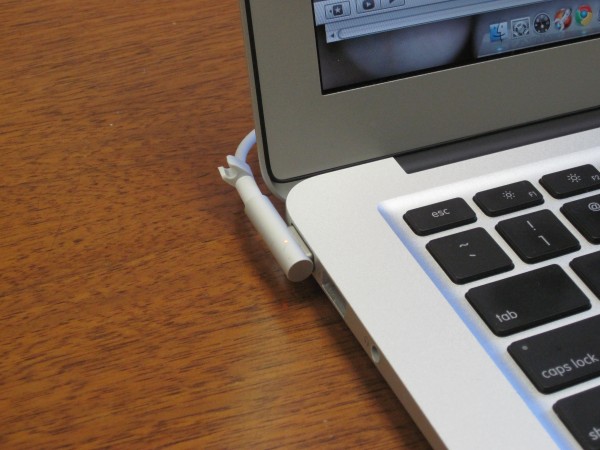 Let me also add, as a new Mac owner I love the power adapter. This is something Mac owners will take for granted, but we PC people will appreciate the small footprint. The white brick is small and light, half the size of a typical PC power brick. The fact that you can connect the brick directly to the wall saving you from having to carry around half the cord is nice. When needed there is an attachment that provides double the cord length. The part that connects to the computer (called a MagSafe Connector) is so thin not taking up much room in a bag. And the magnetic connector that detaches if you trip over the cord or step on it has already saved me from pulling the computer onto the floor twice, once due to my own clumsiness and once due to my dog's over attentiveness.
Video
Watching a DVD is impossible unless you add an external optical drive. Apple makes one for the MacBook Air, but most of the software I install is downloaded. And most of the videos I watch are online. The MacBook Air handled hulu without any problems. I watched an episode of The Good Guys on hulu and some podcasts from Twit downloaded via iTunes. I also viewed some YouTube videos and some that I created and edited on the machine. All of them look good. The blacks are dark and the contrast is good. There was no stuttering at all. It looked like I was watching TV, even better at times since my DirecTV receiver is not working right lately.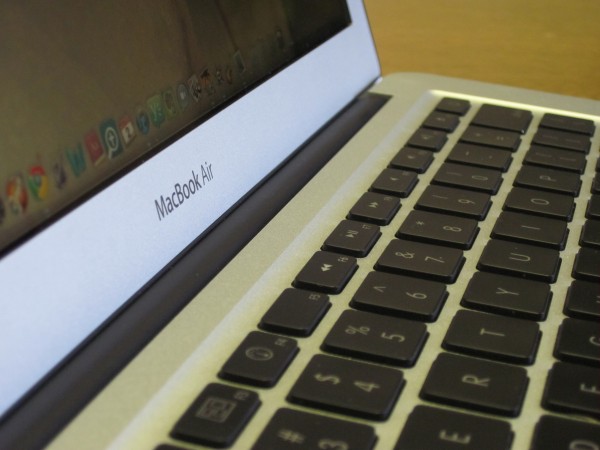 Audio
Since the MacBook Air doesn't have noticable speakers, I expected sound to be muffled. Instead it is strong and loud. Sure it could be better if Apple put some expensive speakers in the thing and made openeings for the sound to escape the case. But despite the speakers being behind the aluminum case, they sound pretty good. Plugging in headphones produces good quality audio as well.
Software
The new Apple iLife 11 comes pre-installled on the MacBook Air. I have not tested Garage Band 11 that much. But I have used iPhoto and iMovie a little and they both are nice programs for simple editing needs. For quick snapshots of product reviews and for making short videos, they do a good job and are simple enough.
Not a lot more comes with Mac OS X and Apple doesn't load down their computers with a lot of "crapware" like other venders. There are plenty of optional add-ons and buying them at the time of purchase can save money. For example iWork retails for $79 but if you bundle it you save $30.
For the first time Apple has done something unique by including, not a restore disc to reload things like the OS or iLife, but a USB flash drive since there is no optical disc. This is a welcome change and I hope all PC manufacturers will follow suit.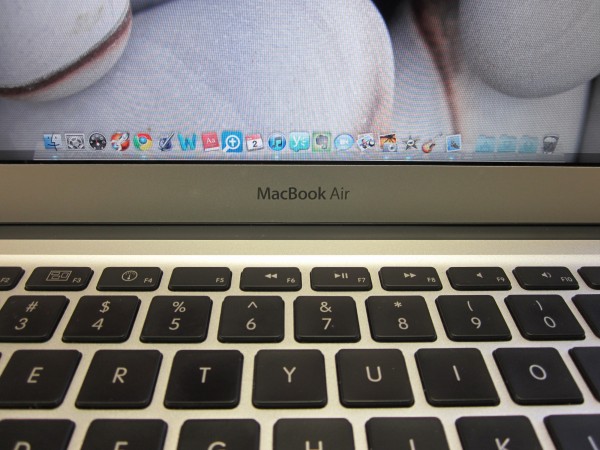 Connectivity
The MacBook Air has all versions of 802.11 Wi-Fi and Buetooth 2.1+EDR. What it doesn't have is an Ethernet port. That may not be a big deal for some, but if you only plan to use yours via Ethernet you will have to add an adapter. Apple sells one for $29 as an add on.
I had little problem with the wireless connections. Occasionally the AirPort could not connect to my home network, which was frustrating. But I cannot say if it was the computer or the network. My Apple Magic Mouse does have a problem reconnecting to the Bluetooth after the computer is closed and goes into sleep mode and then comes out of it. I have to reconnect almost every time. I am not the only one with this problem according to the Apple support forums. Again, I am not sure if this is a MacBook Air Bluetooth problem or a Magic Mouse problem. It is easily solved by just clicking the mouse and it usually reconnects. This may be by design.
Ports and Plugs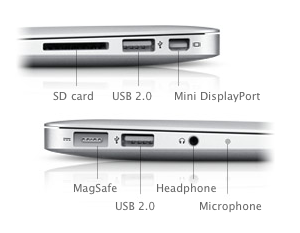 One of the differences between the two MacBook Air models is the number of USB 2.0 ports. It is a shame Apple won't include USB 3.0 ports as that is likely going to be the new standard in a year. But having 2 ports instead of just the one on the old MacBook Air is nice.
There is also an SD card slot and a Mini DisplayPort for connecting to an external display via a $29 adapter. I am used to having at least a VGA port and that was a problem at a recent meeting where I was to give a presentation. I had to run out and buy the adapter. But it works well.
There is also a headphone jack, which offers decent sound. The  FaceTime camera, as they are now calling them thanks to release of FaceTime for the Mac is adequate.
Conclusion
The biggest thing people will notice with the new MacBook Air is of course the thickness, or should we say thinness. The front edge of the computer is so thin in fact that it is almost sharp. The cutout just in front of the trackpad is sharp enough that my right thumb was slightly irritated after a few hours of use the other night. I have had to break myself of the habit of resting it there while I use the trackpad.
Aside from the size, the speed coming from the SSD is amazing. A computer with an Intel Core 2 Duo at 1.8GHz should not be this fast. But it is and it makes the 13.3-inch MacBook Air a great ulta-mobile option.
A light portable computer like this should also feel flimsy, but the MacBook Air feels the opposite. The aluminum case is sturdy and solid. I wouldn't want to drop it on the ground, but it does feel like it will hold up normal wear and tear.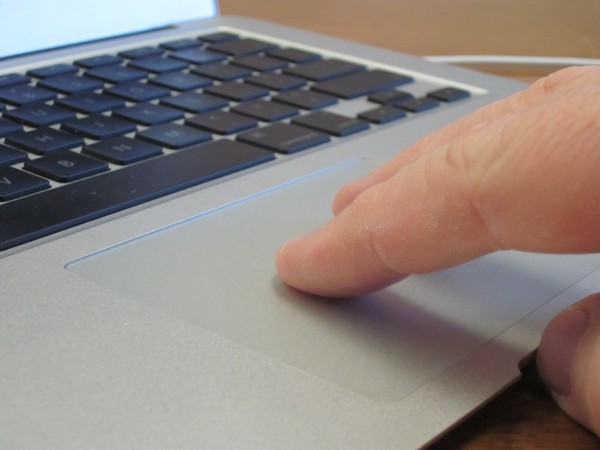 The only question is the price. At $1,399 a buyer has to think twice especially when a PC with an Intel Core 2 Duo running at 1.86GHz can be purchased for under $500. The problem is that comparing a sub-$500 notebook is comparing apples and oranges (pun intended). The MacBook Air is not a netbook or budget computer. It is a high-end ultra-mobile notebook computer. People should not compare it to budget systems.
The MacBook Air is not for everyone. If you need more than 256GB of storage you will have to look elsewhere. If you plan to do processor intensive or graphics intensive projects, look elsewhere. But if you want a Mac and really need something ultra-portable and have the budget, then this is a splendid option.
I like the new MacBook Air so much, that I am not sure I am addicted to my iPad anymore. I know it is likely because it is newer and therefore more exciting, but the size and weight of this computer makes it so easy to transport. I can put both my computer and my iPad in the same computer sleeve. And I can get my MacBook out and start it up so fast, that I find myself choosing it over the iPad much of the time now.
Video Review
Pros:
Size: weight and thickness
Battery life over six hours
Speed is excellent thanks to SSD
Screen is bright, crisp and has a higher than average resolution
Display has a very wide viewing angle
Keyboard is comfortable and easy to touch type
Track pad is very large and responsive; makes a track pad hater enjoy it
Sound is good for no exposed speakers
Feels durable
Cons:
Limited storage
Sharp front edge
New MacBook Air 13″ Detailed Tech Specs
Specifications
| | |
| --- | --- |
| Brand | Apple |
| Model | MacBoook Air 13.-inch |
| Operating system | Mac OS X 10.6.4 Snow Leopard |
| Processor / Graphics | Intel Core 2 Duo running at 1.86MHz (also available at 2.13GHz)/NVIDIA GeForce 320M w/256MB Shared Video Memory |
| Memory | 4 GB DDR3 SDRAM (also available with 2GB) |
| Hard drive | 128GB SSD (also available with 256GB SSD) |
| Display / Resolution | 13.3-inch LED backlit glossy display with 1440×900 resolution |
| Removable Storage | none, optional Apple SuperDrive for DVD/CD burning |
| Wireless Support | Wireless-A+B+G+N and Bluetooth 2.1+EDR |
| Input Devices | Full-size keyboard, Multitouch trackpad with gesture support |
| Power | 50-watt-hour lithium-polymer battery for up to 7 hours, 30 hours in sleep |
| Memory card reader | SD Card Reader |
| Ports | Headphone, MagSafe power connector, 2 USB 2.0 ports, Mini DisplayPort |
| Audio | Stereo speakers and omnidirectional microphone |
| Weight | 2.9 lbs. |
| Dimensions | 12.8 in x .11 (front)/.68 (back) in x 8.94 in |
| Webcam | FaceTime Camera |
| Warranty | 90 days free phone support, limited 1-Yr Parts and Labor, available Apple Care warranty for up to 3-years |
Advertisement