A series of articles discussing the usefulness or lack of usefulness of the Apple iPad was started by our friends at Gottabemobile. It began with mobile phone expert Chris Leckness saying he wasn't using his iPad anymore. Then tablet PC guru Warner Crocker talked about how much he uses his iPad. Inking aficionado Sumocat doesn't even have one. All three asked, Am I alone?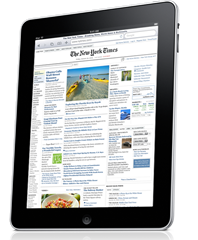 Not to be left out, our editor, Josh Smith chimed in saying he uses his iPad for a few hours every day. So, I've decided to get into the act.
The truth is I think I may be addicted to my iPad; leading me to ask, Am I alone?
When I get up in the morning it is usually to sound of bells tolling on my iPad which I have plugged into the iHome IB969 Charging Station we reviewed last month. There is a very nice app called Nightstand Central for iPad (free version; also a $2.99 version that adds a few features) that dimly displays a clock and never goes to sleep, so I can always see what time it is, even if I wake up in the middle of the night. It is so dim when I lower the brightness by swiping down on the screen that it doesn't beam brightly even in the darkest room.
After doing my morning routine, I grab the iPad off the iHome IB969 Charging Stand and check my email and Twitter (using Osfoora for the iPad; $3.99; see left below) before putting it in its case and running out the door. On the way to school in the morning  my son reads a passage of scripture in the Logos Bible app (free but works best with the Mac/Windows software; see right below) and we talk about it. I drop him off and go on to my office at the church.
Usually by mid morning I am ready for a break from studying, blogging or doing administrative tasks in our church. I always reach for the iPad and do some reading, checking blogs and email, and of course Twitter again.
Then it is back to work, which sometimes is also done on my iPad since I have so many great Bible study apps, like Logos Bible Software app, Olive Tree (see below), MantisBible and Laridian's PocketBible. All four of these were a recent collective iPad App of the Week. I have reference books in those apps that I don't have on my computer or bookshelf which are always close by so I can consult them.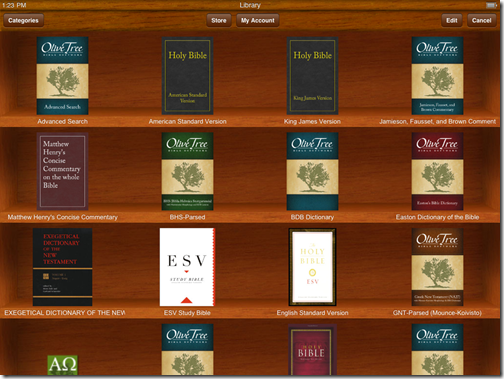 For lunch, I will grab a quick bite to eat at a local restaurant or at home. When I am waiting for my food to either be served or finished in the microwave, again it is back to the iPad to check email, Twitter and blogs. To read my favorite blogs I use NewsRack ($4.99), which does a great job of aggregating all my RSS feeds and links with Google Reader. Also, I sometimes type up a quick post usually using the free WordPress app. I do rough drafts which I upload to Notebooks.com and later edit it on my computer.
My afternoon is often spent in meetings, visiting hospitals or back home for study or blogging. During meetings I am using my iPad as a notebook with Evernote (free) or Penultimate ($3.99) depending on whether I am in the mood to type or write. Lately I've also been trying out Note Take HD ($4.99; see below) and Noteshelf ($4.99; demo video at Gottabemobile) thanks to recommendations from the guys at Gottabemoble.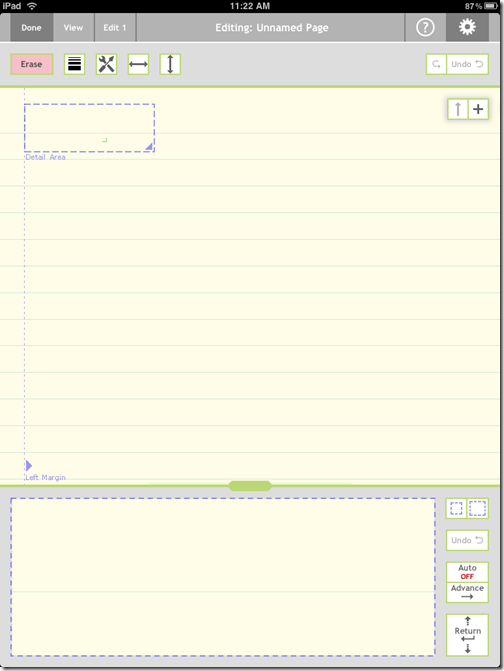 If I am studying, again I use my Bible study apps. If I am blogging I use the iPad as a second computer for looking stuff up while I work on my notebook or desktop.
In the evenings, I almost never just sit and watch TV anymore. I am usually reading a book in the Kindle app or a magazine in the Zinio app. I am playing the RISK style game  Lux DLX 2 ($4.99) or lately the tower defense game Fieldrunners ($7.99) and Cut the Rope ($1.99; see below and check back in a couple of weeks for the iPad App of the Week review) which is a physics game like Angry Birds, which, by the way, I don't play. I also often find myself looking up actors in IMDB (free) to find out what other programs or movies my wife or I have seen them in.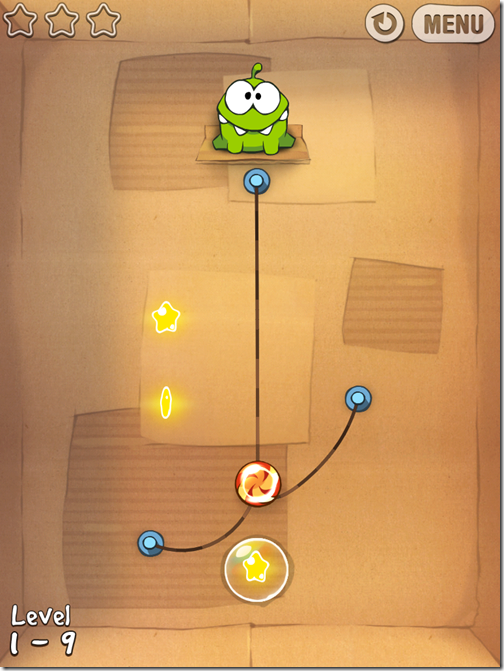 My iPad is never more than a few feet from me and I use it more than any other electronic device I own except for my computer or maybe my TV, but that might be a close race.
If I am in a meeting, I have my iPad open to note taking software the Calendar app or Safari. If I am teaching or preaching at my church, my iPad is open to Pages with my notes there instead of printed out. And occasionally I make presentations with Keynote. If I am at leisure it is usually with my iPad in hand. My family and I interact with it as we sometime watch videos together on hulu Plus (free app, $9.95/month subscription) or Netflix (free but requires $8.95 subscription). Often we are having fun with a game together. Sometimes I am showing them funny or interesting YouTube videos and everyone wants to use it to look things up when we are way from home; especially if they want to confirm a thought or look up a quick fact.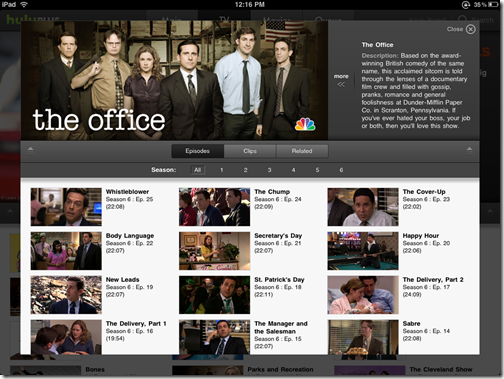 Advertisement