Doing a presentation for a small or large group just got easier with the release of the Apple iPad and the Keynote app.
As a pastor, almost every time I preach, I do a visual presentation, usually using Microsoft PowerPoint. I took the opportunity to test Keynote on my iPad while teaching our midweek Bible study at church. Except for a couple of challenges, it worked really well.
The first time you open Keynote you are shown a Tap to Get Started with Keynote" presentation. I highly recommend you go through that before going too far. It is a tutorial and will show you the majority of what you need to know. You can also watch the tutorial video from Apple below.
From the My Presentations screen, you create a new presentation by tapping the New Presentation button. Keynote will display the available templates. They look nice, but don't rely on them for too long or your audiences will get bored with the same ones over and over.
You will notice from the screen shots that when you tap the plus sign, Keynote gives you options to create various kinds of slides with different layouts. Once you choose a layout or a blank slide, you can insert media by tapping the Picture button on the toolbar in the upper right. After all the elements are placed and the slides are all created, insert transitions using the Transitions button. To add them to a slide, tap the slide in the Slide Sorter on the left and then tap the Transitions button. To add them to slide elements, like pictures or text, tap that element and then the Transition button.
After a few slides, I got frustrated and decided to create my presentation in PowerPoint on my PC and export it over to the iPad via iTunes. I knew that things like transitions and exotic fonts would not move nicely to the iPad. So I didn't put any of those in my presentation. Once Apple adds their version of multi-tasking to the iPad this fall, this will get easier. If you want to create your presentations on the iPad in Keynote, then here's a tip. Make sure you gather all your media files first, before you ever start. That way you won't have the frustration I had of having to repeatedly exit Keynote to go to Safari to download my files from this or that site. Even with multi-tasking, this is a good idea.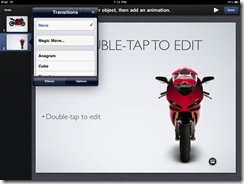 The process of getting documents on your iPad is also not a joy. In a previous post I explained the process for Pages, but it is the same for Keynote or any other app that supports iTunes document import. Apple really needs to allow wireless syncing of documents and other content for that matter. Many of the document reader apps in the app store do.
After you have the presentation file on your iPad, you tap My Presentations, and then tap the folder icon on the upper right. This will give you a list of files that can be imported into Keynote. You can import files from the desktop version of Keynote or from PowerPoint 2007 and above. Why there is an extra step to import, I don't know. Would it be that hard to make the app automatically import it and have it available from the My Presentations screen without having to tap another icon to open another screen?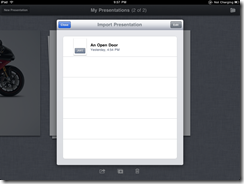 Once I transferred my PowerPoint presentation to the iPad and opened it, it warned me that a few of the elements would not translate perfectly. It was two fonts and a chart that I created using PowerPoint and Excel. I had to adjust the font sizes and positioning some, but that was not a big problem. The chart actually didn't get too badly messed up and I was able to resize it and make it readable.
The next step was to add transitions. I used the some of the fancy transitions on a few slides. I mostly used the dissolve transition because with transitions, less is more. That said, the Keynote transitions are not too gaudy. I used a few just to get the feel of them. I never felt embarrassed while giving the presentation.
The presentation mode has a decent interface. As you can see in the video below, you don't actually see the full slide on the screen if you have the dock to VGA adapter plugged into the iPad. It sends the images to the external display. What you get is thumbnails of the slides along the left (there is a button you may have to tap to reveal them) and left/right arrows for advancing or going backwards in your transition. One nice touch is the digital laser pointer. You hold your finger on the screen and it will show itself on the external display. It looks like a little red ball of fire. This allows you to highlight elements of your slides. The only problem is that it is a little finicky. It sometimes doesn't want to work. The other problem is that it takes a second or two between some taps and when the app responds. And finally, I wish there was a way to make permanent highlights.
Once you are finished giving your presentation, you may want to get it back out of the iPad. Keynote offers options for sending via email, uploading to their beta version of the iWork web site, or exporting it and then getting it off the iPad via iTunes. I exported my presentation from my Bible study to iWork. You can make them public and I did so you can take a look at it.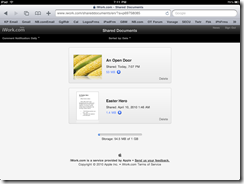 I do not own a Mac and have never used Keynote on the Mac. But comparing it to doing PowerPoint with a notebook computer, I like Keynote. The ease of setting up the hardware and having the iPad on my lectern while I teach is preferable to setting up a Windows machine and having to use a wireless presentation mouse. The iPad's battery life also gives me confidence that it won't quit before I'm finished. When I did my presentation I turned off the Auto-lock feature for fear the iPad would go to sleep. The good news is that Keynote handles this for you; it won't go to sleep in presentation mode.
There are a few problems with Keynote. One report claims that the iPad Keynote app messes up presentations created on the Mac version of Keynote. I have not been able to test this, not having a Mac. But here is one testimonial:
This is the big deal breaker for many Keynote users. Upon importing my first Keynote file to the iPad, I was stunned to find that the iPad had corrupted and altered my relatively simple presentation. File after file, and slide after slide, the iPad continued to change the layout, alter font sizes, remove transitions and lose images. In short, it ruined my documents. One would expect the iPad to open a Keynote file with all formatting and layouts perfectly intact. After all, Apple did not bill the iPad version as being stripped down, but full-featured companion to the desktop program. (Chris Anderson, TUAW.com)
The author went on to say that Keynote on the iPad badly corrupts more advanced presentations and does not keep the formatting of master slide templates. If you are a Mac Keynote user, this may be a deal breaker for you. As I said, making a very simple presentation in PowerPoint and then tweaking it in Keynote worked well for me. Is it possible that Apple created a product that works better with a Windows PC running a Microsoft application?
I miss a few of PowerPoint's features. In PowerPoint 2007/2010 the presentation mode is more helpful to the presenter. First, when editing, there is a notes box at the bottom for you to add presenter's notes. Then, when you run the presentation in presentation mode, the box moves to the upper right showing the presenter those notes. When I'm looking at the screen on my notebook, I can see my notes, the slide I'm presenting and the forward/back buttons, as well as thumbnails of the slides before and after the current slide. (see screen shots of PowerPoint below) With Keynote on the iPad all you get is the thumbnails along the side and the forward/back buttons. There are no notes and you can't see the larger image of the displayed slide.
A second thing Keynote's presentation mode needs is the ability to mark on the screen. I can do this in PowerPoint. Why not allow for digital highlighting markers and drawing pens? Sometimes I want to highlight something on the screen and have it stay permanently. Keynotes digital laser point is a start, but it is not enough.
Another issue some are having is adding video to presentations. Apple offers some instructions in their FAQ page for Keynote. They are as follows:
Before you can add your own videos, you must first make them available on your iPad by syncing with iTunes. To learn about syncing, see the instructions in the iPad User Guide (in the Safari bookmarks on your iPad, tap iPad User Guide).

To add a video to a Keynote slide, follow these steps:

Tap the Media window icon at the top-right of the display:
When the Photo Albums page opens, tap Media.
Tap the Photo album that contains your video.
Tap the video thumbnail you want.
Then tap Use. The video and its audio track will play automatically when the slide is played by tapping the play icon:

Not all video formats work with the iPad. To learn how to convert video so it works on iPad, go to the iTunes Help menu on your computer and search for "Preparing a video to work with iPad."
It is not easy, but it does work if the video is in a format that is compatible. The iPad specs page lists the following formats:
H.264 video up to 720p, 30 frames per second, Main Profile level 3.1 with AAC-LC audio up to 160 Kbps, 48kHz, stereo audio in .m4v, .mp4, and .mov file formats; MPEG-4 video, up to 2.5 Mbps, 640 by 480 pixels, 30 frames per second, Simple Profile with AAC-LC audio up to 160 Kbps, 48kHz, stereo audio in .m4v, .mp4, and .mov file formats; Motion JPEG (M-JPEG) up to 35 Mbps, 1280 by 720 pixels, 30 frames per second, audio in ulaw, PCM stereo audio in .avi file format
Keynote is a good tool for simple presentations. But Apple needs to improve it by beefing up the presenter's mode and fixing the file corruption issues. I will settle for paper notes and the digital pointer for now, but I really miss having presenter's notes and slide markup. Making it easier to get documents into and out of Keynote will also help improve it and all the iWork apps.
In spite of its weaknesses, I now prefer using Keynote and the iPad over PowerPoint and my HP notebook. I have tried a couple of other document viewers, like Air Share Pro. They are not as good as Keynote. But Keynote could be and hopefully will be a much better app in the future.
Advertisement