For a new switcher to the Mac, one of the early questions to answer is this: "Should I buy iWork or Microsoft Office for Mac?" The Unofficial Apple Weblog has a good article that attempts to help Mac users answer just that question. The decision centers around three basic issues – cost, environment, relationships and tolerance.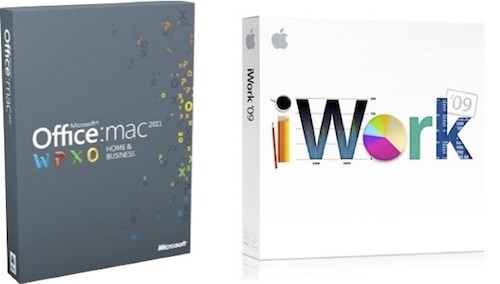 Cost
iWork carries a retail cost of $79. The good news is you can download the suite of apps for a 30-day trial from Apple. Also there are some deals to be had from Amazon or if you purchase at the time of your new Mac computer purchase, at which point it is a $49 add-on.
Purchasing Microsoft Office 2011 for Mac directly from Microsoft will set you back either $149.99 for the Home and Student version or $279.99 for the Business version. Again, there are deals to be had so look around; you won't likely have to pay full price if you get it from another retailer. The differences between the three price point options can be seen as follows:
| | | | |
| --- | --- | --- | --- |
| | iWork 09 – $79 | Office Home/Student 2011 – $129 | Office Home/Business 2011 – $279 |
| Word Processing | Pages | Word | Word |
| Presentations | KeyNote | PowerPoint | PowerPoint |
| Spreadsheets | Numbers | Excel | Excel |
| Calendar/Email/ToDo | NONE | NONE | Outlook |
As you can see the only real difference between the two versions of Office is Outlook. If you need a powerful email, calendar and task manager all in one installed on your computer, then you have once choice. And it will cost you. Office for Home and Business is $279 retail. But for most people that is not the case. The built in Mail program in OS X or an online solution, like Google's Gmail with Google Calendar will suffice for most people. That brings us to the second major question in making this choice.
Environment
If you work in a collaborative environment with people who all use Office and you will be sharing documents frequently, then choosing Office is likely your best bet. iWork plays nicely with Office if you are creating simple Pages documents or Keynote presentations. But get complicated and conversion will be a nightmare. And Numbers is just not comparable to Excel for complex spreadsheets. If you work in an environment where you will be making or sharing complex spreadsheets, then again you have one choice – Microsoft Office. Go with the Home version if you don't need Outlook or Business if you do.
Another environment that will affect your decision is your own home. If you have a number of Windows PCs running Office and only one Mac, you will have to export documents from iWork to edit them on the PC. There is a way to open pages documents on a PC if you only want to read those documents, and we showed you how previously.
I have found that while I am using my new MacBook Air for a larger percentage of my work, I am still having to edit documents in Office 2010 in Windows. I have Pages and like it, but it is inconvenient to have to export documents to Word format when I also have Office for Mac and it saves documents in the same format as Office 2010 for Windows. I have my documents synced with DropBox and it is so convenient to be able to quickly open a document on my Windows machine without much thought of converting.
Relationships
This is much the same questions as above. Many people work in environments like those described above, but the people they share documents with don't use Windows. Maybe nearly everyone uses Windows but the two people you collaborate with both use iWork on a Mac. There is no need to go with Office. So ask around. The people you typically share documents with at work or in your circle of family or friends will help you with your choice. If the majority are using one over an other, then it might be worth the time or effort to pay more (for Microsoft Office) or learn a new office suite (for iWork). This leads us to the final issue.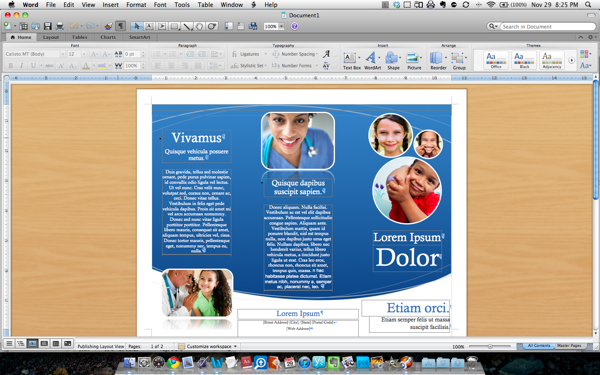 Tolerance for Change
Are you a creature of habit who bristles at change? Maybe you've just switched to a Mac and have really struggled with that transition. Going with either Office for Mac or iWork will involve some change; each looks and behaves differently than Microsoft Office for Windows (see screen shots below). However, if you used Office 2007 or 2010 on Windows, the change to Office for Mac will not be as significant. The environment is not as different as the change to the iWork applications. The above screen shot is of a brochure in Word 2011. The one below is of Pages 09. And below that is Word 2010 for Windows.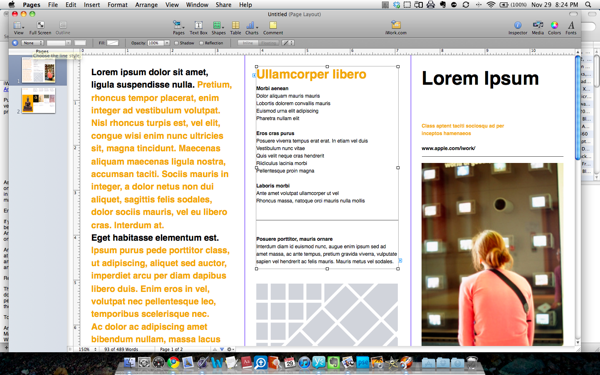 Some of what you are used to in the Windows version of Word is there including some of the buttons along the bottom and the presence of the Ribbon. There are also some big differences. But looking at Pages, you will see that the differences are far greater. If you are a longtime Office user, then the presence of the Apple menu will bring back a familiar friend that has been gone in the Ribbon focused environment of Microsoft Office 2007 and 2010.
Recommendation
From one switcher to another, if you don't have to share documents and don't mind learning the new environment, I would suggest iWork. It is cheaper, not that hard to learn and handles most of what Word does and some of what the Microsoft Office Publisher application does. If you are a Publisher users, you will not find Pages that hard to learn in its layout mode. Keynote is also a very nice Presentation application and interfaces with the iPad well if you have one. Unless you do complicated Excel spreadsheets, Numbers will handle the simple things fine. And do yourself a favor and kick Outlook to the curb in favor of Google's Gmail and Calendar service.
On the other hand, if you share documents with Windows or Mac users of Office a lot, then stick with Office.
Advertisement