The portability that comes with the slim form factors and long battery life of the Mac notebooks is great, but keeping your files in sync between a MacBook Air, iPhone and iPad can be a hassle. We've rounded up the best Mac Apps for sharing and syncing files and information so that you can keep your digital life within reach anytime you have an Internet connection.
Mac OS X Lion will soon be out with a collection of iCloud sharing and syncing features 5GB of free online storage, but we think these Mac apps will be able to hold their own against the built in iCloud features. Best of all, you don't need to wait for Apple, you can get started with your own version of iCloud today.
Evernote – FREE in Mac App Store
You might not think of Evernote as a sharing or syncing app, but it is the best note taking app for a reason – it syncs with the Evernote servers so you can share your notes, screen grabs, pictures, video, and audio recorders with all of your machines. If you take a picture of a business card or document the built in OCR feature will make the text searchable within Evernote so you can find it later. The OCR even works on handwriting.
Evernote is a tool that calls itself your second brain. We call it the digital filing cabinet. It is perfect for storing information for both the near and long-term. Here are a few ways we use Evernote;
To save copies of all receipts of the Internet purchases that we may need at tax time.
For fast access to travel itineraries (hotel reservations and such).
A great repository for notes.
Keeping scanned meeting documents at hand.
A place for audio recordings of meetings and conversations.
When you pair Evernote with a smart phone, tablet or any device with an Internet connection you can access your information anywhere you go. What's more it is free!
If you like Evernote, check out the Evernote Trunk service which allows you to pair up with other services and extend the functionality. If you find yourself saving web pages on a regular basis you'll enjoy the Evernote browser plugin, which works in many browsers, but the updated the Chrome plug-in is at the head of the pack.
Dropbox is a free service that allows you to sync up to 2GB of files to your Dropbox.com account and to all of your computers. We really like Dropbox because it acts like a flash drive in the clouds. As long as you save your files to the Dropbox folder your files will be backed up to the website and synced to all of your computers.
You can access the files you save to your Dropbox on the website or from the computers you install Dropbox on. There are also mobile apps for the iPhone, iPad, Android devices and even BlackBerry.
The Dropbox service is free for 2GB of storage and costs extra for more. You can participate in special activities which earn extra free storage. It is easy to get an extra 1 to 2 GB of storage because of all the extras Dropbox offers.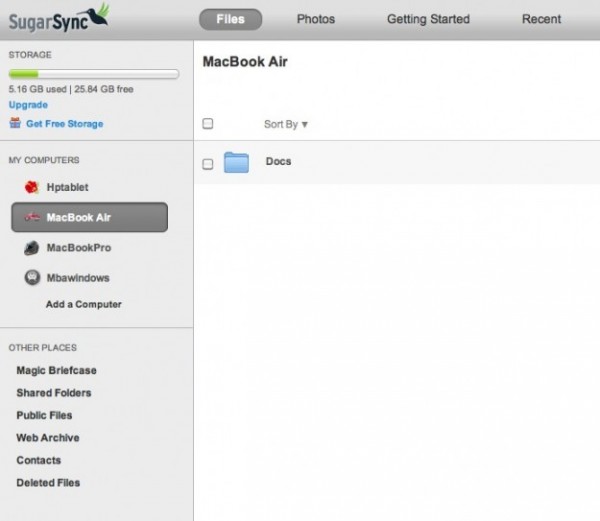 SugarSync is similar to Dropbox and can be used alongside Dropbox if you want extra storage or the functionality of both services. As you can read in our SugarSync review, SugarSync has a collection of features that give you more functionality like media playback from mobile devices, the ability to sync any folder (even on external drives) and a new mobile device management functionality.
We sync our media files to SugarSync thanks to better playback in the apps for iPad, iPhone and on Android devices. SugarSync is also nice for storing your media files because you get 5GB for free and the upgrade price is cheaper than Dropbox.
If you don't want to be limited to the one folder in Dropbox, you should check out SugarSync. After you upload a file it is easy to share a single file or an entire folder with another user. This is especially handy for sharing a large home movie or collection of photos that are too big to email.
PhotoSync isn't just a Mac app, it is also an iPhone and iPad app. Together these apps are the easiest way to quickly offload pictures from your iOS device to your Mac without the need to sync to iTunes. When you want to sync your photos from your iPhone to your Mac, you can start a transfer from your iPhone or from the menubar on your Mac.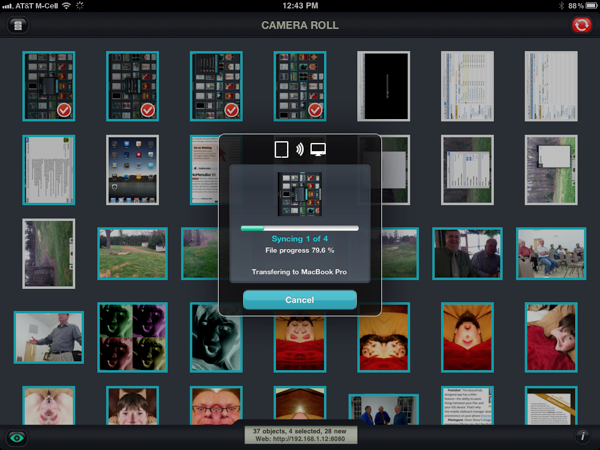 We reviewed the PhotoSync iPad app as part of one of our iPad Apps of the Week. We love this solution and think Apple should just buy the company that made this and incorporate it as is into OS X and iOS. While iCloud is building in Photo Stream, a service that will perform similar functionality, it will need to be really good to beat out the PhotoSync app.
The above file syncing services are great for ongoing synchronization of files and folders, but sometimes you just want to do a one time sync of two large folders. SyncTwoFolders is a free utility that we don't use often, but when we need to sync two folders without waiting on cloud uploads or singing up for online services it gets the job done. We have used it to backup folders of music and media from our MacBook Pro to an external hard drive and the small app works as advertised.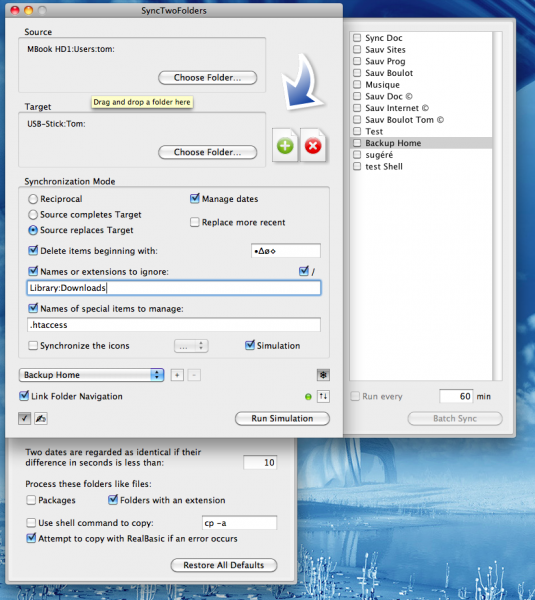 Here is what you can do with the app:
Analyze both folders for a smart sync that beats out copy and paste.
Source completes Target – Can copy only new files to the backup location.
Reciprocal – Mirror the folders using either folder as the primary so that new files are copied and deleted files are deleted in the second folder.
Source replaces Target – changed files in one location replace old files in second location.
Copy both ways – files missing in either location will be copied to the other.
Reciprocal without delete – Copy new files from one location to another but leave the files you deleted in the source in place on the backup
Runs as a simulation – Allows you to see what changes will take place if you run the app
Advertisement