Apple has sent out invitations to the company's 'Back to the Mac' media event, which will be next Wednesday, October 20, at 10:00 AM Pacific Time. This event will take place at Apple's headquarters in Cupertino, California.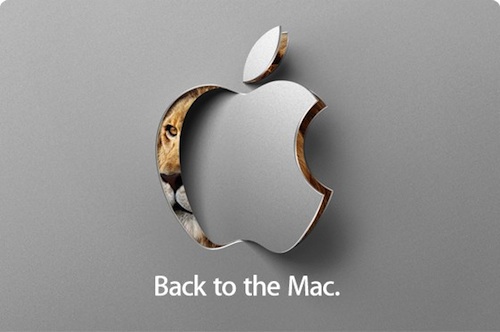 Judging by the lion that can be seen in the background of the invitation, it looks as though Apple may introduce Mac OS X 10.7. Though it seems a little too soon to release a whole new operating system, it does follow Apple's trend of OS releases. Puma, Panther, and Leopard were all released in the September-October time frame. However, if there is a new Mac OS X released, it may be a few months before it is available to everyone. Snow Leopard's actual release was nearly 3 months after it was announced.
Along with the release of Mac OS X 10.7, Apple may include a new version of iLife, which is also due for an update. Among the rumored features of the new iLife are 64-bit codebase, an update to iWeb, the end of iDVD, and more iOS apps, similar to iMovie for iPhone. Additionally, some point to the possible update to iChat, which would allow users to FaceTime chat with iPhone 4 and iPod Touch users.
Aside from the new version of Mac OS X that seem imminent, what else does Apple have up its sleeve? Most of Apple's desktops have seen a refresh recently, so it is unlikely that there will be any news on that end. However, most of Apple's notebooks are due for an update. For instance, the MacBook Air hasn't seen an update for nearly a year. Historically, October and November have seen refreshes to the company's notebook line-up. One rumor that has come up a few times is about an 11.6″ MacBook Air.
One rumor floating around is the possibility of a Verizon Wireless iPhone. This is highly unlikely due to 'Back to the Mac' tagline which implies updates to the Mac line-up, not iPhone or iPod. That being said, maybe a CDMA iPhone could be that "one more thing" Steve Jobs is famous for.
Be sure to check out Notebooks.com for updates during the event on October 20th at 10:00 AM Pacific Time.
Via MacRumors
Advertisement