Did you ever watch the Jetsons or Star Trek as a kid and wish you could video chat with someone from a mobile device? Following Steve Job's famous phrase "One more thing..", Apple CEO Steve Jobs announced the video calling app for the new iPhone 4, called Facetime, which makes this dream a reality.
Facetime is an iPhone 4 video app that allows people to place video calls. Users can use either the front or rear-facing camera in either portrait or landscape orientation. Video calling is available anywhere over WiFi networks only and does not require any special setup. For now, iPhone 4 users won't be able to place FaceTime video calls over mobile phone networks, including AT&T's.  This is due to bandwidth constraints.
"It's WiFi-only in 2010, we're working with the cellular providers to get things ready," said Jobs.  This is a good sign that mobile video calling will be a reality in the future, but he stopped short of announcing a timeline of when we'll see it in the U.S.
One surprise here is that Jobs said that Facetime will be made an open industry standard. This means that there is a possibility that video calling may not be limited to video calls between iPhones It could be possible that iChat AV, Skype and other applciations may be used to place and receive video calls from iPhones equipped with FaceTime.
Overall, Facetime is a great addition to the iPhone 4. It definitely sets it apart from any other phones currently on the market.
You can find more detailson on the iPhone 4 here, or watch the video above .
iPhone users will be able to see their friends' video as well as a thumbnail of themselves.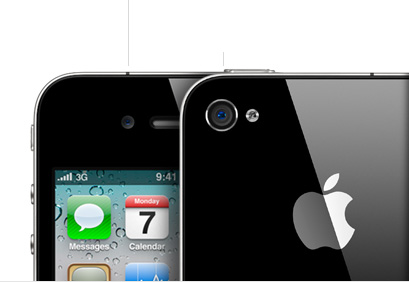 Advertisement