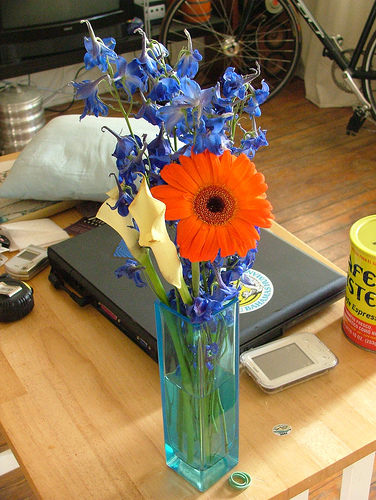 Valentine's Day is right around the corner and while a recent survey by Snapily shoes that your loved one will prefer a tangible card, technology can help long distance and last minute love birds this holiday season. If you need some help to be the best Valentine you can be, check out our guide to using your laptop and smartphone to be a stand out sweetie this year.
For the Long Distance Valentine: According to the expert on classical conditioning, Pavlov, if the person you give flowers to sees you within a half second of receiving them she will like you more. If you don't want your Valentine falling for the delivery man, you should follow these tips to make an impression on Valentine's Day. This is especially important given that 1/3rd of married couples are apart due to their jobs and other commitments.
Smart Phone Solutions: If you have an iPhone or Android device you can video chat with your sweetie when your delivery arrives, achieving a similar effect and see the look on his or her face as the smile begins to form.
For the iPhone:
iPhone and Android:
Fring – Free video calls from smart phone to smart phone including Android and iPhone. This is a great solution if the two of you aren't on the same mobile platform. – Free
Laptops for Lovers: OK, we don't expect you to go out looking for a new laptop this Valentine's Day, but that's alright. Odds are your laptops are already set up for video chat or you can find an affordable webcam before Valentine's Day.
Connect on Skype with video chat to share a moment during a busy day or to settle down for a long distance dinner and a movie. Skype allows you to video chat for free to other Skype accounts. Sure, sharing dinner with a laptop and candles may seem a bit corny, but never underestimate the power of corny on Valentine's Day.
If you want to watch a movie you can use the built-in screen sharing on Skype, or just pop in the same movie and share an evening watching your favorite flick no matter how far away you are from each other.
Another great tool, if you both have an Xbox 360 is the party feature built into Netflix which allows you to watch the same movie together in a "party".
If you need a webcam or other chatting equipment, check out the Skype store or any electronics retailer which will have a selection that you can pick up or have delivered in time for Valentine's Day.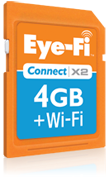 Share Your Valentine's Day Online with Eye.fi: Need to share your day with your Valentine? Pick up an Eye-Fi X2 card and you're ready to share your day even if you are away from a hotspot. The Eye-Fi card allows you to upload your photos to the web as soon as you take them if you have a WiFi connection. If you don't have a hotspot handy the new X2 cards can connect to your Android smart phone or iPhone to make it possible to send your photos to a loved one from anywhere you have a cell phone signal.
Last Minute Valentine's Day Gift Ideas: If you need to come up with something special, pay attention to these tips to make V-day a hit even if you forgot to plan ahead. Don't forget to check out our Valentine's Day Tech Gift Ideas.
At Your Local Store: For finding last minute gifts locally we recommend that you hit up Milo.com, or pull up the Milo Local Shopping App on your Android phone. Milo will help you find in stock items at local stores and will show you coupons to save on your gift. With Milo you can find almost anything you need in a few minutes as opposed to searching all over town in your car.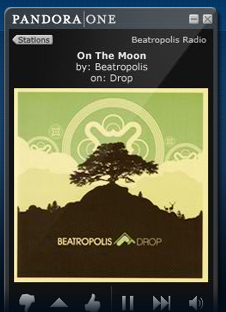 Last Minute Valentine's Day Gifts you can Give Online:
Kindle eBooks – If you know what book series your Valentine loves, send a Kindle eBook directly to their email address to look good without leaving your desk.
Pandora One and Love Stations – Give a Pandora One subscription which delivers higher quality music and no ads for $36 a year. Add to the experience by creating ad sharing a collection of love song stations to set the mood on Valentine's Day.
Flickr Pro – Pick up a Flickr Pro account for loved ones with a passion for photography and enjoy their smile every time they upload a new photo.
Netflix – If movies are the go to way for your Valentine to spend a nite pick up a subscription to Netflix which allows for instant streaming and DVDs by mail.
Hulu Plus – For the TV junkie, and Daily Show addict, get them a subscription to Hulu Plus which will allow them to watch TV shows on their iPad, iPhone and over the PS3. Access to more content than the free browser based version of Hulu Plus and mobile access is worth it for those who might already be spending money on iTunes subscriptions.
Flower Image via Urban Hippie Love
Advertisement