With Valentine's Day just around the corner, we know you could get some flowers, chocolates or a teddy bear — or maybe even something from Victoria's Secret, but if you're buying for a geek or technology lover you need to look at our list of Valentine's Day tech gift ideas. After all, nothing shows you care like a new tech toy!
For photo enthusiasts, a good tripod is a must. But carrying a big tripod is also awkward. That's where a small one comes in handy and Joby makes just the thing – the GorillaPod. It is a unique tripod with three legs that can be adjusted and bent to fit on, around or alongside a lot of surfaces. We've seen these for a while, but the thing that makes this little guy different is the magnets in his feet. Lighter cameras can be held in unusual angles and places thanks to the bendable nature of the legs and the magnets. The legs are actually unique little sphere's with a ball joints connected together. They can be bent in a lot of shapes. You can hang this on a metal fence or bend it around a wooden one. You can connect it to the metal plates in the door. We were given a test unit to try out and it works great. Along with The Glif, it makes a great tripod for your iPhone 4.
There are four different versions. The magnetic version costs $24.95 and can hold cameras that weigh up to 11.5 oz. That means a point-and-shoot camera, something like a Flip Ultra HD  or the iPhone would fit great on this little tripod. There are three larger ones that can hold an SLR ($39.95) and a heavy SLRs with a big zoom lens ($49.95 or $99.95). The magnetic version comes in multiple colors, while the others come in just black with either grey plastic trim or the more expensive and sturdy one with metal ball joints. The smaller SLR model has a bubble balance to help get that perfectly angled shot.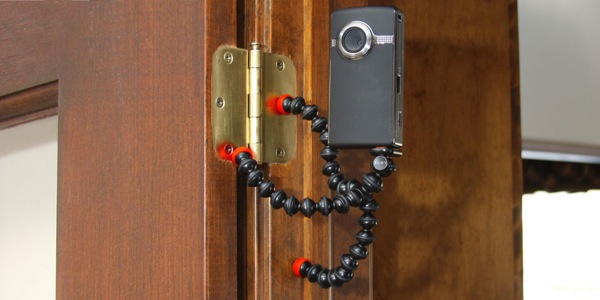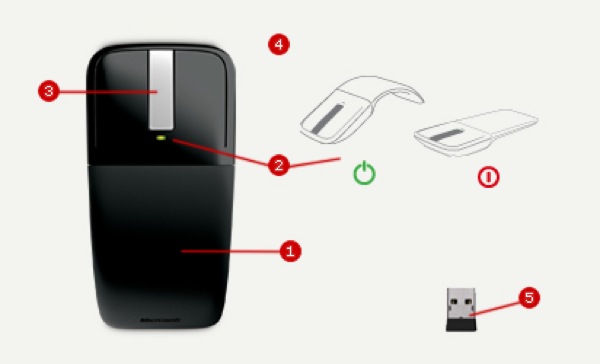 If you would like to gift someone a portable mouse, one option might be a Microsoft Arc Touch Mouse. This is an update to the previous version which was not very successful. We thought we would hate this one until we used it briefly. While it is not a great long-term use mouse, for short mousing on the go it is a good design. The mouse arcs to form a comfortable shape to hold while pointing around your notebook computer screen. Then when you want to turn it off and throw it in the bag, just flatten the mouse. You don't have to worry about the battery dying because the buttons keep getting pressed inside the bag and you forgot to flip the power switch.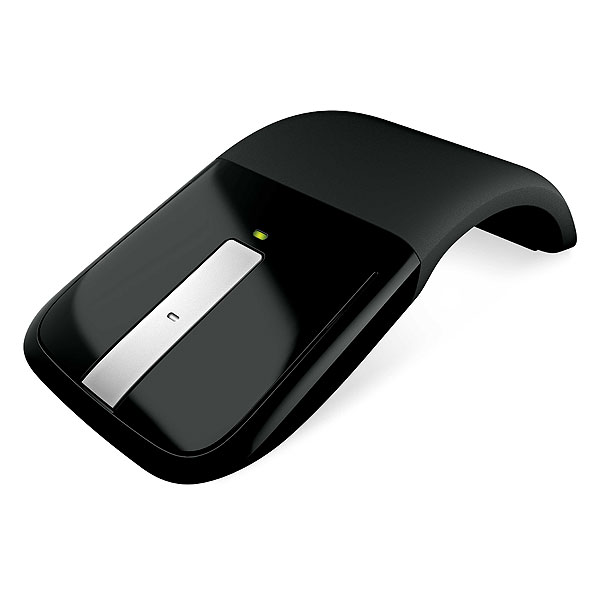 There are two buttons like most mouse and a center touch strip that reacts to the finger swiping up/down for scrolling or flicking gestures. The tiny receiver can fit in the side or back of a notebook USB port and even stay there all the time. The BlueTrack technology in Microsoft mice lets you use it on almost any surface.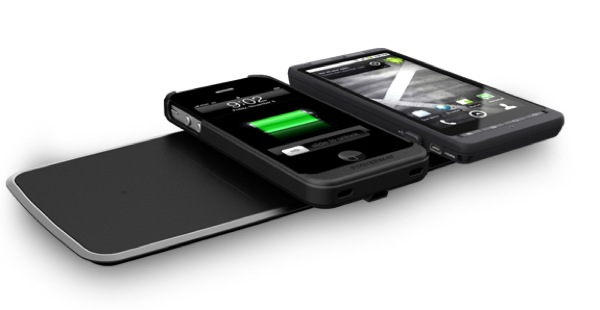 One of the best products at this year's CES 2011, according to our editorial staff, was the charging solutions from Powermat. The idea is add one of the PowerMat batteries to your mobile device (usually via an add-on case) and when it needs a charge just lay it on the Powermat. The special battery pack receives its charge from the Powermat without ever having to plug it in.
The Powermat itself ranges in price from about $60 up to $130 depending on how many devices you would like to charge at once (up to 3) or where the Powermat will go. There are Powermats designed to stay put and some designed to be taken with you. A Powermat receiver (the part that connects to the portable device) ranges from about $10 for the older model Blackberry smartphones on up to $40 for the latest models from Apple or HTC. If you only plan to charge one device go with a bundled solution for between $30 to $100. These systems are convenient, making recharging your phone a breeze.
To get started configure your solution at their website which helps you select what you need based on what devices you plan to charge. In our house we charge an iPhone 3GS and an iPhone 4 at once. With a mat it would cost us $129.97.
Need a nice pair of ear buds. V-Moda makes a nice collection of head phones and ear buds to replace those uncomfortable Apple ear buds. The Remote Remix are in-ear-canal buds with a mic for phone calls and a three button remote to control your iPhone without taking it out of your pocket. The sound from the RemixRemotes is pretty good. Quoting from their website:
The BEATPORT air flow system delivers a high-definition sound stage, invoking the sense of a live music or club experience. V-MODA's revered BLISS (Bass Level Isolating Soft Silicone) noise-isolating technology further reduces outside noise and enables deep punchy bass for the ultimate audio experience.
What does all of that mean? It doesn't matter, just know that you are going to get sound that is better than the ones that came with your MP3 player or laptop. Our test showed that they are at least as good as the Apple ear buds but have  a sturdier build and some nice colors.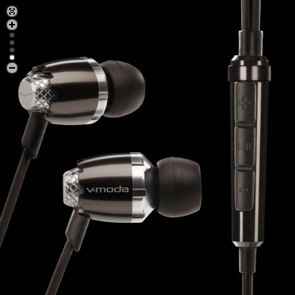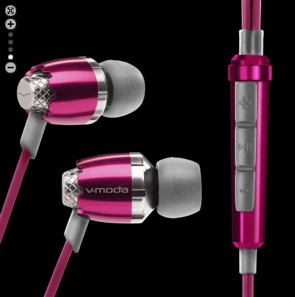 We were given a nice pair of pink ear buds – excuse us, we mean "Blush". They come in Nero (black), Rouge (red) and Chrome. The box also has both clear and black silicon covers (3 clear pairs and 4 black). And there are what they call "sport earhooks" which help keep them in place while you are working out. The clips go behind the ear and hook onto the wire. In our test, these are not really that comfortable while wearing glasses.
The V-Moda RemoteRemixe ear buds feel pretty sturdy and look nice, if you like one of the four colors. With valentines coming, the Blush or Rouge might be a nice festive touch. With a price of $99.99 they are a tad over priced, but the 2 year warranty makes them a little more desirable. After all, would you replace a cheap set of $30 ear buds more than 3 times in that time frame? We would. Replacement is actually a 50% off so it's not exactly a full warranty. But you get the idea. Before hitting the buy button at the company's website search Amazon where we found the [amazon_link id="B002GXIT6Q" target="_blank" ]chrome, nero and rouge version for less than $70[/amazon_link].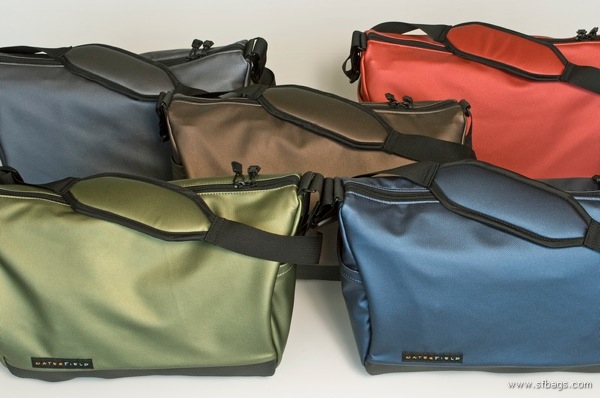 If your loved one needs a carry-it-all-in-one bag, The Sling from WaterField Designs is a great choice. It is designed to be a general purpose bag, but your laptop will fit inside the bag inside a computer sleeve for protection. It has five zippered pockets inside for little gadgets or other accessories too. The straps are attached with metal rings and clasps for strength. And the bag comes in six attractive colors. Our experience is that WaterField Designs does not make anything second class. So this bag could be a perfect choice for carrying it all.
It's almost as if Apple planned this for Valentine's day. The new Verizon iPhone 4 will be available for previous Big Red customers on Feb. 3 and all others can get one on the 10th. The only problem for those who have been longing for a Verizon iPhone is convincing your significant other to wait till the 14th so they don't ruin the surprise.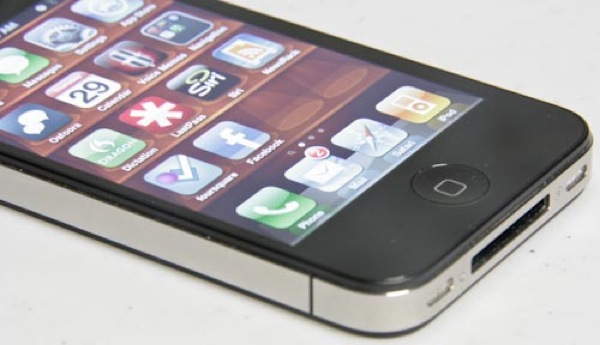 The Apple iPhone had some recption problems at launch but it is still one of the best smartphones available thanks to the beautiful retina display, the smooth styling, and all those wonderful apps. A 16GB model will be $199.99 with a 2-year contract and, if you can afford it, a 32GB model is $299.99.
The iPhone 4 has both a front and rear facing camera. The quality of the rear camera is great. It takes beautiful photos and HD quality video. Like all iPhones, it sounds great when playing music. You can watch video and even do video calls via FaceTime or Skype. Probably the coolest new feature that comes for Verizon only customers (for now) is the hotspot feature. The iPhone 4 on Verizon will behave like a mobile hotspot for up to five other devices for an extra $20/month. The cost of switching from AT&T if you are not finished with your 2-year contract can be high so read our guide before doing so.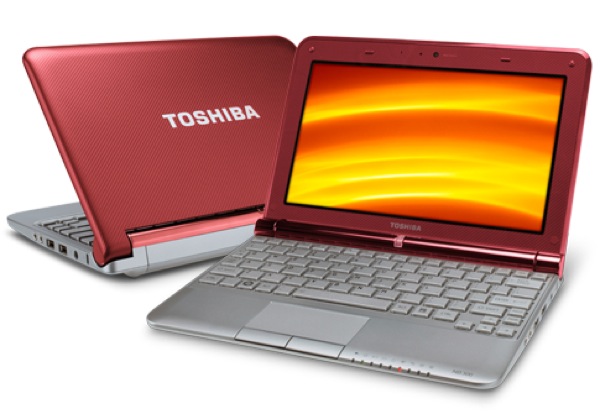 Mini-notebook or netbook? Toshiba calls this one a mini notebook instead of a netbook. But the colorful red lid and display bezel makes this a seasonal choice for an inexpensive second computer for taking to the living room or on the road. Toshiba makes nice netbooks. This series was announced at CES. It comes with an Intel Atom N455 processor, Intel Graphics Media Accelerator 3150, 1GB of memory and a 250GB 5400rpm hard drive. The display is a typical 10.1″ 1024×600 resolution screen. That's a little small on the resolution, but finding one this color at this price might not be easy.
The battery on this little machine is around 8 hours, which you can assume is more like 5-6 hours in real life. But that's pretty good. At only 2.6lbs, this is a nice little system for your Valentine. Toshiba's "mini-notebook" looks a lot like a netbook. That means don't go with one if you don't have a more powerful laptop or desktop system, unless you just need one for light Internet and office tasks and some limited video or casual games.
Advertisement