Verizon announced that the iPhone 4 is coming to the nation's largest mobile network on February 10. The iPhone 4 models for Verizon will be priced the same as  the AT&T versions ($199 for 16GB, $299 for 32GB). The Verizon version will work on their 3G network, but not the new higher speed LTE network, as we previously predicted. Also, Verizon is promising wireless tethering with a built-in mobile hotspot for sharing the device's wireless connection with up to five other devices.
"Today we're partnering with a giant of industry, and that's Apple," said Verizon CEO Lowell Macadam.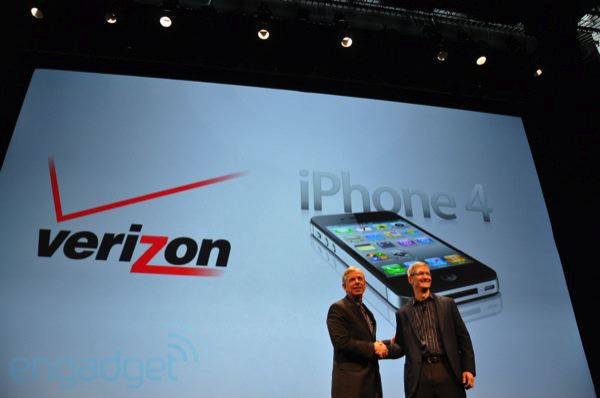 There are a few  differences between currently available iPhone 4 that runs on AT&T's network. The first, and most important, difference CDMA chip, which enables it to run on Verizon's network. Also there will be a change in the antenna lines, which may make it more reliable and work better with Verizon's network. Unfortunately, because of the CDMA chip the user cannot use the Internet while on the phone. AT&T's network allows users to chat on the phone and browse the web simultaneously. This is very important for some users as they discuss email messages, book events and use Internet-enabled apps while talking on the phone on a regular basis. Finally, the buttons along the left side will be lowered slightly to accommodate the new antenna lines.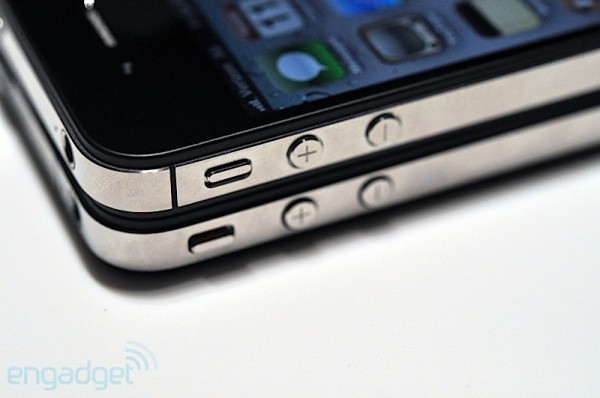 Notice the new line just above the mute switch in the above phone on the top phone, which is the Verizon model. Below you will see the lack of a line on the Verizon model, which is also the top phone. These come from Engadget's hands on post.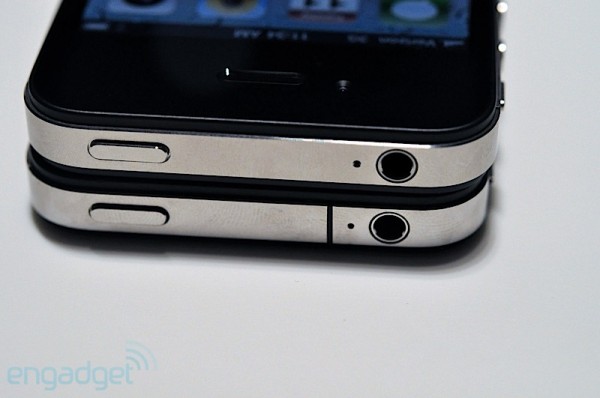 The cost of the data plan was not revealed at the Verizon event, but it is said to be "unlimited data." If it is like current plans this means, in Verizon-speak, a 5GB cap that is soft. In other words, you can go over it slightly on occasion, but if you make it a habit they will charge you, We will have to wait and see when it is officially announced.
One of the most exciting differences in the plans being offered is a mobile hotspot feature that allows a user to share the network wirelessly with up to five other devices, much like a MiFi does now.
First two images via Engadget's live blog of the event.
Advertisement