The Crystal iPad Folio case and stand is something we wanted to really like when I saw it, but was sadly disappointed. It is a pair of hard shells that are clear, hence the name crystal, that cover both the front and back of the iPad. It opens to form a stand in portrait mode or swivels around to stand up in landscape mode. LapWorks, the makers of the Crystal iPad Folio, said they wanted a case that would show off the iPad while still protecting it. It may be protective, but the clear polycarbonate plastic is also, sadly, a terrible fingerprint magnet making the case look grungy after a short period of use.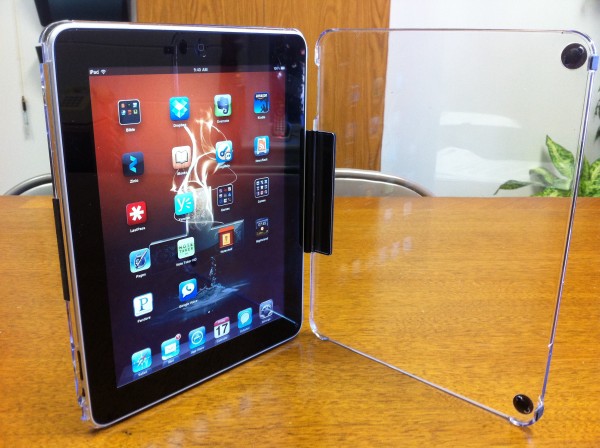 What Works
Let's start with the positive side of this case. The Crystal iPad Folio does protect the iPad. Despite what I said in the video below, the case is durable. I literally dropped it on purpose three times. The first was a short drop of two feet. The second time I threw it up in the air and it landed on thin carpet with no padding laid on a cement basement floor. Again, it was still in tact without a scratch. Then I really threw it down hard on a cement floor and only a small piece broke loose. If priority number one is a case that will protect your iPad, the Crystal Folio is just that.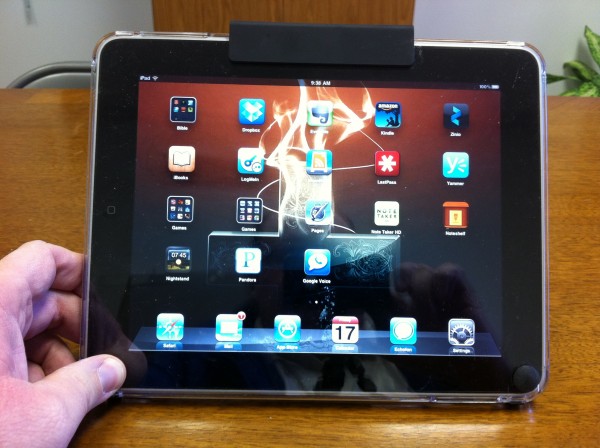 Second, it is novel – a perfectly clear case. The note sent with the case from LapWorks CEO and co-founder Jose' Calero read:
…iPad owners really want to show off their new baby. … The Crystal iPad Folio shows off and exposes the iPad from every direction providing a rewarding and fulfilling experience for the iPad owner." (Jose' Calero, Co-Founder & CEO of LapWorks)
I agree to an extent. No one will mistake that the user is carrying an iPad with this case. So, if that is the most important thing, a case that not only protects the iPad but shows it off, then this is a good choice.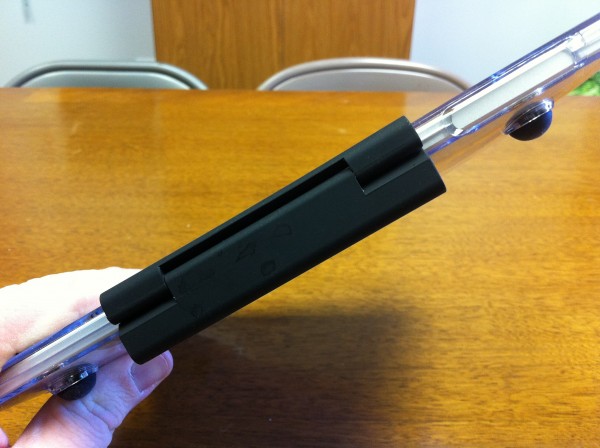 Third, the price is reasonable. At $39.95 it is not at all the most expensive iPad case. Most cases these days are running closer to $50. So this one is more affordable than most by comparison.
Finally, the Crystal iPad Folio does function well as a stand in landscape mode. The first picture above shows it off in portrait mode. It is functional in that way but not as good as it is in landscape (see below). The Space Dock from LapWorks is actually a much better product as a stand because it works in both portrait and landscape mode and is so easy to carry in a small accessory bag. But the silicone bumpers on both sides of the Crystal iPad Folio case and the latches that serve to both hold the case closed and as feet when in stand mode do a good job of keeping the iPad in place even if you are tapping on it.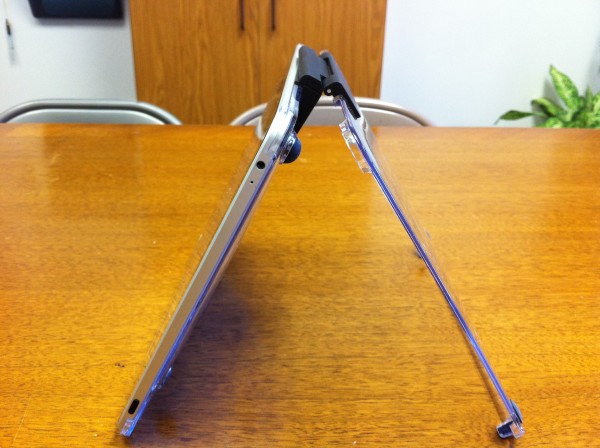 What Disappointed
Despite these positives there are a few of problems that keep us from recommending this case. The biggest selling point of the case is undermined by one thing. Sure it shows off the iPad, but with tones of fingerprints in the way. Admittedly, some of us may more oil on our hands than others, but you don't get this with a good leather case like the one we just reviewed from Scosche. After only a short time, the Crystal iPad Folio Case and Stand looked gross. And it is harder to clean than the iPad screen. Buffing it with a lint free cloth was harder due to the silicone bumpers.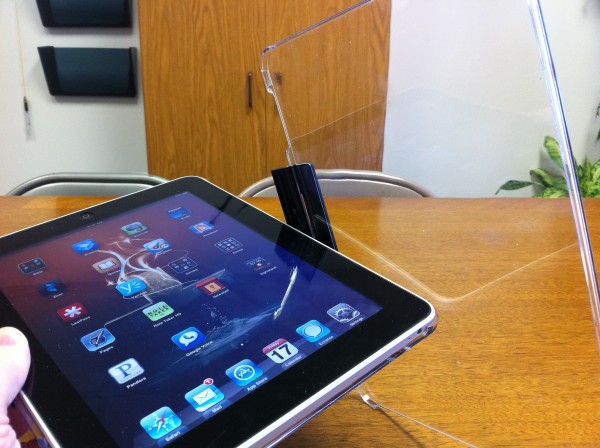 The other issue is the case just doesn't feel good. The front part opens and then swivels around to close flat against the back (see above). While holding it open the case creaks and moves around a little. And for that reason, the case while quite durable in practice, looks like it is not. We wouldn't want a case that looked durable but broke easily either. But if a product's number one selling point is looks, then it should look like something that will hold up instead of making us think it would not until we tested it.
The final problem is not a huge issue, but an issue nonetheless. The two little clasps that hold the lid on are hard to open one handed. I think with time it could get easier, but I consistently could not open the case without laying the iPad down flat and lifting both sides with two hands like you would a brief case. That is not convenient when you are quickly trying to open your iPad while parked in a car to check Maps or find a movie listing or at a meeting as you hold something in the other hand.
Crystal iPad Folio Case and Stand Video Review
Below is our video review. Remember that our testing proved the fear over the case's durability false.
Pros:
Clear case shows off the iPad
Converts into a stand that is easy to use and won't slide in portrait mode
Fair price
Rugged despite what I initially thought and said in the video above
Cons:
Holding case while open feels bad in your hands
Clear case gets gross looking with fingerprint build-up quickly
Has a cheap look to it
Hard to open
Advertisement