While most gadget makers and retailers have announced and advertised their Black Friday deals, Apple's still keeping mum on the subject. On Apple.com, the company is still teasing its Black Friday 'one day special shopping event, but offering few hints on as to what you'll actually be able to buy.
We doubt that Apple will even bother to tease its deals on Thanksgiving, instead waiting untill the wee hours of the morning on Black Friday to formally announce its Black Friday deals.
Update: Apple's beginning to roll out its Black Friday deals across the globe, starting with Australia, where it's already Black Friday. You can see that country's Black Friday deals here. As expected, Apple is not offering deep discounts on its core products, but something's better than nothing. For a full list of Apple Black Friday deals, visit our Apple Black Friday resource center.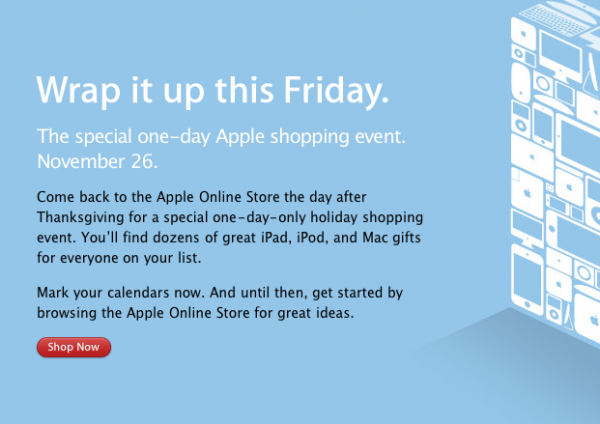 On its Black Friday teaser page Apple wrote: "You'll find dozens of great iPad, iPod and Mac gifts for everyone on your list. Mark your calendars now. And until then, get started by browsing the Apple Online Store for great ideas."
Notice that the above phrase lacks any mention of iPod, iPad, iPhone, MacBook or accessory deals, discounts or rebates? Apple is soft-selling Black Friday while the competition is cramming newspaper inserts and TV ads down consumers' throats. As we noted yesterday, Apple doesn't really need to discount its products to draw a crowd. In fact, it's the premium pricing that draws some consumers to Apple's products. If it's expensive it must be good…right?
Apple's online and retail stores may offer deep discounts on third-party Mac, iPad, iPhone and iPod accessories, but we do not expect Apple to offer significant discounts on its core products. Doing so would undercut its numerous retailers, none of which are offering deep discounts on Apple's MacBooks, iPods, iPads or iPhones. Some, such as Wal-mart and Best Buy, are offering free gift cards with the purchase of an iPod Touch. We woldn't be entirely surprised to see Apple throwing in some store credit or iTunes gift cards with the purchase of an iOS device or a new Mac.
If you're looking for a big fat juicy discount on a MacBook from Apple you're going to be sorely disappointed. Apple doesn't like highlighting obsolete, discounted or distressed inventory. The one place on Apple.com where you can find deeply discounted items are on Apple's Refurbished Mac, Refurbished iPod, Refurbished iPad and the Clearance pages. Refurbished iPads can be had for $50 off their original prices, from $449.
Apple's refurbished program has tight quality-control guidelines and the items are often checked more carefully than new products. Many of Apple's refurbished products are indistinguishable from new and many suspect that Apple simply sells older versions of its hardware as refurbished to get it out of their warehouses.
For more information about Black Friday, please visit our Black Friday deals page. For more info about Apple products on Black Friday, visit ourApple Black Frida info page.
Advertisement