Inking on the Apple iPad with the Targus Stylus is smooth and comfortable thanks to the rubber tip. In fact, it is better than the Pogo Sketch Stylus, my previous favorite since its tip glides across the touch screen of the iPad more evenly than the spongy tip on the Pogo Sketch (Targus is top image and Pogo Sketch is bottom image below).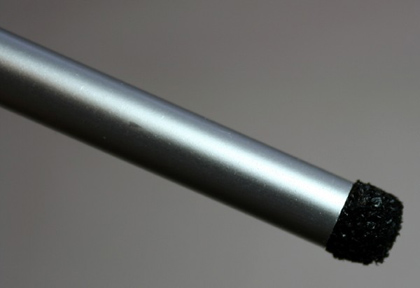 Targus' new stylus is made of a hollow black shaft that is smooth to hold. The clip that holds it in a pocket or in the loop that comes inside the Targus Zierra Case is extreme firm and durable. In fact it is too firm if you plan to use it to hold the Stylus clipped to something very thick. The loop in the iPad case is the perfect thickness.
The non-writing tip has a metal nub that has a tiny loop for attaching the stylus to a case or object with a thin string. This will be useful for keeping the stylus handy and not losing it.
Targus sells the Targus Stylus for Apple iPad (part number AMM01US) for $14.99. Be careful as I've actually seen for more than the suggested retail price at Best Buy and other locations.
Below is our video review.
Advertisement