You don't have to wait for the rumored Apple Tablet to have your very own inkable Mac.  About a year ago, I ran across a stylus created for Apple's iPhone and iPod Touch called the Pogo Stylus from Ten One Designs.  The device was a simple stylus with a special tip that enabled it to work with the iPhone/iTouch's capacitive touch screen.  Now they're back with an upgraded and improved Pogo Sketch stylus.
When I first heard of a stylus for the iPhone, I thought it was a joke.  Little did I know that the folks from Ten One Design weren't comedians.  I was impressed with the Pogo Stylus and found it to be a truly useful product.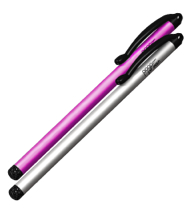 The Pogo Sketch is overall the same in basic design and functionality.  The stylus is a pen-like, aluminum shaft with what appears to be the same special tip as the original.  The Pogo Sketch is longer than the original Pogo Stylus and easily rests in your hand as though it is a real ink pen.
The Pogo Sketch does have a learning curve and it's not as flawless as using a true Tablet PC device.  It's perfect for obtaining signatures or small notes, but don't expect to use it for penning your next novel.  Depending on your trackpad settings, some may have to slant the Pogo Sketch a tad more upright than their used to writing with a traditional stylus or pen.  After tweaking my trackpad sensitivity and settings, I was able to become comfortable using the Pogo Sketch to edit a few photos.
MacBook Pro owners that have the multi-touch enabled trackpads are able to use the Pogo Sketch as a writing instrument.  The MacBook Pro's larger trackpad with no button allows users to go from corner to corner, edit images with detail, take notes, and electronically sign documents all for a mere $14.95 USD.  Watch my review of the Pogo Sketch below or check out my first encounter with the Pogo Stylus.
Follow Matthew on Twitter.
Advertisement