Apple notebooks have a high starting price compared to the average consumer notebook, but the MacBook Pro and MacBook Air often go on sale.
Dealnews tracks the price of Apple notebooks like the MacBook Pro and MacBook Air, sharing great deals on Apple products.
By tracking deals on the MacBook Pro and the MacBook Air, we can tell you when the best time to buy a MacBook Pro or a MacBook Air is.
Unlike the savings on the iPad and the iPhone, Apple Notebooks see significant discounts faster, and with bigger savings.
Best Time to Buy a MacBook Pro
Dealnews uses the 15.4 inch MacBook Pro with a starting price of $1,799 as the example, but I expect that similar savings apply to the rest of the MacBook Pro line.
Shoppers who wait just 2 days after Apple releases new models can find deals of nearly $50 off at sites like MacMall and Amazon.com. Waiting 3 months results in access to deals that approach $300 off the MacBook Pro.
Apple users should always look for a good deal before buying a MacBook Pro, as there are countless deals available on these notebooks throughout the year, not just on Black Friday.
Best Time to Buy a MacBook Air
The 11-inch Macbook Air is the cheapest notebook sold by Apple, but that doesn't mean shoppers shouldn't look for deals. Just one day after release shoppers can expect to save $49 dollars on the MacBook Air, and four months later, prices can drop to $149 below retail.
Dealnews tracked the 11-inch Macbook Air, but in my experience the 13-inch Macbook Air receives similar discounts.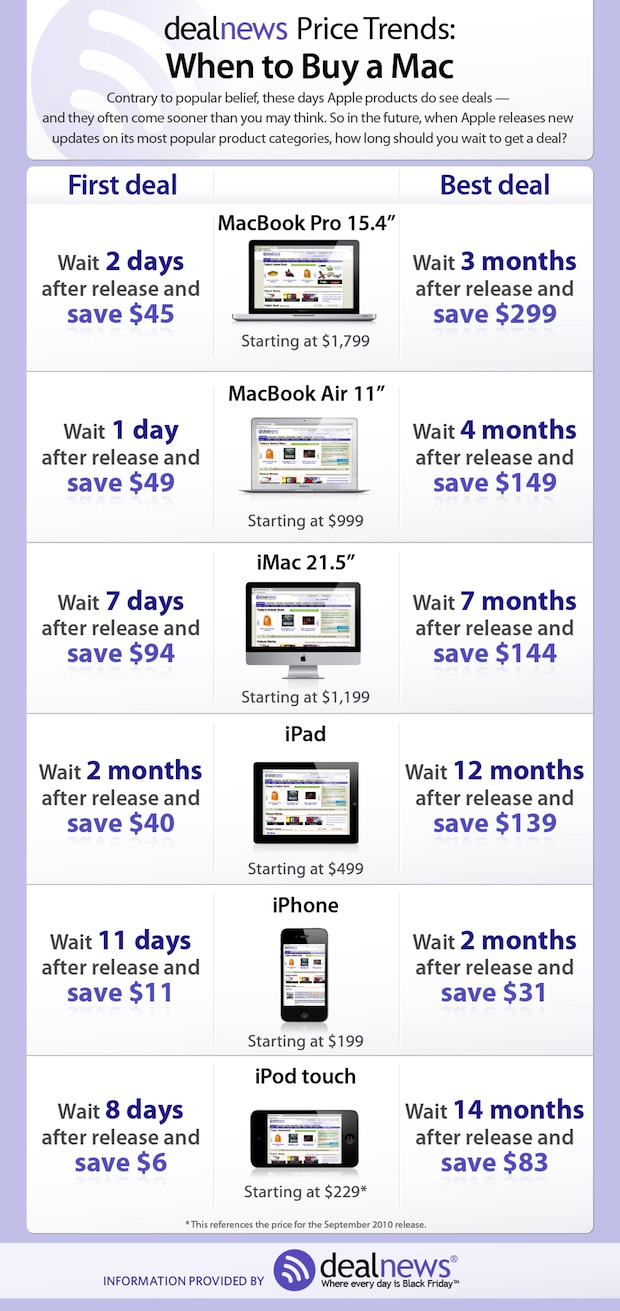 How long will you wait to save on a new computer?
Advertisement