Fashion is not exactly the Geek's primary concern some times. But even we have our limits. And for the average person having this huge rubber square on their wrist is not something they will want to do, but in specific circumstances the Griffin Slap Case watch band case for the 6th generation iPod Nano is a fine solution.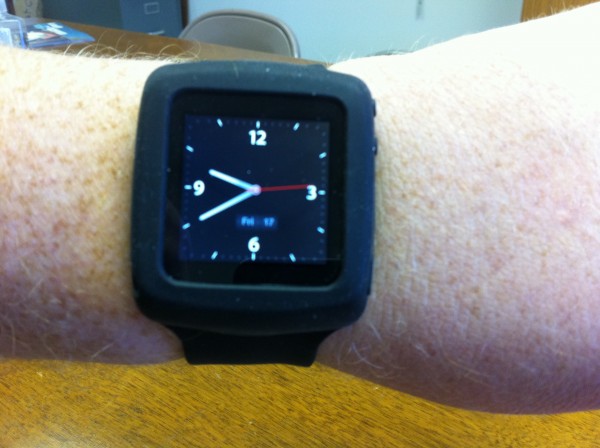 There have been a lot of iPod Nano watch bands released. Many of them are cheap bands with nothing to actually hold and protect the iPod and most of the models with a rubber case look flimsy.  There is one case that has grabbed attention on Kickstarter for being a little more stylish and elegant. This Kickstarter case is not out yet which means, for now, this one from Griffin Technologies looks like the best option.
The Griffin Slap Case is a very protective case which is important since wearing your iPod Nano around on your wrist means you are likely to bang into things. The only part that is still vulnerable is the touchscreen.
The buttons and headphone port are easily accessible. However, the dock connector is not, a real problem since the case is hard to remove from the Nano. You have to be careful not to press on the touch screen face of the Nano as you press it out of the case.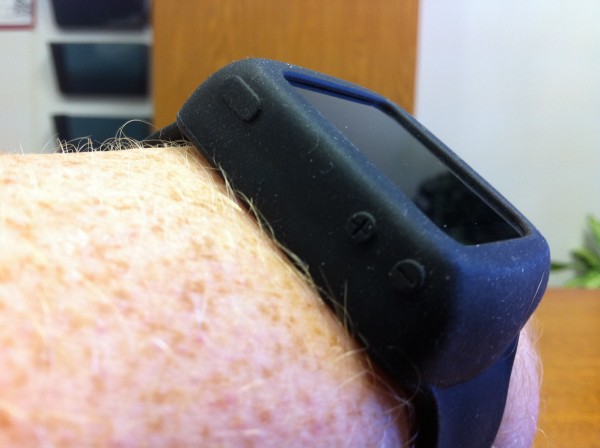 Wearing the Nano as a watch is not really going to serve you well full-time. But using it for exercise is a good option. Press the Nano into the case and slap it on your wrist or onto your exercise equipment and you are ready to listen while you work out. The band part of the case is sturdy. It has a metal strip inside the silicone. The curved band holds it long and straight when not on your wrist and lets you slap it onto your wrist. I have a very thick wrist and it has plenty of length to fit around my wrist. A small person or child could wear it on their upper arm.
The major drawbacks are the fact that the dock connector is not accessible and the silicon material picks up lint and dust very easily. Used for certain situations it would make a great way to carry around the Nano. But for all day use, wait for the one on Kickstarter above to be released, or just get a watch.
Pros:
Good case for workouts
Protects the back and edges
Volume, power and headphone jack all accessible
Long band will fit large wrists or small upper arms and most exercise equipment bars
Cons:
Picks up dust and lint very easily
Dock connector not accessible
Hard to remove iPod from the case
Big and not very fashionable
Advertisement