Apple introduced Lion with Launchpad, the iOS like interface, that unfortunately shows every single app on your computer including those that you never launch through an icon.
That's where developer chaosspace stepped up and created Launchpad-Control, a simple utility that installs in your System Preferences and allows you to control which apps will be available in Launchpad and which won't.
This free utility does what it promises without a lot of annoyances. You don't have to look at a Menu Bar icon all the time, like most OS X utilities. It just places a new option at the bottom of the Lion System Preferences. Open it up and uncheck any app you want hidden. Hit apply and you're done!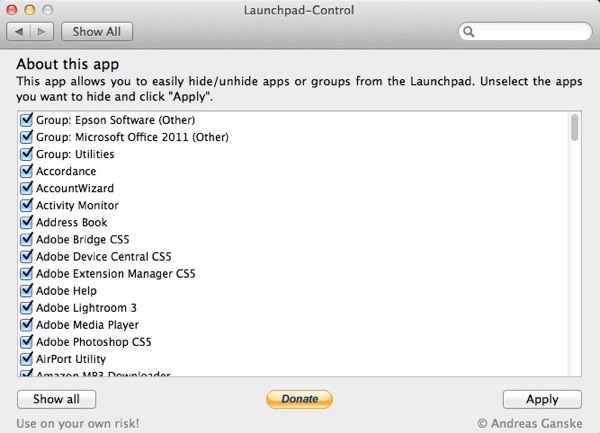 The simplicity of the interface makes this an easy utility to use. I tested it out by unchecking two apps I know I will never launch until I'm ready to uninstall the application they go with.
The LogMeIn utility which gives me remote access to my MacBook from another computer or my iPad runs in the background when I boot the system. I don't need the uninstaller apps to show up in Launchpad until I want to nuke the app from my system. I unchecked them and hit apply. They disappeared.
I will probably go back and uncheck the app itself along with a bunch of others to remove clutter from Launchpad.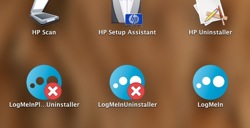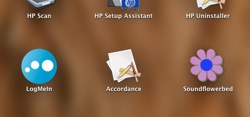 As you can see above the before and after shows that it works. The app is free and easy to install. Get it from chaosspace.de. If you find it useful you may wish to give the developer a donation through PayPal.
If you want to learn more about Launchpad as a Lion feature, check out my OS X Lion Launchpad verview.
Advertisement