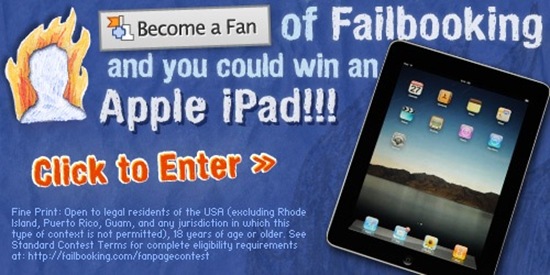 Most people are still digesting the information from the Apple event earlier today, and one site is determined to cash in on the commotion.
Failbooking.com, a site that posts humorous Facebook status updates, is already giving away an iPad. Usual contest rules apply… US only, have to be 18 or older. The contest is actually sort of confusing if you read the fine print, but we'll try to make it easy for you. Essentially Failbooking.com wants to promote themselves, so they ask that you become a fan of them on Facebook, and then fill out the entry form which can be found here. The contest period is between January 27th (today) and February 17.
They aren't specific about what which version they are giving away, but the contest rules say that the prize will be valued at up to $999, so it is possible that they hook you up with the 64GB 3G version. They are actually giving away two iPads potentially, one to the winner, and one to a friend that referred the winner to the contest. So be sure to include your friend's name in the correct field when you enter, because if you win, then they'll win one too (they also must be entered in the contest).
So there you have it… apparently the very first iPad giveaway certainly not the last.
Advertisement