Tunesque opens up in your Mac OS X menu bar and lets you search both the iTunes Store and the Mac App Store in one quick, ever-present and simple interface. The free utility could be better, but right now it offers a great way to find things in both stores through one interface. Apple really should consider buying the app so they can implement this feature right into OS X.
After installing and running Tunesque, you have a new menu bar item that looks like a magnifying glass with a musical note in it. Click the icon and you get a search box that looks just like the Spotlight search box. Type your search string into the box and after a brief pause a menu will drop down from the search box showing you a list of items it found in both stores grouped by category.
The tiny Settings icon at the end of the entry box lets you change how the program works. Hit Preferences to change what kinds of things it will find.
Here's what it returns in each search by default:
Music
Movies
TV Shows
Artists
Mac Apps
iOS Apps
eBooks
Audiobooks
Podcasts
iTunes U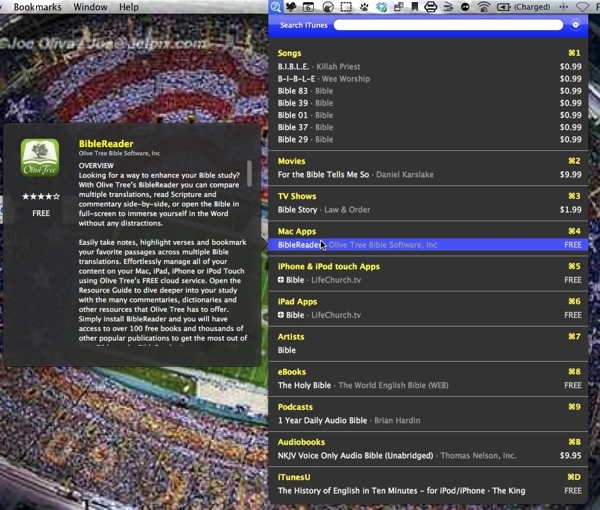 Turn them off by unchecking them in the Preferences. Other customizations available include a dark (see above) or light (see below) interface, the ability to create a keystroke to invoke the search box, changing your country's results, and a check box that I hope will one day let you tell the app to start up when you log into your computer. Right now, even if you check that box, it fails. I'm sure they will likely fix this in the future.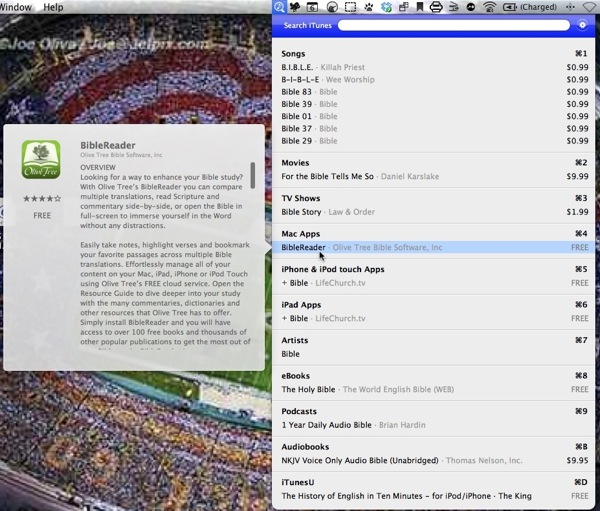 The menu of results breaks them down by category. Keystrokes let you expand each category of results. Music will expand by default. Hit Command+2 and you see all the movies it finds. Command+3 returns TV Shows and so on, depending on whether you turn them on/off in the preferences. Hover over an item and a description pops out with the star rating, price and an icon for the item.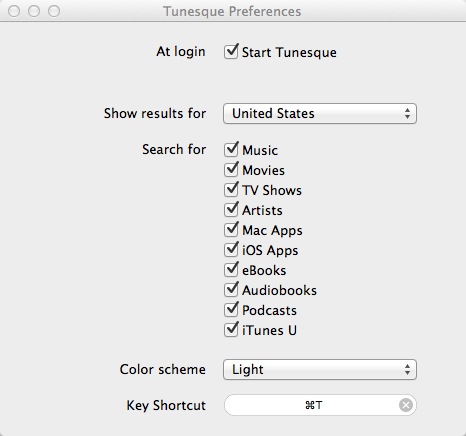 I love the ability to quickly search both stores without even having to open them. Unfortunately, as we said above, the app doesn't open at login now. In addition, when your search would normally produce more than a nine items, you won't see them in the drop down menu. Tunesuqe limits the results. At first it only shows a handful of results, but if you hit the keystroke to expand a category it will show more. One example: I searched Christmas and it returned only a few Christmas songs. I know there are hundreds of Christmas songs in the iTunes store. When I entered Command+1 to expand the song category it showed many more songs, but it still only gives the top songs in the store.
I wish the app would let you click on the category so you could open the corresponding store and search just that category for that search string without doing another search. Instead, it only opens the store to that item's page after you click the item in the resulting list.
The app has room to improve, but for now I like it and will keep it open most of the time. It's great for finding a specific app or song quickly in either store. Fortunately, the free price tag means you can try it out yourself and see if you like it. Get it in the Mac App Store where it has a four of five-star rating, which I think is fair.
Advertisement