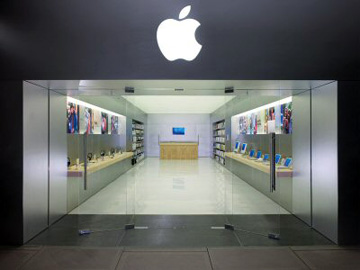 After having provided Apple-lovers with a friendly environment to find compatible Mac gear, including software and peripherals, at its retail store, Apple will be doing away with the low volume business and turn its focus in-house by dedicating even more retail space and shelves to its Mac business. The Mac-maker will soon take down more software, games, and accessories from shelves in its retail store and setting up additional displays for Macs, according to CrunchGear.
The move is definitely an interesting one, but seems natural in an era where Apple has launched its own Mac App Store to address the software needs of Apple users. Whether the move is made to align retail stores more properly with demands–as in there isn't as much demand for games at stores–or if it's in a bid to push sales through its Mac App Store channel where Apple receives a 30% cut like it does on the iOS App Store is unclear. However, as the company has proven that the Internet can be leveraged in a way to drive volumes of sales through iTunes, it could perhaps promote the App Store for users as an elegant way to shop without having to interrupt what they're doing and head to a retail store. The best part about the Mac App Store is that users can see reviews and Apple can push similar, new, or popular titles to users to generate more discovery leading to more sales.
According to the The Loop, games, software and accessories will still be stocked, but won't get valuable floor space in front of consumer's eyes. If you know what printer you want based on your search on the Apple online store, you can perhaps tell a sales associate at your local Apple retail store to grab it from the back storeroom.
Part of Apple's retail store strategy at the time when the company began opening up storefronts is to educate consumers on the robustness of Macs and the Apple ecosystem by showing consumers that there are programs available for the Mac that will allow them to do similar things that they're used to with a PC. Also, there are a lot of accessories, peripherals, and hardware that will be cross-platform compatible between Windows and a Mac. As such, software and hardware accessories were designated large spaces in Apple stores. Over the years, Apple has trimmed down the accessories that were showcased at its stores–it had shed camcorders and digital cameras that were initially used to promote compatibility with iPhoto, iMovie, and Final Cut, and now printers and hard drives may be gone soon.
Advertisement