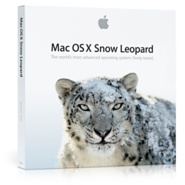 Even though it's not quite cold enough for snow in most of the U.S. Apple's latest upgrade, Snow Leopard, has arrived on store shelves and will be hitting the doorsteps of Mac owners in what's sure to be a busy day for UPS and FEDEX.
So how does the big cat upgrade stack up? The good news is that most of the reviews agree that Snow Leopard is a solid upgrade and despite its lack of major changes to OSX the little tweaks and behind the scenes changes coupled with the low upgrade price earn it recommendations from across the web.
Gizmodo OS X Snow Leopard seems to do nothing really new. And yet, it could be their most important OS since 10.0.0." … But my thought is that Snow Leopard's biggest feature is that it doesn't have any new features, but that what is already there has been refined, one step closer to perfection." – Brian Lam
All Things Digital Overall, I believe Snow Leopard will help keep the Mac an appealing choice for computer buyers, and I can recommend it to existing Mac owners seeking more speed and disk space, or wanting to more easily use Exchange. But I don't consider Snow Leopard a must-have upgrade for average consumers. It's more of a nice-to-have upgrade. If you're happy with Leopard, there's no reason to rush out and get Snow Leopard." – Walt Mossberg
Engadget Snow Leopard. Even the name seems to underpromise — it's the first "big cat" OS X codename to reference the previous version of the OS, and the list of big-ticket new features is seemingly pretty short for a version-number jump." … [T]he sheer amount of little tweaks and added functionality in 10.6 more than justifies skipping that last round of drinks at the bar — hell, we're guessing Exchange support alone has made the sale for a lot of people." – Joshua Topolsky
[Ed. Note – be sure to visit the Engadget review for an impressive amount of images and video to acquaint yourself with Snow Leopard.]
NY Times [I]f you're already running Leopard, paying the $30 for Snow Leopard is a no-brainer. You'll feel the leap forward in speed polish, and you'll keep experiencing those oh, that's nice" moments for weeks to come." – David Pogue
Macworld I'd pay $30 just for the improved volume ejection, the ability to create services with Automator, and the improvements to the Dock and Exposé—though I admit I'd pay slightly more to not have the misguided QuickTime Player X as a part of the package. If you're a user who connects to an Exchange server every day, upgrading to Snow Leopard really is a no-brainer." Jason Snell
PC World – "Where's the beef?" … It's as if someone at Apple grabbed a copy of the Windows 7 beta and simply Xeroxed the release notes." – Randall C. Kennedy
Wired This upgrade won't deliver any radical interface changes to blow you away (not that we would want it to), but the $30 price is more than fair for the number of performance improvements Snow Leopard delivers." – Brian Chen
Impressively the one thing that every reviewer, save PC World, comes back to is that for the price. At $29 ($25 from Amazon.com), Snow Leopard is a great value for almost every Intel Mac owner.
The only issue we saw in almost every review is that due to the under the hood" changes many programs experienced issues running in Snow Leopard so you should be sure to check any third party applications like VMWare Fusion and  Adobe products for compatibility before you start the installation.
Advertisement