Not only can libraries lend books to your Kindle, but one library in my home state of Wisconsin began lending iPads packed full of e-Books. Library director John Stoneberg of the Eau Claire, WI public library chose the iPad as a means of lending e-Books because it leads the market and provides more flexibility.
Library borrowers can check out one of 44 iPads for either 4 hours, if they keep it in the library, or for up to a week if they want to take it home with them. They will get access to 1,000 eBooks with classic literature, ten audiobooks and dozens of apps or shortcuts to sites.
The iPads were purchased with money from the Presto Foundation. The library hopes to help borrowers …
…gain familiarity and comfort with new technology that allows them to make use of alternative methods of enjoying the written and spoken word and to more fully explore the Internet and its vast resources.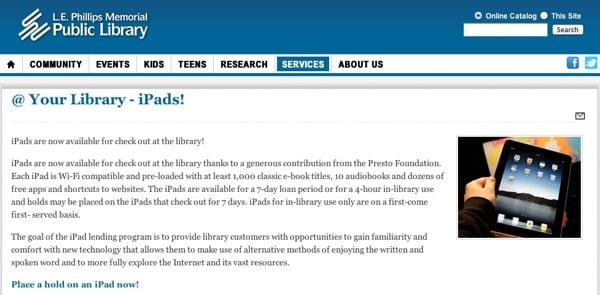 Instantly I wondered how the library would protect these devices. The site where users reserve the iPad says that you will have to show them a credit card. If you fail to return the iPad, you will be charged a whopping $1,020. If you keep it too long you will pay a $10 overdue fine and $25 if you drop the iPad in the drop box instead of bringing it into the library counter.
Public libraries seem to be a growing place of technology, according to a study by the American Library Association, which found that use of computers and free public Wi-Fi at public libraries was up by 70%. 89% of libraries offer training in the use of technology with classes on basic computer skills as well as specific software tools. You can find free public Wi-Fi in 82% of all libraries. According to the report, the down economy has a role in the increasing use of libraries.
I would bet that the Eau Claire library will get a little busier once word of the iPad loaning program gets around.
Source AllThingsD via TUAW
Advertisement