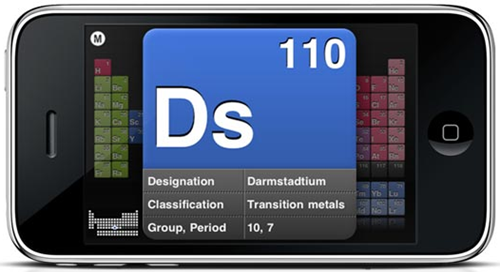 The other night I hopped into the app store and went browsing for some interesting new apps. I downloaded mostly games and one app called EMD PTE which I ended up spending more time playing with than any of the games I downloaded.
Before I found EMD PTE, I never thought I heard myself say the words awesome" and periodic table" in the same sentence, but here you go: EMD PTE makes the periodic table awesome.
If you are on your iDevice, click here to go straight to the app in the App Store. The same link will take you to to an iTunes preview page to learn more about the app if you are on a plain old computer.
EMD PTE is a free periodic table app for the iPhone, iPod Touch, and iPad and was developed by Merck. What's so awesome about it? Well first of all, its extremely simple to use. Easy? Yes. Basic? No. EMD PTE puts a wealth of element information at your fingertips and in your pocket. It's highly visual (which is probably why I think it's so great I'm a visual learner) and thus, I'm going to demonstrate it rather than try to describe it to you:
You can also find a similar periodic table on the web from Merck.
Advertisement