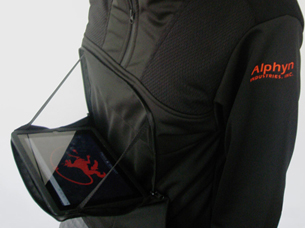 Alphyn Industries showed off a jacket at MacWorld  Expo 2011 that even that might be too geeky for even the most devout Apple fanboy. The PADX-1 LEDGE Wearcom jacket looks like it belongs in a science fiction movie. There's a giant zippered pouch on the chest area that houses an iPad. The pouch folds down, allowing owners to use the iPad while walking.
We often wear our gadgets, but prefer to do it a little more discreetly and with a little more style with SCOTTEVEST garments. One thing that gives us serious pause with the PADX-1 LEDGE Wearcom jacket is its price tag: $285. There's also a jacket from the company that accommodates an iPhone.
Visit Alphyn.com for more info.
Advertisement