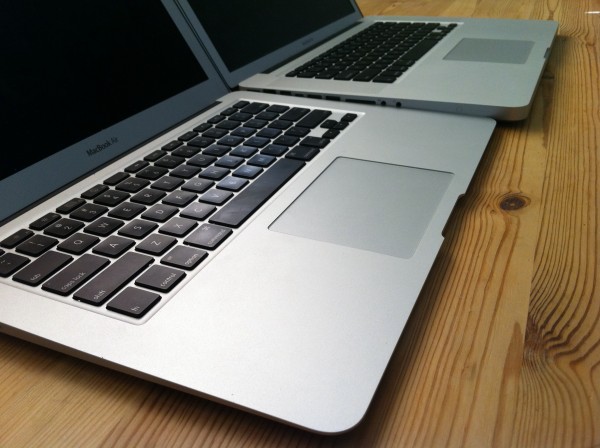 Apple's new MacBook Air is arguably the best consumer laptop on the market. Not only is it incredibly thin and light, but it's also a top performer. Yes, the MacBook is a relatively expensive machine, but is it worth paying up to $1,799 for this machine? In this series, we'll compare the MacBook Air to the MacBook Pro and a number of other machines.
Before you actually start using any laptop you'll have to start the thing up and launch at least one application. The MacBook Air goes from off to on incredibly quickly. This is very important for those that are moving about all day. Who wants to wait a minute (or two or three) to turn on a laptop when the MacBook Air can start up and get online in about 14 seconds?
In order to demonstrate exactly how fast the MacBook Air boots up compared to other MacBooks, we set up a very well equipped MacBook Pro with the top of the line MacBook Air. The 13″ MacBook Air has it all, including the 2.13Ghz processor, 4GB of memory and 256GB of storage. This configuration of the MacBook Air costs $1,799.  The 15″ MacBook Pro in this demonstration has an optional anti-glare display, 2.66GHz Intel Core i7 processor, 4GB of memory and 500GB hard drive. The MacBook Pro with these specs retails for $2,349.
A big part of the reason the MacBook Air boots up so quickly is because of its SSD. But there's more to it than simply slapping an SSD in a MacBook to get it to perform like this. We've tried various SSDs in MacBook Pros and have never seen performance like this.
The MacBook Pro will eat the MacBook Air's lunch when it comes to raw processing power. Need to export a movie or render some large files? The MacBook Pro is the machine for you. But what if you're more concerned about mobility and need your MacBook to be more nimble? The MacBook Air is probably the better bet.
Both of these are pricey machines, but neither may meet all of your needs, especially if you're highly mobile. The MacBook Air doesn't have enough horsepower and ports for some users. It also lacks a backlit keyboard, which is  standard on the MacBook Pro. The MacBook Pro is obviously heavier and less mobile. It also fails to keep up with the MacBook Air in a number of areas, such as waking up from sleep, starting up and launching applications. If you don't mind the extra weight, the 13″ MacBook Pro is a good middle ground, but still not the best option.
So what is the best option for Mac users that need the muscle of the MacBook Pro and the portability of the MacBook Air? To buy both of course. But that's not a viable option for most as the combined cost of the machines is just under $4,250. No matter which way you go, you'll need to make some compromises.
Advertisement