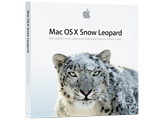 Mac OS X 10.7, otherwise known as OS X Lion is set to come out in just a few weeks and Apple has just released an update to OS X 10.6.8 to prepare you for the major upgrade that is coming. OS X 10.6.8 was first hinted at in the release notes of Final Cut X Pro earlier this week, and is now available to download.
The OS X 10.6.8 update is rather large, clocking in at 1GB, and delivers the following fixes and improvements;
Enhance the Mac App Store to get your Mac ready to upgrade to Mac OS X Lion
Resolve an issue that may cause Preview to unexpectedly quit
Improve support for IPv6
Improve VPN reliability
Identify and remove known variants of Mac Defender
If you are running OS X Snow Leopard it is recommended that you download this upgrade even if you don't plan to purchase OS X Lion when it arrives in July for the low price of $29.99. If you are planning on installing OS X Lion, we recommend that you download this update today and install it so that you don't end up waiting on overloaded servers when OS X Lion is released.
To update your Mac, click on the Apple and Check for Updates or download the 1GB file directly from Apple Support.
Advertisement