Ten One Design released a video demoing their pressure sensitive app concept for the iPad. When used with their Pogo Sketch stylus, sketches can be made with varying line weights according to the pressure you put on the screen.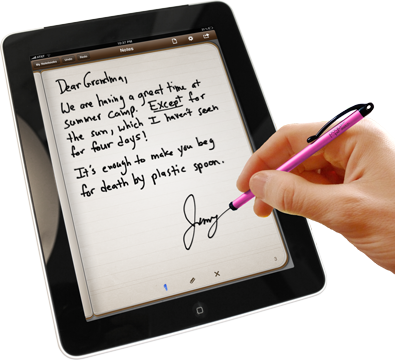 Ten One Design has discovered a way to enable pressure sensitivity on the iPad without and extra hardware aside from its Pogo Sketch stylus. When drawing or writing with the stylus, the iPad's touchscreen measures the area of contact. The harder you push down on the screen, the flatter the end of the stylus is, resulting in a greater area of contact. In addition to this simulated pressure sensitivity, Ten One Design created algorithms that reject input from your palm and fingers. As seen in the video below, a person's palm can rest on the tablet while they are writing with the stylus, without having any result on the input to the touchscreen.
The company hopes to release this functionality to their Pogo Sketch app, as well as a UIKit framework so that all apps on the App Store can utilize this feature. The problem is that Apple doesn't allow the use of private frameworks in their apps. So unfortunately, one large hurdle may keep this idea at bay.
Via MacRumors
Advertisement