Lenovo is changing its mind. At CES the company announced one of the most attention getting devices at the show, the Lenovo U1 Hybrid. The tablet/notebook hybrid received a lot of the headlines, especially as the industry awaited the announcement of the iPad. But now the U1 is being called a concept" device and the Skylight OS which powered the tablet portion of the hybrid PC is being discontinued. Both the U1 and the Skylight Smartbook are listed as Coming Summer 2010" at the bottom of the New PC Innovations" page at Lenovo.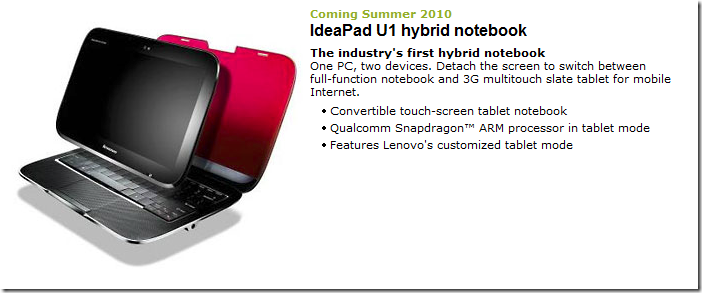 Here is what Lenovo has to say officially:
After careful consideration of market conditions and user feedback, Lenovo has decided to focus its resources on building a family of next-generation mobile internet devices based upon open technologies such as (but not limited to) the Android kernel, similar to the Lenovo smartphone, which is available for sale in China now.

As a result of Lenovo's strategic shift towards open standards such as an Android kernel based environment, the Company has shelved its plans to release the initial version of the Skylight smartbook that featured a proprietary Linux-based OS.

Lenovo remains committed to working with our strategic partners to deliver innovative products in the growing mobile internet space, including the aforementioned smartphones and smartbooks, as well as exploring innovative new concepts that continue to "push-the-envelope" like the U1 hybrid PC. (Official statement from Lenovo)
It seems Skylight OS was not something Lenovo believed would ever unseat the iPad nor was its OS as good as Android. Is scraping the U1 a response to the successful release of the iPad? Warner Crocker at Gottabemobile is intimating just that. With the U1 planned to cost "under $1,000" it could be that Lenovo just couldn't hit a competitive price point. Or maybe Lenovo believes Google's Android OS is just a better platform than Skylight?
Either way no one outside of the Skylight development team is likely to be disappointed about the fate of the OS. Did we really need another mobile device operating system? Yet there are probably people sad to see the U1 being scrapped. Lenovo's statement offers some hope. The concept of the hybrid tablet/notebook looked like a truly innovative "concept" that had the potential to shake things up if it had been released. Here's hoping they find a way to cram Android into a similar form factor and drop it on the industry starving for an actual release of something new and exciting that doesn't have an apple on the back of it.
Advertisement