I'd like to think that in this age of notebooks that can become tablets and tablets with evermore complicated add-ons, the classic business notebook still has place on store shelves. Built for durability and battery life, you don't buy a business notebook because you want the latest processors or the best screen technology available. The Lenovo ThinkPad X260, is the classic business notebook.
It's not thin or light. You can't use your finger to interact with Windows 10. Every port that's left out of today's ultrabooks is present. What the ThinkPad X260 lacks in modern conveniences and design it more than makes up for in other ways.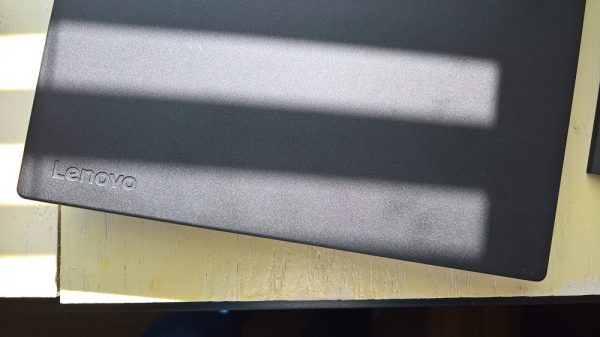 Lenovo ThinkPad X260: Design & Internals
Dark and blocky, there was a time when the business notebook was the best mobile computing experience money could buy. They were attractive looking and durable. They offered some of the most innovative features we'd seen in mobile computing. The ThinkPad line-up actually had an embedded LED facing the keyboard so that business users could work wherever they were – including a plane. An accelerometer inside the notebook would lock the moving hard disk drive if it sensed drastic movement. ThinkPad has always understood what business users need. The ThinkPad X260 is further proof of that.
The ThinkPad X260 is a solid matte black rectangle with only the ThinkPad logo and an embedded red power light interrupting its lid. Its edges are rounded off so that they dig into the palm of your hand better when you're carrying it around. Lenovo says its been rated for military ruggedness and I believe them.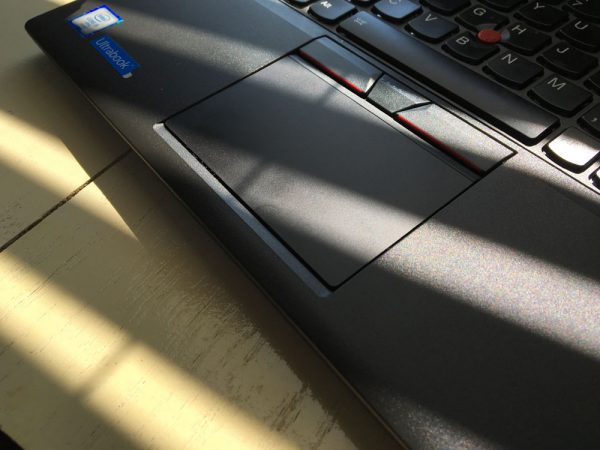 All of the ports are split between the left edge and the right edge. On the left is an exhaust port, power port, full-size HDMI port, Mini Display Port and two USB ports. A completely optional Smart Card reader allows users and businesses to add hardware features to the notebook at their own pace.
On the right edge of the notebook are all the ports that any business notebook needs. There's a SIM Card slot so that users can add mobile data connectivity to the notebook. A media card slot provides an easy way to offload pictures and video. Offices don't always have reliable Wi-Fi, but they do usually boast a wired network. The ThinkPad X260 can connect to wired networks since it has an Ethernet port. On the right edge are also a Kensington lock slot, headphone jack and a USB 3.0 port that can charge smartphones and tablets when the notebook itself is asleep.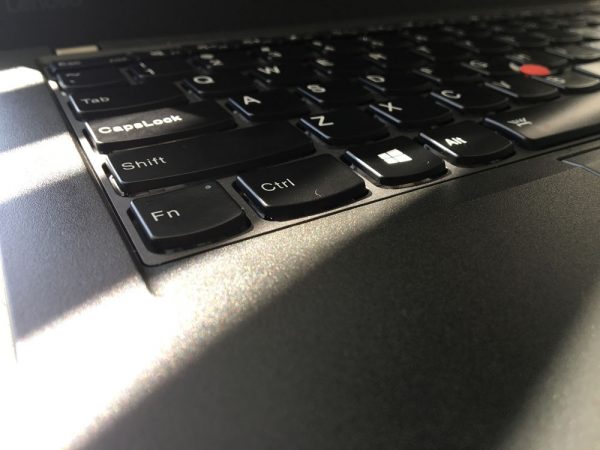 The matte black, industrial material on the edges and outer frame of the ThinkPad X260 extend to the keyboard deck and display bezel once you open the machine. There are no design flourishes to catch your eye, but the ThinkPad keyboard and red TrackPoint will. Because most people tend to be right-handed, the notebook's power button and fingerprint reader sit just to the right of the keyboard.
Internals
Lenovo allows users to configure the notebook with its entire line of 6th Generation Core processors. Getting to its low price did mean that Lenovo hid two crucial things behind upgrade charges on the cheapest model. The low-end model lacks a 1080p display and its keyboard isn't backlit. The former is a fair compromise for those focused on productivity. A backlit keyboard is a must.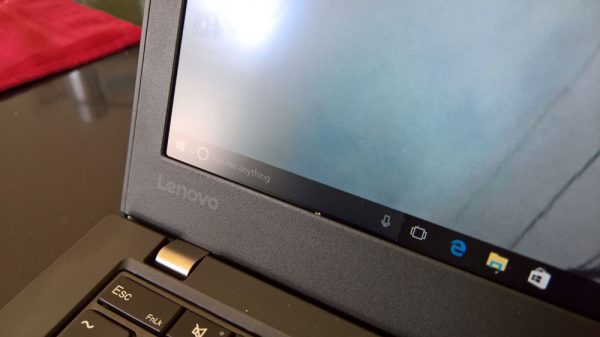 Our review unit came with some enhancements. The 12.5-inch IPS display has a 1080p display that is clear and crisp, but doesn't offer any gloss. That's more careful planning on Lenovo's part. Without gloss, the matte display isn't ruined indoors by glare. Outside, the screen is more visible than it would otherwise be, too. Also inside were 8GB of RAM, a 256GB solid state drive for fast start-ups and a 3.0GHz Intel Core i5 processor.
Lenovo ThinkPad X260: Experience
A good keyboard, durability and great battery life are the keys to business notebook success. The ThinkPad X260's keyboard has the same design and mechanisms as other ThinkPad notebooks. The keys have just the right amount of travel. They produce a little noise, but not so much that it's distracting. When you're away from your main keyboard, its keyboard and the TrackPoint are fine replacements.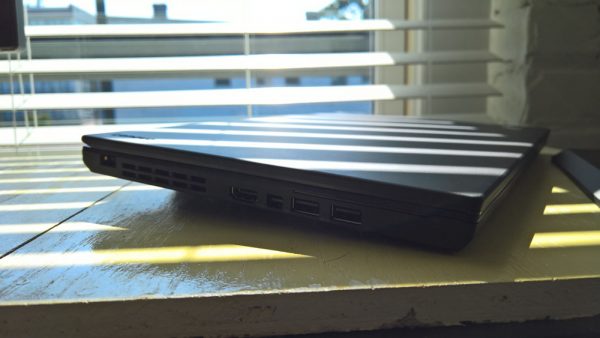 I've had notebooks that I constantly worry about dropping, the ThinkPad X260 can take a beating and you know that from the moment you pick it up. The keyboard deck doesn't bend or flex. Its palm rests don't cave in a little as your wrists sit on them.
Power Bridge
That just leaves battery life as a valid concern. After all, the Intel Core i5 and Intel Core i7 processors can chew through battery if you're really pushing the notebook's graphics or processing capabilities. Lenovo has a trick for providing great battery life and it's called Power Bridge.
Power Bridge consists of at least two batteries. The notebook comes with one slim battery that lays flush along the machine's bottom and locks into place. You can't actually see the second battery because it's embedded in the device. In an age where sealed in batteries are normal and you always end up needing your power cable at the local coffee shop, Power Bridge is very useful. You can swap batteries on an ongoing basis, while not shutting down the PC.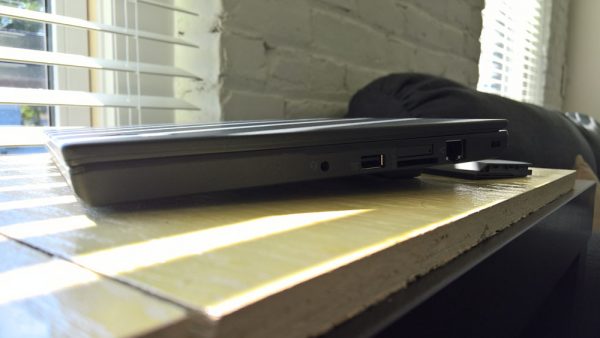 Less expensive models come with a 3-Cell battery, but our model included a 6-Cell battery. So do the other high-end versions. Windows 10 reported that I could expect 15 hours of productivity from the notebook until my next charge with full brightness. I dimmed the display to about 45 percent of its capacity and went three 7 hour mobile workdays without charging it. At the end of the third day, I swapped in the 3-cell battery and got another day out of the notebook without a charge. The 6-cell battery is so bulky that the keyboard deck sits at an angle, but I'll take more battery life for that sacrifice with no problem.
Connectivity
Two other things are important when you're choosing a business notebook: Connectivity and the operating system. Enterprises and small businesses want devices that can adapt for their employees. When in the office, users need to be able to use that machine with the accessories that make them the most productive. For some people this translates to dual monitors, a set of headphones and an extra keyboard. WiGig lets users add accessories to this notebook wirelessly through an adapter. The notebook also features a classic, bottom-mounted expansion ports for those that prefer more traditional docking stations.
With Intel VPro, IT managers can lock-down, track and manage their company issued notebooks from anywhere. Unfortunately, I wasn't able to track that at all.
Operating System
Lenovo is willing to let users downgrade to Windows 7 using the download options that Microsoft offers businesses with Windows 10 Professional. Windows 10 Professional can also be installed outright. Windows 10 Home is onboard by default.
Lenovo keeps the add-on software to a minimum. It's Settings and ShareIt apps come installed, but not much else does.
Lenovo ThinkPad X260: Specs
| | |
| --- | --- |
| Processor & Graphics | Intel Core i3-6100U through Intel Core i7-6600U, Intel HD 520 Graphics |
| Memory & Storage | Update to 16GB of RAM. 500GB hard drive to 500GB Solid State Drive |
| Display | 12.5-inch 720p display or 1080p FHD Display. |
| Ports & Extras | Mini DisplayPort, Card Reader, Headphone jack, Smart Card Reader, Ethernet, Mobile Internet Compatibility, Bluetooth 4.0, Wireless 802.11 AC, 720P web camera |
| Battery Life | Maximum of 21 hours with 6-Cell Battery. |
| Dimensions & Weight | 0.8 inches thin, 8.21 inches long. Weighs 2.9 pounds without expanded battery. |
Lenovo ThinkPad X260: Should You Buy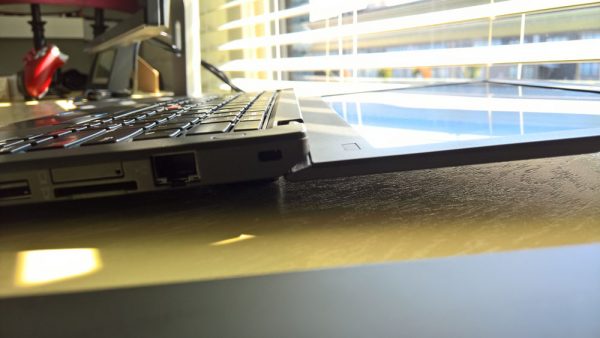 There's no way that anyone taking into account what businesses need and want could not find the ThinkPad X260 a great buy. If I could describe the ThinkPad X260 in one word, that word would be freedom.
Freedom from dongles is a real leg up. There's something to be said for all of your essential ports being there without add-ons that you have to carry in a bag. The freedom to issue PCs to people that aren't always careful with their things is important, too. The ThinkPad X260 has passed Military-grade durability tests. You can't easily break it. Equally as important is freedom from high prices. Lenovo has the ThinkPad X260 available for $635.75, and that's a model with an Intel Core i3 processor. Lenovo does cut some corners to get to that price, but that's to be expected.
Add in freedom from power plugs with the 6-cell battery and Power Bridge technology and this is a competent, capable machine that I have no qualms in recommending to small and medium-sized businesses.
Advertisement