You might be wondering how exciting a principally business monitor can be – well, in the case of the new Lenovo ThinkVision X24 Pro Monitor, the answer is pretty darn exciting – and the innovation continues with a funky, build-your-own all-in-one desktop.
Lenovo ThinkVision X24 Pro Monitor
The new ThinkVision X24 might not be the biggest display we've seen offered for your desk, but it does pack some of the biggest features. Measuring just under 24 inches, the X24 delivers 1920×1080 resolution, but it does it with one of the smallest bezels (you know, the big black borders surrounding your monitor) we've ever seen on a shipping monitor.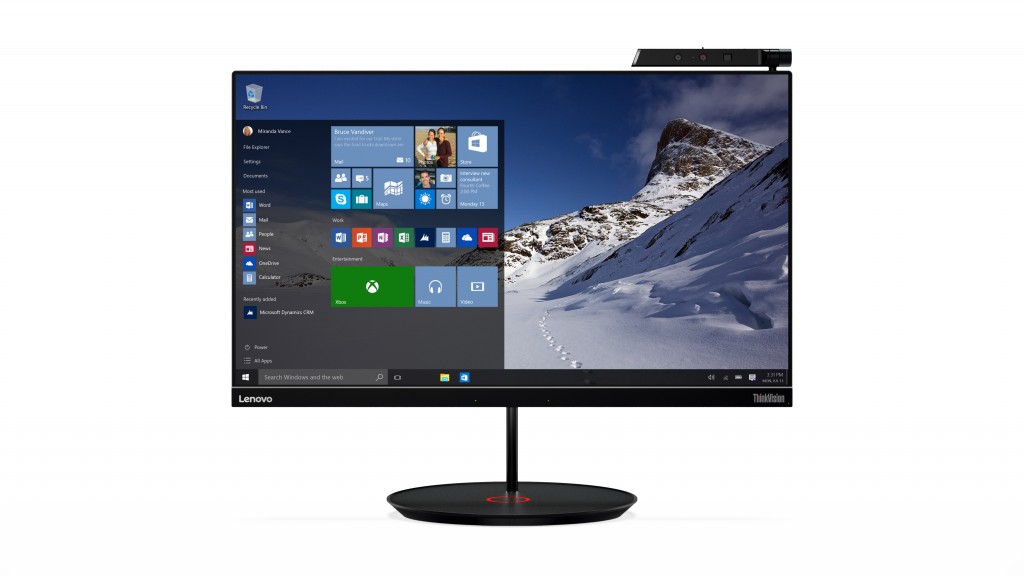 It also offers pretty standard quality for an IPS monitor: 1000:1 contrast ratios and 7ms response time, with 250 nits of brightness.
In addition to the impressive border (or lack thereof), Lenovo has added in both mini-DisplayPort and USB Type C ports – so if you have a laptop or mobile phone that has a USB-C port, you can plug it into this display and charge your device while putting its display up on the monitor.
At the bottom of the display is a set of 3W stereo speakers and an array microphone, while the top has one of Intel's RealSense SR300 3D cameras – so you'll be able add features like gesture control and 3D scanning to any device you hook up.
Lenovo is also building a couple of accessories to go along with the ThinkVision X24 Pro, which is a first for us (and hopefully not the last – Lenovo should make sure these accessories work with future monitors, too). The WiGig Bar adds WiGig wireless docking functionality to your display – if your laptop has a WiGig card in it, you'll be able to hook it up without a single wire, simultaneously connecting to whatever is hooked up to the two USB 3.0 ports in the back of the Bar. There's also an optional A4WP wireless charging stand – replace your ThinkVision stand with this, and you can wirelessly charge your (supported) smartphone on the base.
The ThinkVision X24 Pro Monitor ships in May for $399; the WiGig Bar will be additional $250, while the Wireless Charging Stand will run an extra $150.
Lenovo ThinkVision X1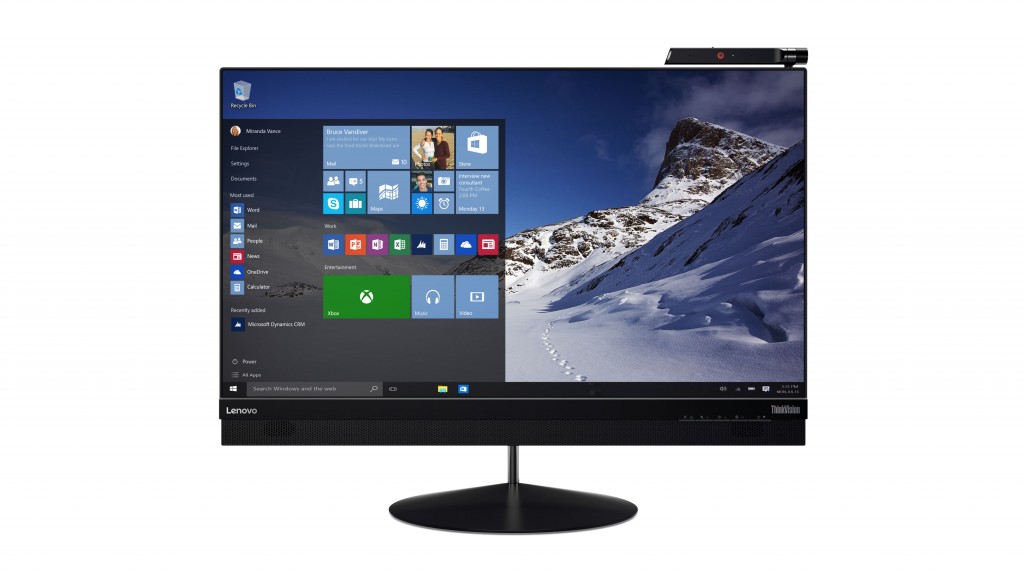 Calling its new Lenovo ThinkVision X1 Display the world's slimmest 27-inch, 4K monitor seems like a bit of braggadocio, but it's well-deserved. Like the ThinkVision X24, the new ThinkVision X1 gets rid of the bezels with a stunningly thin appearance – it looks like someone has blown up one of Dell's super thin XPS 13 laptops, but in the best way.
In addition to the thin bezel, Lenovo's offering a 4K display with an IPS panel: you can expect a 1300:1 contrast ratio and wide viewing angles, but they're pairing with just about every connection you could want – there's HDMI 2.0, DisplayPort 1.2 and even a USB 3.1 Type C port that supports both display and charging functions.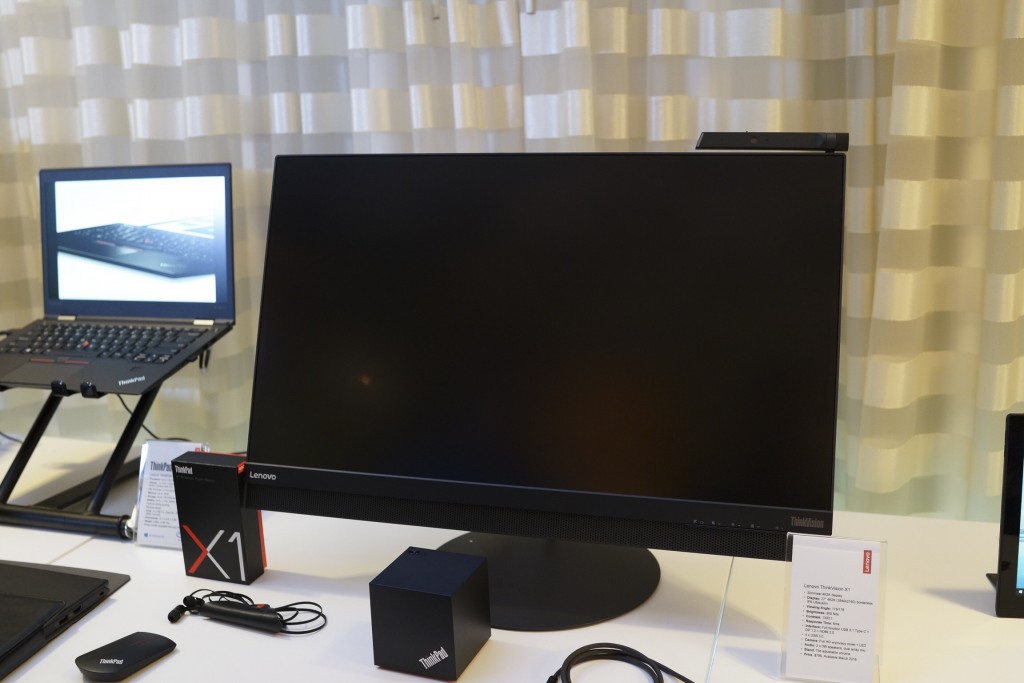 Built into the ThinkVision X1 are also a pair of 3W stereo speakers and a crazy 1080p webcam that can spin around or swivel up and down to capture you or show off whatever is sitting on your desk.
The Lenovo ThinkVision X1 will be available in March for $799.
Lenovo ThinkCentre X1
Apple isn't the only company that can produce an attractive all-in-one: the Lenovo ThinkCentre X1 gives the iMac a run for its money. Offering a super thin chassis, the X1 has a full aluminum frame. It doesn't offer borderless displays of Lenovo's other new products, but it does deliver a 24-inch monitor with a 1080p, IPS display.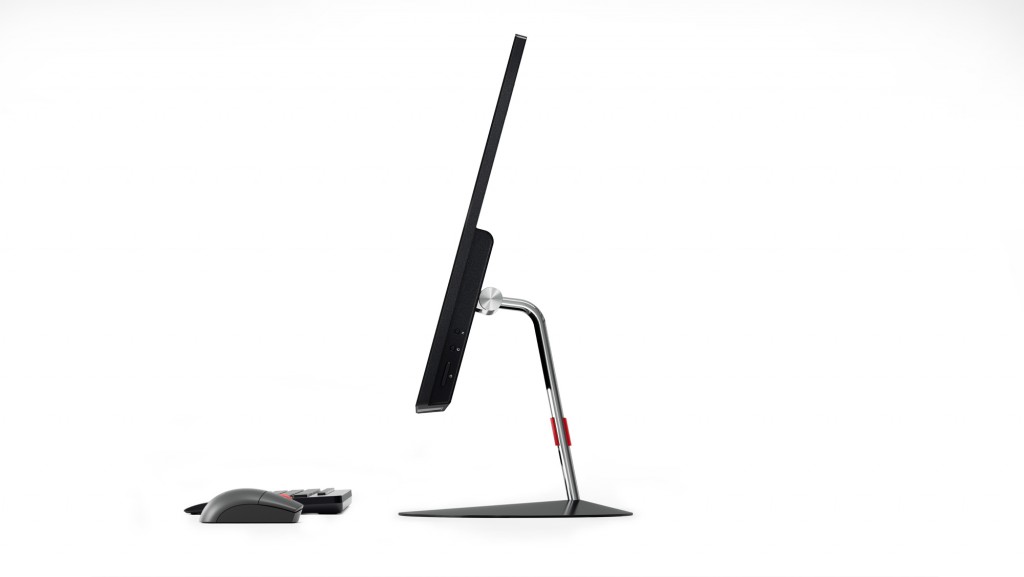 Inside you'll find options for hard drive, hybrid hard drive, or SSD storage, an Intel Core i7 and up to 16GB of DDR4 memory. There's a 1080p camera and mic array built into the unit which support Skype for Business and Dolby Audio; the webcam comes with a physical camera lock that covers it in secure location.
Ports include five USB 3.0 ports, DisplayPort in and out, Ethernet, and an optional card reader.
The ThinkCentre X1 ships this March, starting at $1029.
Lenovo ThinkCentre TIO II
Coming in both 22- and 24-inch versions, the new ThinkCentre TIO II lets you configure your all-in-one any way you want. At its core, an all-in-one desktop is just a desktop PC that has an integrated monitor – while having them in one unit makes for a cleaner experience, it can be frustrating to replace an entire device just when one portion breaks or grows outdated.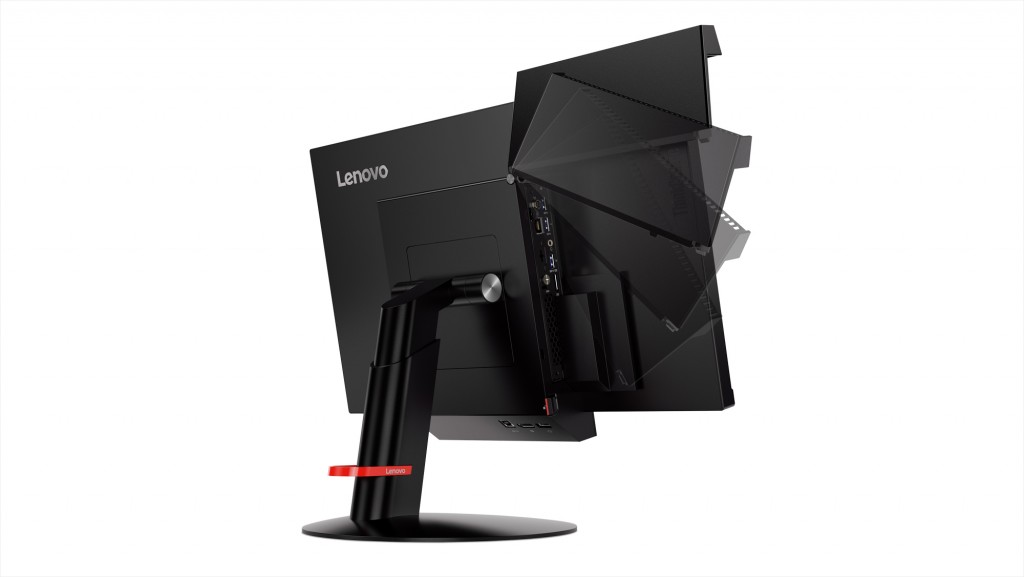 The ThinkCentre TIO II gets around that by tightly integrating with Lenovo's various ultra small form factor desktops. You can choose between the ThinkCentre Tiny, ThinkCentre Chromebox, or ThinkCentre ThinClient – configure whatever box fits your needs, and slot it in back of the display. The video and audio are automatically integrated, and your ThinkCentre boots up as a single device. It comes with the same kind of borderless monitors that we see in the ThinkVision X24 Pro, above.
You can start to order the ThinkCentre TIO II in April of this year, for an as-yet-undisclosed price.
Advertisement