Apple will release new MacBook Pros this Tuesday, April 13th, or so the rumor goes. The source is someone close to Australian MacWorld" and familiar with Apple product cycles and inventory levels." Of course that could mean a janitor in some warehouse. Their source did not know if the MacBook Air or MacBook would be included in the refresh.
Adding to this rumor is the fact that BestBuy's status for a 15.4 inch Aluminum MacBook Pro is Not available" at this time.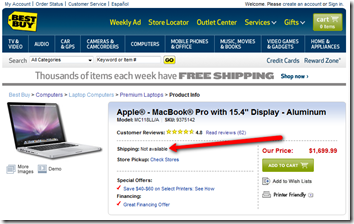 And, according to Engadget, retailer John Lewis in the UK is also out of stock of all sizes of the MacBook Pro and MacBook Air.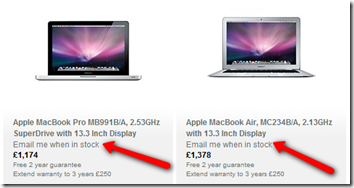 If this rumor is true, then Apple is doing the equivalent of a marketing blitz. April 2010 will be known as the Month of Apple" with the release of the iPad, the announcement of a new iPhone OS, and then this. Of course this is all still wildly speculative.
For a look at what might be inside the new MacBook Pro check out another rumor about an April MacBook Pro Refresh.
Could there be another round? At yesterday's announcement of iPhone OS 4, there was no news of new hardware.  "Of course Apple hasn't announced a new iPhone quite yet, but I'm pretty positive Apple will introduce more robust hardware to ring in iPhone OS 4.0," wrote our publisher Xavier Lanier over at Gottabemobile. If he is right, and I think he is, could it be announced later this month as the exclamation point to a bewildering month for Apple?
Advertisement