Rivet is a tiny piece of Mac software that will help you stream video, music and photos to an Xbox 360. Many people have their iTunes library of music and movies on their MacBook which can't stream to the Xbox 360 by default. Following this simple guide, you can take that library on the road with you to a friend's house and stream it to their Xbox 360 and then bring it home and do the same with yours.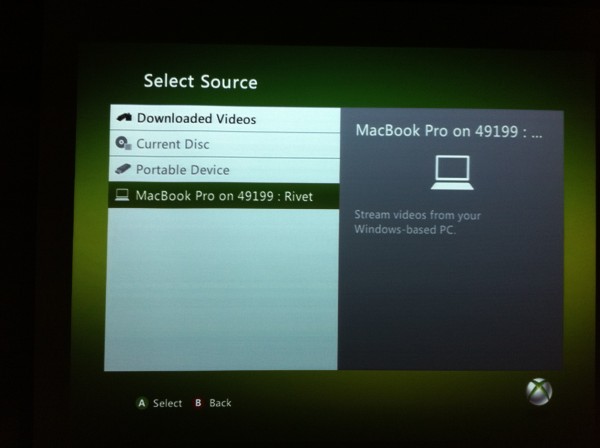 We just purchased an Xbox 360 and figured it was impossible to view videos saved in iTunes on the new entertainment console. But thankfully we found Rivet. This tiny program, which only costs $20, will do the job very simply. In fact it was as easy as downloading, installing, configuring and turning on the Xbox 360. The Little App Factory offers a free trial that lets you stream 25 movies or songs before paying.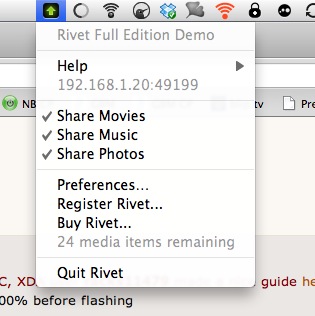 One you get Rivet loaded on your MacBook, it places an icon in the menu bar. That icon also serves as the menu for the app. Click it to view the options. You can check to share or not share your movies, music and photos through the application. The preferences dialog box will also let you choose what to stream, set settings for each media type, and to change network settings. There isn't much to change to get it to work. Rivet is also supposed to work with the PS3 console, but we haven't tested that.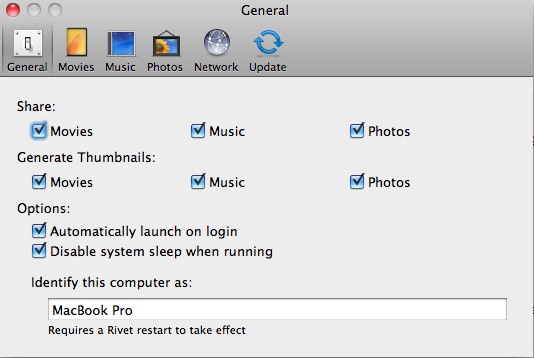 After setting up the software, turn on your Xbox 360. From the Xbox menu go to the My Xbox item and choose any of the three kinds of libraries. We first tested the Video Library playing the great Civil War film God's and Generals. It worked Flawlessly. It does not stream video downloaded from iTunes. It works well on movies that you create or that you rip from your own DVDs.
Songs are grouped much like they are in iTunes. You can play music categorized by artist, genre, and via your iTunes playlists. The sound is excellent. It won't stream DRM infested music.
We had trouble with our pictures. It will stream pictures into slideshows from iPhoto, Aperture or just your picture folders. We set it up to show iPhoto library pictures. A couple of our iPhoto sets would not stream, but when we went into the photos item and streamed our pictures that way, it worked well. The slideshow quality is as good as your picture quality. It gives a kind of Ken Burns panning effect. The program can also stream pictures from Aperture and your Photos folders. You can add other folders via the settings box of the program's menu on your Mac.
This is the simplest way to get iTunes content onto your Xbox. The software transcodes the video and audio to be viewable on the Xbox if needed. The quality of the streams is as if you were watching it on any other Apple approved device like the Apple TV. We were very pleased and happy to pay the $20 to get this to work. The only disappointment was that it doesn't work with movies downloaded from the iTunes store. However, DVDs backed up using Handbrake and imported into iTunes worked fine.
Pros:
Easy to set up
Stream quality is great
No streaming hiccups
Worked on all content with no DRM
Cons:
Won't stream copy protected content downloaded from iTunes store
Advertisement