The easiest way to call friends on FaceTime or email them with the Mail app on your MacBook or MacBook Pro is to sync your Gmail Contacts to the built in Mac OS X Address book. Syncing Google contacts to your MacBook's address book is easy to do, but a bit more complicated than you might expect on a Mac. This guide will show you how to sync Gmail contacts to your Mac Address Book, but you could use the same guide to sync Yahoo contacts as well.
How to Sync Gmail Contacts to the Mac Address Book:
Step 1. Open up your Mac Address Book.
Step 2. Backup your Contacts in both your Mac Address Book and in Gmail. This is just a safeguard.
To backup your Mac contacts, open you Mac Address book. Click File and choose Export -> Address book archive
To backup your Gmail contacts, follow these directions from Google.
Step 3. Open up the Preferences for Address Book by Clicking "Address Book" and then click on Preferences. You'll see the screen below.
Step 4. Check the box next to Synchronize with Google and then click configure.
Step 5. Agree with the notice that Apple will sync with your Google Account.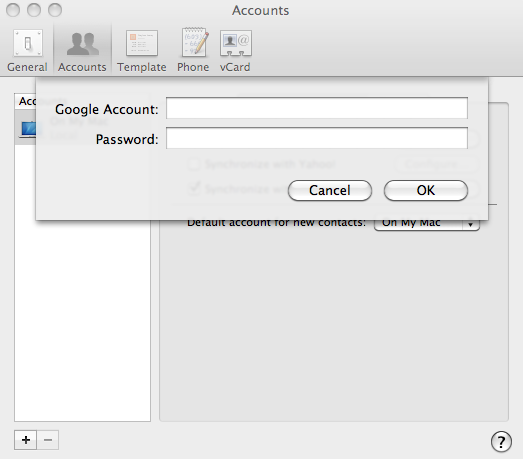 Step 6. Enter your Gmail account name and password. Click OK.
Step 7. Close your Address Book Preferences.
Step 8. Launch iSync under applications.
Step 9. Open iSync Preferences and make sure that Enable Syncing on this computer is checked ans Show status in menu bar is checked.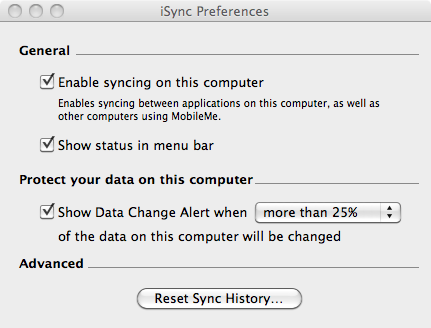 Step 10. Click the big Sync botton in iSync to start syncing your Gmail contacts to your MacBook Air's Address Book.
Step 11. If you have duplicate contacts, the Syncing will prompt you to resolve conflicts by choosing which one you want to use. This may take some time if you have many of the same contacts, but once you are done, you will be syncing changes without any further interaction.
Now your Gmail contacts will show up in your FaceTime application, Mail and other apps with access to the OS X Address Book.
Sync v. Import:
The reason we set up a sync, rather than an import because syncing will keep our contacts the same across our Mac Address Book, Gmail and our iPad and Android smartphone. If we had exported and imported, we would need to do that again and again to keep our data up to date. The Sync will also send your Mac Address Book contacts on to Gmail and to your other connected devices.
Advertisement