Apple announced updated MacBook Pros yesterday and I've already got my hands on the top retail configuration, complete with a Core i7 processor and new graphics. This model definitely puts the 'Pro' back into the 13″ MacBook Pro, which was lagging the competition and the 15″ MacBook Pro in the firepower department.
I've been using a fully-loaded 13″ MacBook Air as my primary laptop, relegating my fully-loaded 2010 15″ MacBook Pro to occasional desk duty. The 13″ MacBook Pro may prove to be an in-betweener, or it may be returned to Best Buy where it was purchased if it doesn't live up to the hype.
In this part of our multi-part MacBook Pro Review, we'll go over the unboxing experience, general features and first impressions. At the conclusion of this part of the MacBook Pro review, you can read our buying recommendation.
Remember, no matter how many MacBook Pro reviews you read, buying a new laptop is a very personal decision and it's best to try out each model you're interested in yourself if possible. It's also important to buy a Mac from somewhere with a reasonable return policy that does not charge a restocking fee.
13″ MacBook Pro Configuration
The $1,499 configuration is the best-configured 13″ MacBook  Pro you'll find on store shelves. You can customize a 13″ MacBook Pro with premium options, such as an SSD, through Apple.com, but this is the model countless students, artists and professionals will buy at Apple Stores, Best Buy and other retailers.
For $1,499 you get:
2.7GHz dual-core Intel Core i7 processor
4GB of 1333MHz  DDR3 memory
500GB, 5400 RPM hard drive
Intel HD Graphics
SDXC memory card slot
Firewire 800
Two USB Ports
Super Drive (DVD/CD burner)
Thunderbolt Port
13.3″ 1280×800
13″ MacBook Pro Unboxed
The new 13″ MacBook Pro comes in a familiar white box, just like previous generations and other current MacBook models.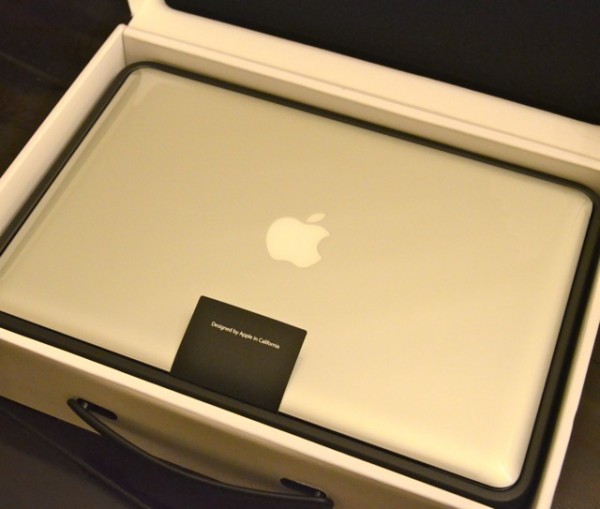 One thing that never gets old when writing MacBook Pro reviews is the out of box experience.Apple continues to maintain the best out of box experience of any laptop manufacturer. As soon as the box is opened, you get to see the MacBook Pro,without having to remove any additional packaging or shove aside any pamphlets.
Beneath the MacBook Pro is the MagSafe power adapter. It comes with the modular AC prongs, with the compact one already attached to the power adapter. A 6 ft. cord attaches if you sit further away from an outlet.
Also below the MacBook Pro are two packets. One has pamphlets with regulatory information. The other has a pair of DVDs to reinstall OSX and the bundled applications. When we reviewed the MacBook Air, we noted that Apple put these files on a thumb drive since that computer doesn't come with a DVD drive.  Apple should ditch the discs and do the same with the MacBook Pro.
MacBook Pro 13″ Exterior Features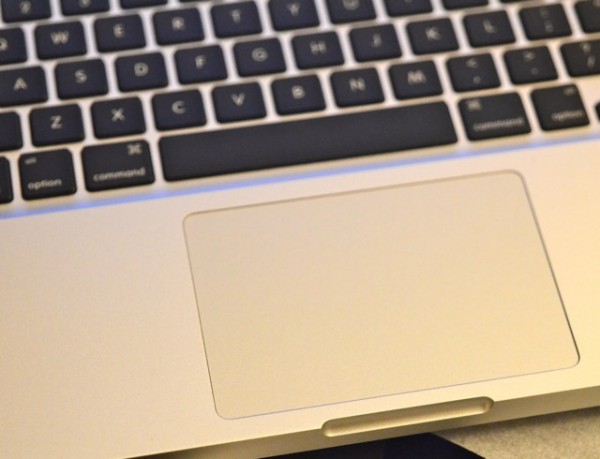 The 13″ MacBook Pro's glass trackpad is identical to the one found on the 13″ MacBook Air. It's smooth and silk and offers the best multi-touch trackpad of experience I've experienced. Gestures, such as swipes and pinches, make it easy to navigate and control the MacBook without using shortcuts.
As with previous MacBook Pros, the new model has a backlit keyboard that automatically illuminates when the lights dim. This is a really nice feature, even for those users who can type a mile a minute. It can be incredibly frustrating hunting for a function key or trying to hit multiple keys at the same time in the dark. This is a feature that's sorely missed from the current MacBook Air models.
The left side of the 13″ MacBook Pro looks pretty similar to the previous model. Towards the rear is the MagSafe power connector, an Ethernet port and a FireWire 800 port. Towards the front is an audio jack that can be used for audio input and output. The MacBook Pro's audio jack is compatible with mobile headsets, such as the one that comes with the iPhone, making it easy to chat via Skype or other programs.
Between the two USB ports and the FireWire 800 port is a Thunderbolt port. This is a new port that's multi-functional and super fast. It can support HD video and lightening fast data transfers to external drives and other peripherals. If this technology catches on, it will make life a lot easier for those that often move large files around or hate clutter. This is the first computer to feature Thunderbolt, which means there's not much to plug into it as of now. You'll most likely continue to plug in your backup drive and peripherals into the USB ports for the foreseeable future. This feature alone is definitely not worth ditching your old MacBook in favor of a new one, no matter how tempting other MacBook Pro reviews make Thunderbolt sound. This will be a standard feature in all future MacBooks, so bide your time until your current Mac starts falling apart or you really need a new one.
On the right edge of the 13″ MacBook Pro is a SuperDrive and Kensignton lock slot, two items that are absent from the MacBook Air. The SuperDrive can write and read a variety of DVD and CD formats, but Blu-ray is still missing in action. In the year 2011, Apple should either ditch optical drives all together, or bump the SuperDrive up to Blu-ray so users can enjoy their Blu-ray movies on the go or burn 50GB of data onto a single disk. Blu-ray is becoming very, very common in PC notebooks, even those that are far cheaper than the MacBook Pro.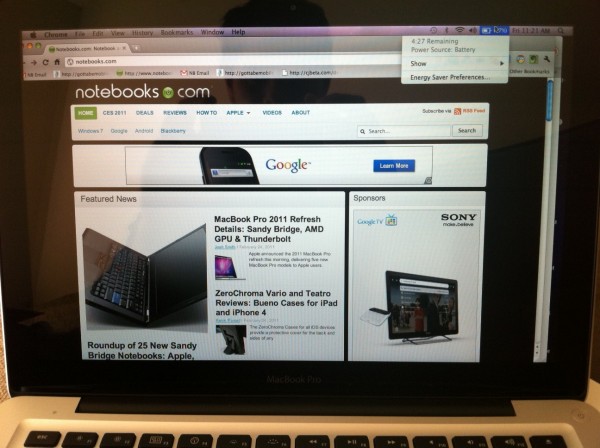 As you can guess, the 13″ MacBook Pro comes with a 13.3″ display. There a couple of things that are big negatives in my book. The display has a glossy finish, making it unusable outdoors and frustrating to use with your back to a window. The 13″ MacBook Pro display has a resolution of just 1280 x 800, which simply isn't enough for many applications and multi-tasking.
The 15″ and 17″ MacBook Pros can be had with a matte display, which is far superior in most lighting conditions. The 11″ and 13″ MacBook Airs come with displays that are a little glossy, but they don't have  the thick protective layer  of glass that makes reflects so much light.
The 13″ MacBook Air has a high-resolution display, ringing in at 1440 x 900 pixels. That might not sound like a whole lot of a difference, but it does make the MacBook Pro's display feel a little more crowded than the MacBook Air's. Apple should offer higher resolution and matte displays, especially for professional creatives. It would certainly be worth an extra $100 or $200.
Some 13″ MacBook Pro reviews will note that the display is gorgeous, like previous models, and in the right conditions I agree. Unfortunately, my definition of 'right conditions' is having the MacBook Pro's display set to maximum brightness or using it in a dimly lit room.
MacBook Pro Hard Drive
We'll get more into hard drive options in a future part of this MacBook Pro review series, but so far the Achilles heel of this computer so far is its slow hard drive. It spins at 5400 RPM, which is exactly the speed of drives found in low-cost netbooks and notebooks. At $1,499, Apple could at least have the courtesy to drop a 7200RPM drive in this MacBook. It's unfortunate that Apple isn't offering a faster hard drive option with its retail MacBook Pro models. We'd really like to see an SSD retail model as well, but the masses are still hooked to GB over I/O speed. Many notebook buyers forget about I/O (input/output) performance when shopping for notebooks, instead focusing on processor speed, RAM and other specs that we've been conditioned to focus on over the years.
MacBook Pro Battery Life
The 13″ MacBook Pro is rated to last for up to seven hours on a single charge. Though Apple's notebooks often beat their advertised battery ratings, we'll have to reserve judgement until we put the new MacBook Pro through its paces. It's a safe bet that users will be able to actually get seven hours of web-browsing battery life out of the new MacBook Pro  as long as the display isn't cranked up to maximum brightness and they use Apple's Safari web browser.
Initial MacBook Pro Recommendation
After using the 13″ MacBook Pro for a few hours I'm confident in recommending it to any notebook buyer looking for a premium computer. It's ready to rock right of the box and has the same excellent user experience as the rest of the MacBook line. If you're a power-hungry Mac user that doesn't want to lug around a 15″ MacBook Pro, I say go for it.
The only reasons to get a 15″ MacBook Pro would be if you absolutely need the larger display (optional high-res and matte finish) or if you need every ounce of processing or graphics power for work or play. If you're rarely mobile, the 15″ MacBook Pro can make a better desktop replacement.
If you don't hoard a lot of video or play the latest video games you'll probably be better off with the 13″ MacBook Air. The 13″ MacBook Air has a slower processor, but offers a much better overall experience. It can be maddening slow to perform resource-intensive tasks such as exporting videos from iMovies on the MacBook Air compared to the 13″ MacBook Pro, but it feels snappier in every day tasks thanks to its standard SSD and NVIDIA graphics.  The biggest tradeoff with the MacBook Air is that storage space is scarce, with only 128GB in the base model.
At 2.3 lb, the 13″ MacBook Air is a hair over half the weight of the 13″ MacBook Pro, which weighs in at 4.6 pounds. That's still a pretty light computer and you might find yourself saying 'it's not 'hat bad' when you check it out at a store, but it can really weigh on you if you're a highly mobile user.
The MacBook Air is clearly the future of Apple's mobile computers. The latest MacBook Pro is an evolution of an old theme, albeit a very good one.
MacBook Pro Review Part 2 Coming Soon
The 13″ MacBook Pro is rated to last for seven hours on a single charge and tear through complex applications thanks to its Core i7 processor. I'll be writing part two of this multi-part MacBook Pro review soon and will share my experience with what's the fastest 13″ Apple notebook to date.
If there's anything you'd like us to focus on in a future part of this MacBook Pro review series, leave a comment with your request below in the comments section.
MacBook Pro Review Photo Gallery