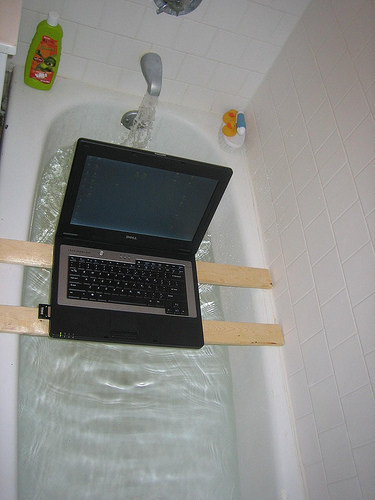 The iPad is great for reading. (Pause for obligatory, "You can read on an LCD?" remark).
With that out of the way, let me reiterate; the iPad makes a great reader. Whether you're reading an iBook, the latest release on the kindle reader or a digital magazine; it is an amazing way to have all of your reading material with you at all times.
It's so good at helping you consume the written word, online or otherwise, that my fellow blogger Warner Crocker has called the iPad an, "excellent choice for Stall Surfers." While I don't stall surf, the cleaning agents poured onto a device used in such manner by my wife would render it inert; I do like to read in another bathroom location — the tub.
Over the years I have limited this reading to paperbacks and magazines. Objects that if dropped would only result in the loss of a few dollars. With the purchase of my first book for the iPad, Mark Terry's The Fallen, I can barely put it down and it pains me to be unable to read it in one of my favorite reading spots.
No matter how much I want to read, my life insurance isn't paid up and I don't think AppleCare covers dropping your brand new iPad in a bathtub!
There are already a few waterproof cases for the Kindle, but I haven't seen one yet from M-Edge or OtterBox, so I'm holding out hope that someday I can read my iPad in water without fear.
Am I alone in my quest for a waterproof iPad case or do you enjoy reading while soaking?
Advertisement