At their Keynote event October 22, Apple showed off new MacBook Pro with Retina Display models that now come with the new Intel Haswell processor that brings better performance with longer battery life.
The two most important features of the new MacBook Pro include the faster and more efficient Intel Haswell processor and a price cut of $200 on the base model of the 13-inch and 15-inch MacBook Pro with Retina Display.
Haswell Processors
Apple joined the efficiency of the Haswell processor and OSX 10.9 Mavericks, which also lengthens battery life by as much as an hour to 90 minutes alone. Haswell runs on a 22 nanometer processor and includes more powerful video rendering built into the chip. Mavericks improves battery life with more efficient power consumption features.
The image rendering engine of the Haswell processor will help with integrated graphics performance. We used to think of integrated graphics with despair. The under powered performance limited what one could do with a notebook running such a chip. Thanks to the Iris and Iris Pro Graphics in these processors, performance jumps a lot, even on a Retina Display.
Retina Displays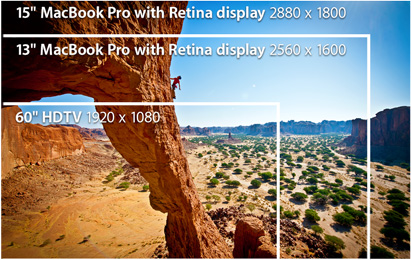 The machines come with beautiful high-resolution Retina Displays, the term Apple coined to describe a display with 200+ pixels per inch. The 13-inch model displays over 4 Million pixels. The 15-inch display over 5 Million. These displays show text incredibly sharp. Video and pictures look better. It also means editing HD video shows full res video in the editing package.
Lower Prices
Retina Displays on the MacBook Pro line aren't new, but they do come in at $200 less. The 13-inch machine costs just $1,299 for a 13-inch MacBook Pro with Retina Display, 4GB of RAM and 128GB of SSD flashed based storage. That's down from a $1,499 price. Double the RAM and storage for $200. Double the RAM and get 512GB of storage for $1,799.
A 15-inch model now starts at $1,999 instead of $2,199. It comes with 8GB of RAM and a 256GB SSD. Double the storage and RAM for $600 more.
Battery Life
Thanks to the Haswell processor and more efficient OSX Mavericks, the battery life on these machines jumps to 9 hours for the 13-inch model. The larger screen on the 15-inch model will deplete that battery life making it last only 8 hours.
Apple promises these numbers, but in our experience Apple usually offers accurate battery life figures. This changes when a user runs the display at full brightness and never lets the display sleep when not using the computer. So, used in an energy conscious way, expect to get a good seven-plus hours of battery life.
Other Spec Improvements
Some other improvements include Thunderbolt 2, the new connectivity standard that makes it possible to expand the hardware of a MacBook without unscrewing the base plate. Plug a 4K display into it for incredible resolution while working in Final Cut Pro or with Photoshop. Add a huge fast Thunderbolt storage device that runs as fast as the built-in SSD.
The new MacBook Pros won't allow users to add RAM. To get the incredibly thin specs, they hardwired the RAM to the motherboard as they did with the MacBook Air. As a result, we get a machine that's only .71-inches thin and 3.46 pounds in the 13-inch line.
Full Specs for 13-inch Model at $1,299
Here's the full list of specs for the 13-inch MacBook Pro with Retina Display that costs $1,299.
Display: 13.3-inch LED IPS screen with 2560×1600 resolution at 227 ppi
Scaled Resolutions: 1680×1050, 1440×900 or 1024×640
2.4GHz dual-core Intel Core i5 processor with Turbo Boost up to 2.9 plus 3MB shared L3 cache
Options up to 2.6GHz Core i5 or 2.8GHz Core i7
4GB of RAM with options for 8GB or 16GB all running at 1600MHz and DDR3L but not user upgradable
Storage: 128, 256, 512GB or 1TB flash storage
12.35-inches wide x 8.62-inches deep x .71-inches thick
3.46 lbs.
Intel Iris Graphics which can power dual displays
2 x Thunderbolt 3 output with mini-DisplayPort capability and DVI or VGA via adapters sold separately
1 HDMI port
720p FaceTime camera
1 MagSafe 2 power connector
2 x USB 3
Headphone jack compatible with stereo audio and mic
Stereo speakers
Dual built-in mics
SDXC card slot
802.11ac Wi-Fi
Bluetooth 4.0
Full-size island style keyboard and multi-touch trackpad
Up to 9 hours of battery life
Full Specs for 15-inch Model at $1,999
Here's the full list of specs for the 15-inch MacBook Pro with Retina Display that costs $1,999.
Display: 15.4-inch LED IPS screen with 2880×1800 resolution at 220 ppi
Scaled Resolutions: 1920×1200, 1680×1050, 1280×800 or 1024×640
2.0GHz dual-core Intel Core i7 processor with Turbo Boost up to 3,2 plus 6MB shared L3 cache
Options up to 2.3GHz Core i7 or 2.6GHz Core i7
8GB of RAM with option for 16GB all running at 1600MHz and DDR3L but not user upgradable
Storage: 256, 512GB or 1TB flash storage
14.13-inches wide x 9.73-inches deep x .71-inches thick
4.46 lbs
Intel Iris Pro Graphics which can power dual displays
Optional NVIDIA GeForce GT 750M Graphics with 2GB of GDDR5 memory and automatic switching with Iris Pro
2 x Thunderbolt 3 output with mini-DisplayPort capability and DVi or VGA via adapters sold separately
1 HDMI port
720p FaceTime camera
1 MagSafe 2 power connector
2 x USB 3
Headphone jack compatible with stereo audio and mic
Stereo speakers
Dual built-in mics
SDXC card slot
802.11ac Wi-Fi
Bluetooth 4.0
Full-size island style keyboard and multi-touch trackpad
Up to 8 hours of battery life
Advertisement