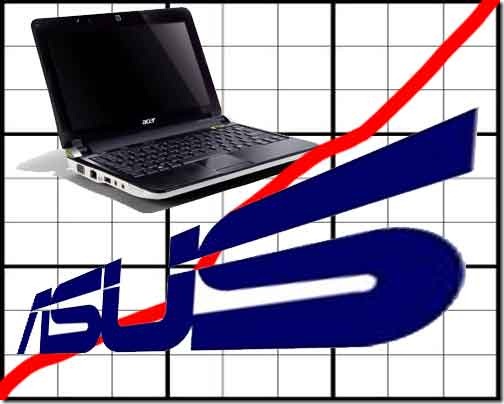 Asian OEMs like Asus and Acer had a significant role in driving PC shipments up to a record 81.5 million in Q1 2010, according to iSuppli an electronics market research firm. Their numbers show that the entire industry grew by a whopping 22.7 percent during the first quarter of this year, or to put it in better terms, a jump of about 15 million computers!
The 2010 boom" as iSuppli called it came primarily from Asian companies. Of the top 10 companies measured by total units shipped the Asian manufacturers – ASUSTek, Samsung, Lenovo, and Acer led the way.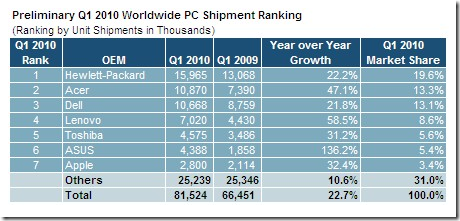 Number six ranked ASUSTek had the largest increase in units shipped, more than doubling their total with 136.2 percent more units compared to Q1 last year. Even with the increase, the Taiwanese company only has a 5.4 percent market share. Shipments by South Korean OEM Samsung grew by nearly 84 percent, but the company is still only in eighth place in total market share. Lenovo jumped nearly 59 percent and is third in market share.

Acer is the second leading manufacturer in total market share and their shipments grew by nearly 47.1 percent. That narrows the gap between the Taiwanese company and HP, which is in first place in market share with nearly 20 percent of the market. Acer has 13.3 percent of the market. However, of the top companies, only Dell had a smaller increase. HP grew by 22.2 percent more PCs shipped while Dell's sales only grew by 21.8 percent. In a vacuum one would say the two American companies had a great year. But by comparison it doesn't look nearly as good.
So why the incredible growth of companies like Asus? iSuppli offered the following reason:
The company's success is built upon its strong product lines for both regular notebooks and netbooks—as well as its limited exposure to the slow-growth desktop segment.
HP and Dell are very strong players in the desktop market. However desktop sales are declining compared to notebooks and netbooks. By comparison Acer sold more notebooks than desktops by a 3 to 1 margin (80 Percent v. 20 percent). A larger percentage of their business has a potential to grow in this market.
One might be tempted to assume this incredible performance for the lower cost OEMs is a product of the poor economy. Cheaper computers will sell better when people have less money to spend. While that may be a possible explanation for part of their success, it doesn't take into account the performance of another company. Apple, known for high end PCs, also had a good year with a 32.4 percent growth in units shipped making it the seventh place company in terms of market share. Price and the economy could explain why they didn't have as big a growth as Acer, Asus, and the others, but it cannot explain the discrepancy between Apple and larger firms like Dell and HP.
Will this boom" continue? iSuppli is predicting a total increase of 17 percent for 2010. But they were not expecting a 22.7 percent growth in this first quarter either.
Advertisement