I was excited to pre-order a pair of new iPhones for my wife and I this morning, but found that Apple.com's online iPhone store to be non-responsive. Many Apple customers are frustrated that they can't order online and heading to local AT&T and Apple retail stores in hopes that they'll be able to place their iPhone pre-orders in person. The only problem with that logic however is that the retail stores are using the same reservation system as what you can access from your home or office at Apple.com.
Your best bet for the time being is to be patient and wait for Apple and AT&T to resolve the issue. Whenever it is resolved you should be able to reserve your iPhone 4 from the comfort of your home. There is nothing wrong with your computer or Internet connection. You should not worry about missing out on the iPhone 4 as it is NOT sold out. Thousands of Apple customers have complained about this issue on Facebook, Twitter and blogs.
AT&T and Apple have not commented on what's at the root of the problem or even bothered to mention it on their sites. Instead, customers are taking it upon themselves to try again and again. This can only be making the problem worse as customers attempt to submit account info multiple times, clogging both AT&T's and Apple's servers. From the looks of things, it appears Apple.com orders are having trouble communicating with AT&T's customer database. Apple.com isn't the only service having problems communicating with AT&T's servers. AT&T's own retail stores are having trouble.
I spoke with several people today that waited in front of San Francisco Apple stores to place their pre-orders in person. Apple retail salespeople were at a loss and asked them to return latter or place their orders from home.
Earlier today, Carter Sprunger, detailed the Apple iPhone 4 pre-order SNAFU. As of 12:45PM PDT, it is still impossible for many to pre-order an iPhone. I had several friends and Notebooks.com contributors try to place orders as both new and existing AT&T customers. Some reported the site would not respond at all once they made a selection to tell Apple if they were upgrading or a new customer. Others were able to input some basic account information, but had their sessions time out after a seeing a status menu that read "Please wait while we access your AT&T account information."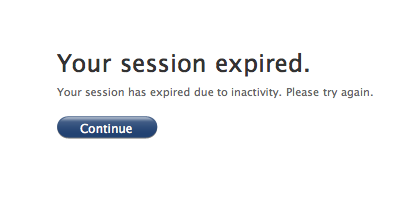 My most recent attempt to place an iPhone 4 pre-order was especially frustrating. After typing in my mobile phone number, zip code and last four digits of my social security number Apple took more than 15 minutes to process the request. A 'Processing Information" window remained open for more than 20 minute.
Calls to Apple's toll-free number and local stores are currently going unanswered.
I'm hoping that both Apple and AT&T will issue an official statement once things are smoothed out. While this is a major embarrassment for all of the companies involved, customers should have plenty of time to get their pre-orders in before the June 24 delivery date.
Advertisement