Reports are coming in that iPhone 4 customers are experiencing a very significant drop in their upload speeds. Gizmodo is reporting that the maximum upload speed is currently 100kbps, nearly 1/10th of the average.
Adding to the list of problems with Apple's new iPhone 4, as well as AT&T's network, users are seeing a drop in upload speeds from nearly 1500kbps to just 100kbps. The following is a list of areas affected so far.
NYC, Central Jersey, Orlando, Seattle, South Jersey/Philly, Columbus, Cleveland, West Houston, Phoenix, Northern Colorado, St. Paul/Minnesota, Suffolk County/Long Island, Quad Cities, South Jersey, Denver, Detroit Metro, Cincinnati, Baltimore, Salt Lake City, Las Vegas, Kansas City, Fairfax, Minneapolis, Washington D.C., Des Moines!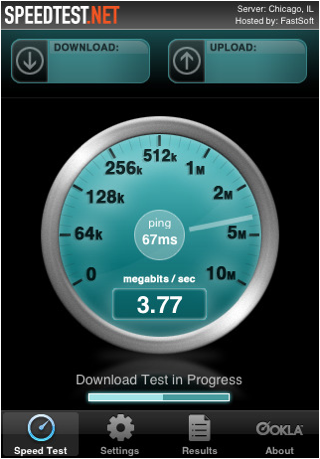 MacRumors member Milan03, who is reporting a decrease in upload speed, speculates that AT&T was not prepared for the amount of bandwidth the iPhone 4 would consume. It is possible that users are sharing more images and video which is stressing the AT&T network.
Currently, AT&T has yet to comment on the matter, but Gizmodo claims that an official statement is expected soon.
What are your experiences? Run the Speedtest.net app on your iPhone 4, and let us know what kind of upload speeds you are experiencing and in what city.
Via Gizmodo, MacRumors Forums
Advertisement