Every year, LAPTOP Magazine completes a detailed test of all the major notebook vendors' support phone lines and web resources. Titled the 2010 Tech Support Showdown, this report highlights the good and the bad of notebook tech support.
The Test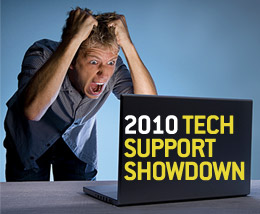 Twelve big-name notebook vendors were the subject of this test. To test the phone support of these companies, LAPTOP Magazine contacted each company on three separate occasions, each during a different time of day. The tests were administered between 12:00-3:00 pm; 3:00-6:00 pm, and 8:00-12:00 am. Three questions were asked after the approximate hold time was calculated. Hold time started when the call was answered, including voicemail menus and announcements. The three questions asked were:
How can I make my notebook boot faster?
I want to share files with another laptop in my house, and I understand Windows 7 can do that. How do I set that up? (For Apple – How do I share files on my MacBook Pro with a Windows 7 notebook?)
How can I make changes to my notebook's power settings?
Following the phone tech support, LAPTOP Magazine looked into each of the companies' tech support websites, including FAQs, manuals, forums, live chats, and e-mail exchanges with service reps.
The Good
The only company to receive an "A" rating on their tech support was Apple. Even with its short 90-days of free phone support, Apple outshines the rest with clear and concise phone support, low hold times, and an in-depth website with a large community forum and many tutorials, FAQs, and manuals.
The Bad
Coming in last were Acer and Gateway, both receiving a "D+" rating. This is most likely due to the fact that Acer owns Gateway. Acer struggled with many of the questions, pointing to Gateway's website and offering Answers by Acer technician, a service that costs $59.99 for 30 minutes to resolve the issue. Gateway, who offered their $59.99 Answers by Gateway service, also struggled with many questions, or refused to answer because nothing was physically wrong with the system.
Reflection
Like last year, Apple was the only company to receive an "A" rating. LAPTOP Magazine noted that there is a disturbing trend this year with most of the other companies.
"…more and more vendors are refusing to answer questions that don't involve broken hardware. Lenovo, for example, told us to "go take a computer class" when we asked our question about how to make our computer boot faster and with less crapware."
With technology and features on notebooks becoming more advanced, the need for quality tech support has increased. However, it seems as though most companies are beginning to charge more for that support, or not wasting their time with non-hardware related issues.
For a more in-depth look at the results, including detailed reports about each of the twelve companies and their customer support grade, head on over to LAPTOP Magazine's 2010 Tech Support Showdown 2010.
Advertisement