Many have posted how the iPad's Dock to USB connector intended for use with digital cameras can also be used with some USB devices like headsets and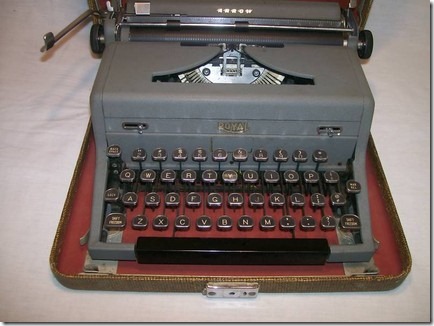 keyboards. According to a comment on our article about it, the connector is actually not great for its intended use, so maybe USB keyboard is the best use for it. But I don't think this is what most of us had in mind when we imagined hooking our iPads up to a keyboard to have a more tactile typing experience. Go on over to USBTypewriter and you can get a USB Typewriter from inventor Jack Zylkin. Not a keyboard but an old fashioned clackity clack typewriter that has somehow been hacked with a USB interface and cab be hooked up to an Apple iPad or a computer.
The site describes it this way:
The USBTypewriterâ"¢ is a new and groundbreaking innovation in the field of obsolescence.  Lovers of the look, feel, and quality of old fashioned manual typewriters can now use them as keyboards for any USB-capable computer, such as a PC, Mac, or even iPad!  The modification is easy to install, it involves no messy wiring, and does not change the outward appearance of the typewriter.  So the end result is a retro-style USB keyboard that not only looks great, but feels great to use.

Below is a demo of the USB Typewriter with the iPad Dock.
Only manual keyboards work. But there are three options for getting one:
Buy a USB Typewriter ready to go starting at $400.
Buy a kit to turn your manual typewriter into a USB Typewriter for $75.
Send Zylkin your keyboard and he'll do all the work for you for $200.
I can only imagine that guy with the 40s style hat that has a card with the word scoop" written on it actually wanting to use this. But it sure would be a nice conversation piece. Can you imagine this setup on your desk?
Advertisement