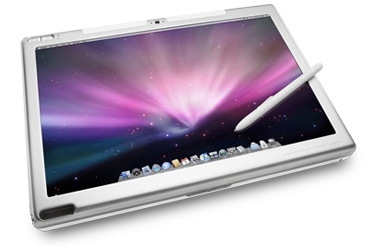 Axiotron is now taking orders for Axiotron Modservice, a service that allows MacBook owners to turn any plastic Intel Core 2 Duo MacBook into a ModBook. The ModBook is the only way to get tablet functionality out of a MacBook. The Modservice will be available for $1,299 and up.
Axiotron is building a network of Axiotron Authorized Service Providers who will have modification kits in stock. MacBook owners must place an order on Axiotron's Web site and then wait for the nearest service provider to contact them and arrange an appointment to perform the transformation.
"Customers have been requesting a program like our Modservice," said Andreas E. Haas, Axiotron's CEO. "There is something intrinsically appealing about the idea of taking your computer and turning it into a new and exciting product like the Modbook."
I interviewed Andreas two years ago at MacWorld and he gave us a quick demo:

Mac tablets make a lot of sense for graphic designers and other professionals that need a digitizer. But $1,299 is a steep price to pay just for a modification kit. I've played with several iterations of the ModBook and it's a solid product, but not really worth it unless you really need a digitizer.
While the service is being performed you can of course order other upgrades to freshen up your slightly out-dated MacBook.
The Modservice is not available on the new Aluminum MacBooks.
Advertisement