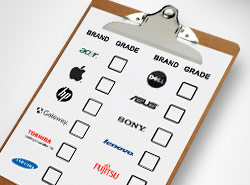 These days buying a laptop can be a nightmare.  There is SO much to choose from; from hardware to software to warranties to tech support.  What do you need it to do now?  How about a year from now?  How easy is it to use?  Who should I buy it from?  And, one of my personal favorites, what color does it come in, I need it to match my living room?
Seriously, its not easy anymore.  And, with all the new technologies coming out this year (Intel Core i5 processors, AMD VISION, Nvidia Optimus, ION, 3D, etc), what can you do?  Well, Laptop Mag, one of the best magazines available on laptops and notebooks, decided it wanted to help out consumers.  "Consumers don't always shop for individual notebooks, instead asking the question, Should I get an HP or a Dell?" Knowing which brands you can trust to deliver the features you're looking for can help focus your search for the perfect laptop."
So, they got a team together and evaluated 12 major laptop vendors.  The evaluation was based on the following criteria: performance and reviews, design, keyboard and touchpad, tech support, value and selection, software, customer satisfaction and innovation.  The performance and reviews area carried the most weight.
Who was evaluated?  Acer, Apple, ASUS, Dell, Fujitsu, Gateway, HP, Lenovo, MSI, Samsung, Sony and Toshiba.  These are all the heavy hitters in the notebook arena right now.
So who reigned supreme?  Apple.  Yes, Apple, makers of the MacBook and MacBook Pro line of notebooks.  The one who just announced a hardware refresh of the line this week.   Why did they win? To quote Laptop Mag:
Out of our eight categories, Apple brings home the gold in four, with one—Performance & Reviews—carrying the heaviest weight of all the criteria. Plus, the company ranked second in the keyboard and touchpad category. There's no question about it: Apple is the best notebook manufacturer and brand around. With every new product release, we eagerly anticipate its arrival, as do hordes of consumers who routinely flock to Apple Stores. Additionally, its support is second to none. We look forward to a bright future for this top brand, as its introduction of the iPad seeks to pioneer a whole new category of mobile computing.
The runner's up?  Lenovo, because of their excellent tech support and the new Skylight smartbook and IdeaPad UI devices coming out this year.
For a in-depth look at all the brands evaluated and why they placed where they did, go on over to Laptop Mag and read for yourselves.
Advertisement