Samsung pulled back the veil, showing off some new products at CES 2014, including an Ash Black Samsung ATIV Book 9 touchscreen aluminum ultrabook computer running Windows 8.1 on Intel Haswell processors. This makes the new ATIV Book 9 last up to 14 hours on a single charge. Audio pros will love the long battery life and the included features for producing high quality music and audio.
The Samsung ATIV Book 9 runs on either an Intel Core i5 or i7 processor giving users "all-day computing" with a 40 percent bump in the life of the battery over earlier ATIV notebooks.
Watch the video of the ATIV Book 9 along with a new Samsung ATIVE One 7 all-in-one desktop, also announced at CES.
The new model comes with a 15.6-inch full HD display, making it slightly larger and with more resolution than the 15-inch models currently available. The screen provides the necessary touch interface to truly enjoy using Windows 8.1. It still comes with a touchpad, but the bright touchscreen with full 1080p resolution and an anti-reflective coating should offer a nice upgrade from the older model.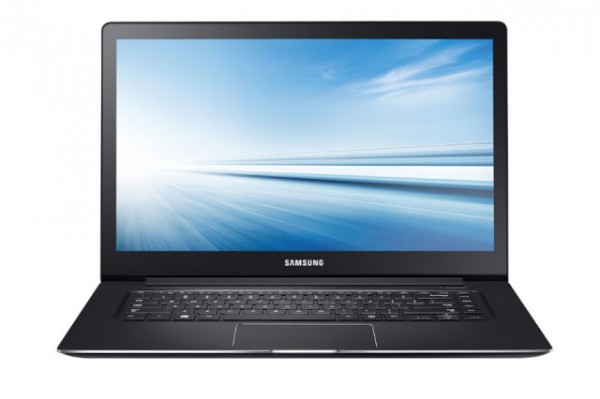 Samsung boasts a better keyboard design. They removed the flat keys and added a slight curve and rubberized material for a better tactile typing experience. This gives users the comfort they need for all-day computing with the double-digit battery life.
The chassis of the machine now comes in a Black Ash aluminum design for a higher quality look and feel. The Samsung subdued their branding on this model.
Most laptops come with atrocious to mediocre audio quality, so Samsung tries to differentiate the ATIV Book 9 with high quality "lossless audio" when people use headphones. They hope this will make the notebook attractive for audiophiles and professional recording studios. The built-inc speakers don't offer the high quality audio, but plug in a pair of headphones or hook the laptop up to a speaker system and music will sound better.
Samsung ships the notebook with their SPlayer+ audio software to give artists an integrated recording solution without needing pro audio packages like Adobe Audition. Musicians or audio technicians on a budget might like this inclusion, but true pros will probably prefer a professional software solution.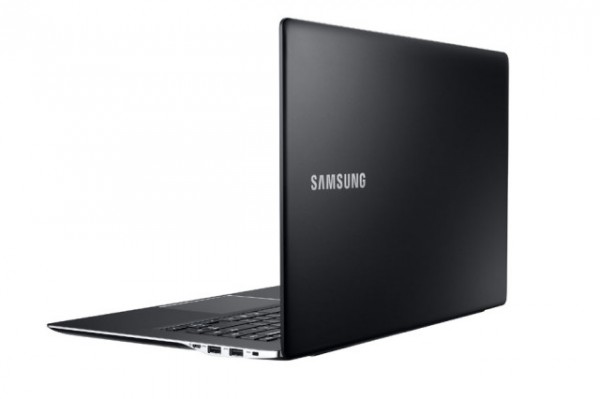 Speaking of pre-installed software, Samsung includes SideSync 2.0 and Samsung Link giving a nice set of options for connecting Samsung mobile devices to the computer. Samsung Galaxy device users can interact with their Note 3, Galaxy S4 or Galaxy Tab from the computer. Respond to text messages or view maps and images stored on the phone or tablet. The software even allows for drag-and-drop transfer of files and editing documents on the phone from the PC. Connect the Galaxy device over Wi-Fi or USB cable.
In addition to a the new ATIV Book 9 notebook, Samsung introduced an all-in-one desktop system called the ATIV One 7. It gives users a 24-inch touchscreen Windows 8.1 computer that runs on an Intel Core i5 4th gen processor.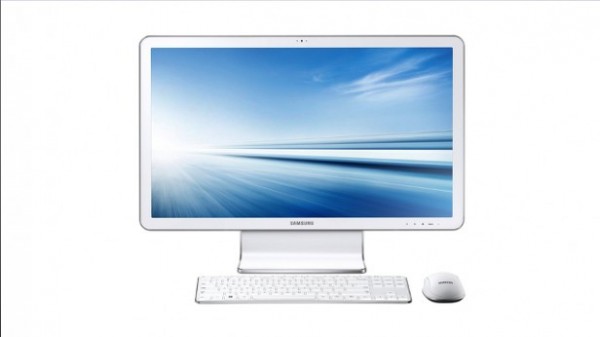 The ATIV Book 9 and the ATIV One 7 ship with 8GB of RAM standard and 1080p resolution touchscreens. They use integrated graphics solutions and 720p webcams built into the display. The i5 notebook ship with a 128GB SSD while the i7 comes with a 256GB SSD. The new all-in-one desktop comes with a 1TB hard drive.
The notebooks weigh 4lbs and measure 14.73" x 9.84" x 0.63". They include 2 USB 3.0 ports, a single USB 2.0 port, mini-VGA and HDMI outputs and an SD card reader. The desktop features the same ports but adds a second USB 2.0 port.
We don't know yet when these computers will become available or at what price, but if the previous generation ATIV Book 9 notebook gives any indication, expect a price around $1600-$1700. See more details in the press release.
Advertisement