HP announced an entertainment notebook today dubbed "The Dragon" or Pavilion HDX. The HDX features a tilting 20.1-inch widescreen display. The HDX will compete with Dell's XPS M2010 for users who want serious multimedia power in a quasi-portable form factor.
update: The HP Pavilion HDX is now available for order starting at $2,999
.
Weighing in at a hefty 15.5-pounds, the HDX is a self-contained entertainment center with some solid specs. High def movies from the built-in HDTV tuner or HD-DVD drive can be viewed on either the WSXGA (1680×1250) display or ported out to your TV via an HDMI port. Audio performance is significantly better than most notebooks thanks to four Altec Lansing speakers and a built-in subwoofer. A media center remote is stored next to the keyboard and pops out.
"For a student in a dorm room it's great. It's their TV, it's their video recorder, it's their DVD player, it's their computer," said Kevin Wentzel, an HP product manager. "They've got all of that built into one unit and when they go on break-close it up and take it along with them."
Glossy finishes abound on the HDX, including the new "Dragon Imprint" finish. A row of touch-sensitive QuickPlay buttons run across the top of the keyboard.
An adjustable web cam and dual microphones are built in to the screen's bezel. There's a bevy of ports and slots including dual headphone jacks, ExpressCard slot, S-Video and Firewire.
Based on Intel's Santa Rosa platform, it will initially ship with an Intel Core 2 Duo 77000 (2.4 GHz) processor, 4 GB of memory and
ATI Mobility Radeon HD 2600 (256MB) GPU. An HP spokesperson said NVIDIA options will be available later this year.Multimedia storage comes in the form of dual 200GB drives, unfortunately the HD-DVD drive is read only. There is a SATA port so users can save or backup large files quickly on external drives.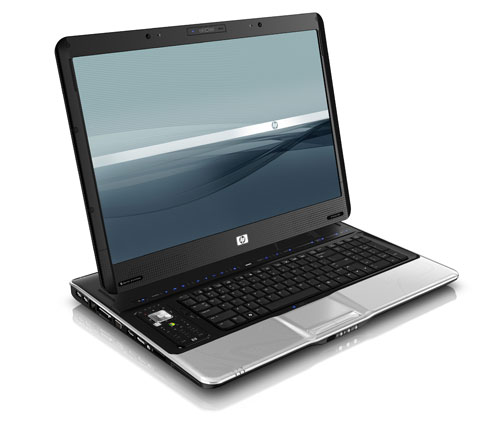 Working up close to such a large monitor can feel awkward for users accustomed to smaller notebooks. Dell's 20.1-inch XPS M2010 alleviates this by making the keyboard detachable so users can move back from the big screen. This also makes for a smaller footprint. HP should have considered a detachable keyboard.
The HDX is a nicely built machine, but I'm not sure how many users will end up actually purchasing it. The sheer size of the HDX may make it tough to fit it in small apartments or dorm rooms as its designers intend.
The HDX will be available in late June, with a starting price that's under $2000 of $2,999
(UPDATE) and range up to $4,000 +. I assume that price will not include all of the features in the initial spec sheet.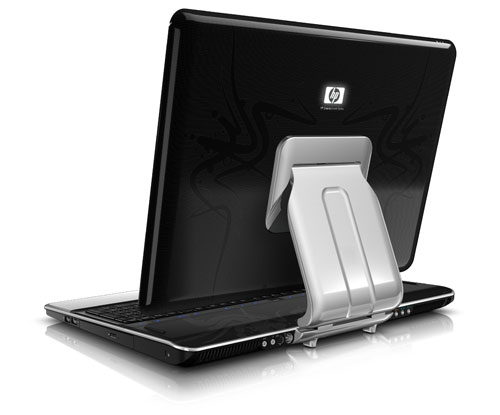 Processor
Intel® Centrino® Duo processor technology featuring Intel® Coreââہ¾Ãƒâ€šÃ'¢ 2 Duo processor T7700
2.40 GHz, 4 MB L2 Cache, 800MHz FSB
Memory
4096MB DDR2 System Memory (2 Dimm)
Video Graphics
ATIââہ¾Ãƒâ€šÃ'¢ Mobility Radeonââہ¾Ãƒâ€šÃ'¢ HD 2600 XT with 256MB GDDR3 (dedicated) & up to 2048MB Total
Total Available Graphics Memory
Hard Drive
400GB (4200RPM) Hard Drive Dual HDD – 200GB x 2(SATA)
Finish and Features
HP Imprint Finish, Integrated Webcam & Integrated Fingerprint Reader
Multimedia Drive
HD DVD ROM with SuperMulti DVD±R/RW Double Layer
Display
20.1â€Â WSXGA+ High-Definition HP Ultra Brightview Widescreen Display (1680 x 1050)
Network Card
Integrated 10/100/1000 Gigabit Ethernet LAN (RJ-45 connector)
OR
Intel PRO/Wireless 4965AGN Network Connection & Bluetooth ââہ¾Ãƒâ€šÃ'¢ (j)
Digital Media
5-in-1 integrated Digital Media Reader for Secure Digital cards, MultiMedia cards, Memory
Memory Stick, Memory Stick Pro, or xD Picture cards
Audio
Altec Lansing (4 Panel Mounted and integrated HP Triple Bass Reflex Sub-Wolfer supporting
supporting up to 7.1 external speaker configurations)
Keyboard
101 key compatible keyboard with scroll bar and integrated numeric keypad – 3 quick launch
launch buttons
Pointing Device
PC Card Slots
1 ExpressCard/54 Slot (also supports ExpressCard/34)
External Notebook Ports
Ports
4 Universal Serial Bus (USB) 2.0
2 Headphone out
1 w/Side Digital Audio
1 microphone-in
1 HDMI
1 VGA (15-pin)
1 eSata
1 TV-Out (S-video)
1 RJ -45 (LAN)
1 Expansion Port 3
1 IEEE 1394 Firewire (4-pin)
1 Consumer IR (Remote Receiver)
Native External Speaker Configurations Ports
SPDIF, Rear, Center/Sub, Front
Integrated HP HDTV Hybrid TV Tuner: NTSC/ATSC (with F-Jack adaptor) input, S-Video Input,
Input, Blaster (IR emitter), Stereo Audio Input
Dimensions
18.7″ (L) x 13.4″ (W) x 2.3″ (min H/max H)
Weight
15.5lbs
What's in the box
Mobile Stereo Earbud Headphones (1 pair)
HP HDX Dockable Media Center Remote Control
Power
180W AC Adaptor
9-Cell Lithium-Ion battery
Support

Operating System
Genuine Windows Vista Ultimate 64-bit
Security and Support
Symantec Norton Internet Security 2007 (including 60 days complimentary live update)
HP Total Care Help & Support Center
PC Recovery (Softthinks Restore Solution)
Wireless Home Network
Roxio Backup MyPC
Productivity and Finance
Microsoft Works
Microsoft Office 2007 Student and Teacher Edition: 60 Day Trial Version
Multimedia
AOL Music
Vongo
HP PhotoSmart Premier
HP Quick Play
Muvee AutoProducer
Roxio Creator Premier
Serif WebPlus 10
Adobe Acrobat Reader
Internet Solutions
Easy Internet Sign-up plans include:
AOL Dial-Up
Microsoft Internet Explorer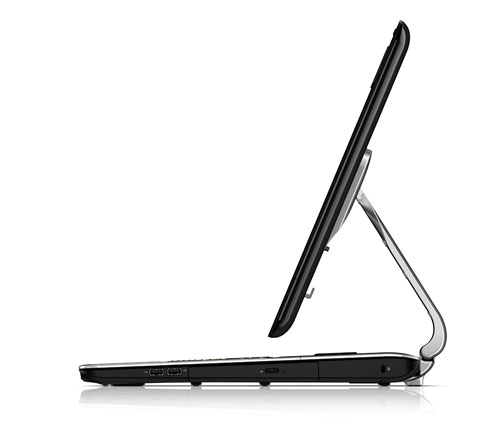 Advertisement