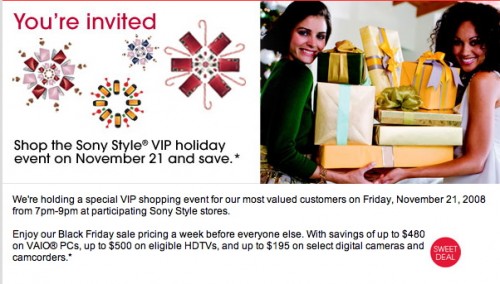 I just got an invite to Sony's VIP holiday event, which is taking place on November 21 from 7pm-9pm. The company is holding this event so select customers can get Black Friday pricing a week before black Friday to get the holiday ball rolling early.
If you're shopping for a VAIO, but holding out for a Black Friday special you may as well check out this event. There will be discounts of up to $480 on VAIO computers, $195 discounts on select cameras and $500 discounts on some HDTVs.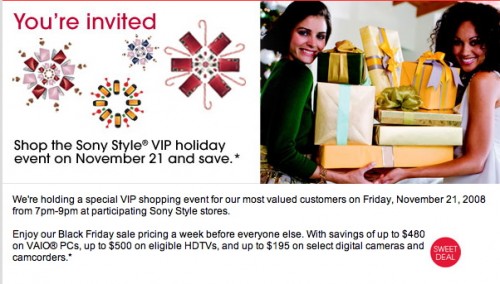 The invite makes it sound exclusive as RSVPs are required, but I'm sure if you called an asked nicely Sony would add you to the guest list. If you've received an invite or want to ask to be added to the list you should call 212.833.6130 or email [email protected]
The Sony VIP holiday event is taking place at the following Sony Style stores:
South Coast Plaza Costa Mesa, CA
Beverly Center Los Angeles, CA
Fashion Valley San Diego, CA
Valley Fair Santa Clara, CA
Cherry Creek Shopping Center Denver, CO
Town Center at Boca Raton Boca Raton, FL
Lenox Square Atlanta, GA
Copley Place Boston, MA
Houston Galleria Houston, TX
Tyson's Corner McLean, VA
Before you get too excited about these and other Black Friday notebooks, please read this recent Notebooks.com article:
Black Friday: 15 Tips for Buying a Black Friday Notebook (or Not Buying One)
For more Black Friday Notebook deals, visit the Notebooks.com Black Friday page.
Advertisement