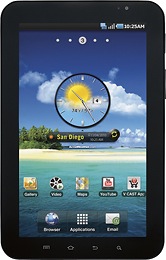 Best Buy will be selling the Samsung Galaxy Tab for $549 on Black Friday. This is a $50 discount off the Galaxy Tab's MSRP, making it a decent deal, but not anything to get too excited about.
The Samsung Galaxy Tab is a Google Android-based tablet with a 7″ display. The Black Friday tablets are nearly identical, though you'll have to choose between Sprint and Verizon up front. Wireless 3G plans are available at an additional cost.
The Samsung Galaxy Tab comes with 16GB of memory, Android 2.2 and access to Google's Android Market.
The Samsung Galaxy Tab is much more portable than the iPad, but it has had mixed reviews thus far.
Google Android 2.2, the Galaxy Tab's operating system, was designed for mobile phones.
Visit Notebooks.com's Blak Friday page for more information about deals from Best Buy and other retailers.
You can find more information about the Samsung Galaxy Tab at Bestbuy.com.
Advertisement